Matt releasing a trout from his client's first ever day of fly fishing
05/13/15  It's been quite a week on the Au Sable.  The Hendricksons began hatching in earnest throughout the the system and anglers spread out accordingly.  The Big Water below Mio was consistent through this past weekend and the first half of this week as a cold front came in and kept the duns on the water.  At the same time — strangely forgotten — the Holy Waters pushed out a big hatch yesterday and anglers enjoyed several hours of nice, quiet dry fly fishing.
There's been lots of hatching going on.  Which makes the warm-up this weekend a perfect (I'm trying not to laugh) opportunity for some massive spinner falls.  Okay, okay, spinner falls are hard to predict/time/hit.  This past weekend proved it.  If you were a mile upstream…great fishing.  A mile down…no bugs.  I've scratched all the numbers on both of these lotto tickets.  Waiting for spinners is simply built into our culture, as is the thrill of victory, and the sting of defeat.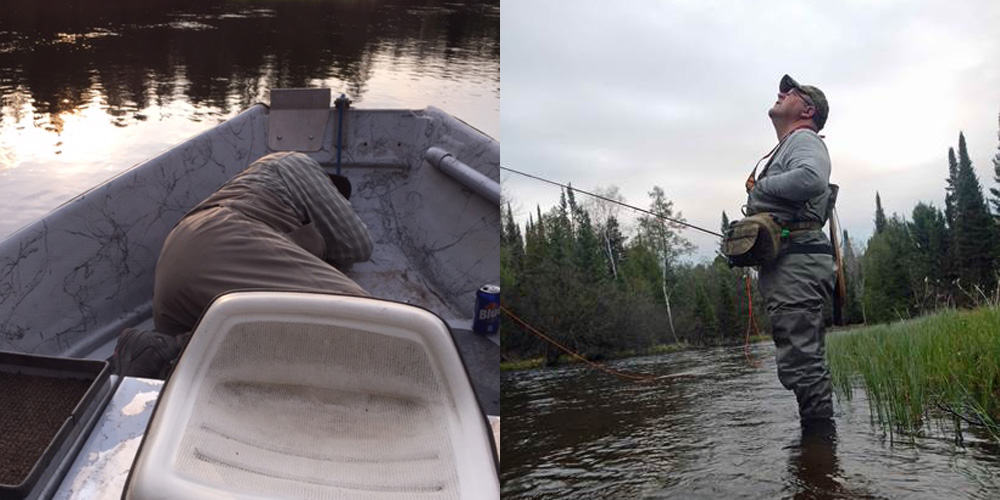 Two different but effective methods for waiting for spinners
But say you only have two days to try to hit spinners?  You have to do something else other than hope for salvation in the last hour before dark.  There are many forgotten bugs and opportunities on the Au Sable.  Warmer mornings have had sparse spinners, hatching hendricksons, light hendricksons, olives and mahoganies.  Midday caddis have been fluttering around the parking lot.  You can toss a stonefly along the logs.  Or strip streamers.  Swinging caddis pupae through a caddis hatch (or just searching) is a great method to take some midday trout.  Even in a late spring such as this one  (rumor has it the Pere Marquette just filled up with steelhead!) the river catches up quickly.  And I think the warmer weather this weekend will make for fine dry fly fishing even if the spinners don't hit the water.
But I still think they will…
I spent my birthday working a single, large, rising trout that was at the end range of my maximum standing-in-chest-deep-water roll cast.  It was a great trout, with that classic slow body rise that means something profound to anglers, though I'm not sure why.  But it does.  The tail lingered on the surface like the fading tracer from a meteorite.
The fish had a rhythm.  It would feed five or six times in succession, and then rest for four or five minutes.  The key was to wait for that first rise, and then try to get one good drift, before he dropped back down.  A few times the trout held just beneath the surface, golden in the bourbon-colored water, huge and beautiful.  I had a date with Katy to attend the Mason Griffith TU Banquet.  As the minutes slid by, my ETA began to slide from comfortably on-time to fashionably late.  I crossed the river.  Re-crossed the river.  Fashionably late was gone.  Now I was late.  I rose the fish three times.  Pricked it twice.  And just before the final bell (which was when I'd call Katy and say cancel the babysitter, I've got a trout to catch) a new trout showed up ten yards downstream from the big one.  It took on the third cast as the spinners just started to hit the water.  I saw my backing.  Landed it without a net.  It was just over twenty-inches.  Fat but young, with a nice hook-jaw.  It was a birthday fish, to be sure.  The kind of trout that is memorable for not being the one I "wanted" and certainly more than enough to wave at the trout I couldn't catch, promise I'd be back, and know I probably wouldn't be.
The big water has been good this past week:
These are some very fine dry fly trout!
We had another pay-it-forward this past week.  A customer left a Lamson reel for a kid, we threw in the line, and in walked Alek, and out he walked with a reel.  He used it to catch a trout his very first day of ownership!  There's nothing like watching a kid light up about trout fishing.
We're looking forward to a great weekend and week.  Great forecast.  Great hatches.  The arrival of the light hendricksons is the first real sign of summer, and soon enough we'll be fishing almost nothing but yellow bugs.  The light hendrickson is a size 16 and some people call it a sulphur and some call it a light hendrickson and both are correct in my book.  Marinaro referred to it as the yellow-winged sulphur.  It likes to hatch at dusk on all but the coldest days, and will spin in earnest on warmer evenings, sometimes mixing with and surpassing the hendricksons and mahoganies.  It is also a frequent evening saver, providing good dry fly fishing on evenings when the spinners don't happen.
But they're going to happen…
————————————————
More fly fishing classes at Gates Lodge: We thought after five years of offering fly-fishing schools, the demand would decrease.  The opposite is true: our original offering of classes has either booked up, or is booking up quickly.  So we added some more.  Check out the Wet Fly/Dry Fly Class on May 30, and a second Fly Casting Essentials Class on June 6.  Mark Hendricks has taught hundreds of folks how to fly fish — many have now become Au Sable regulars and consummate anglers.
———————————————
We've been thinking about it, and thinking about it…now we're going to do it:  a simple, fun, homespun fly-fishing catalog.  If you want in, send an email to me at [email protected] with your mailing address. We'll also have sign-up forms at the shop on Saturday and beyond. We're looking forward to making it, and we hope you're looking forward to reading it.  So far the response has been HUGE!  We can't wait to stumble through issue #1!