06/17/15  Matt calls it PFA…Positive Fishing Attitude.  And we've needed it these last ten days as rains raised and dirtied the river.  Was there fishing?  Sure.  Some good days were had.  But these were few and far between, enjoyed by less than a handful of anglers.  Most of us struggled to find trout.  Which is where the PFA comes in.  Because PFA is what makes you throw streamers with a smile and catch some wonderful trout.  It makes you bounce around late looking for bugs.  It drives you to the only clear water in the county to get a pic of your fishing buddy casting to a good fish rising to sulphurs in the fog.  It makes you catch fish like the one below and know that, when it comes down to it, a trophy walleye on the fly isn't all bad.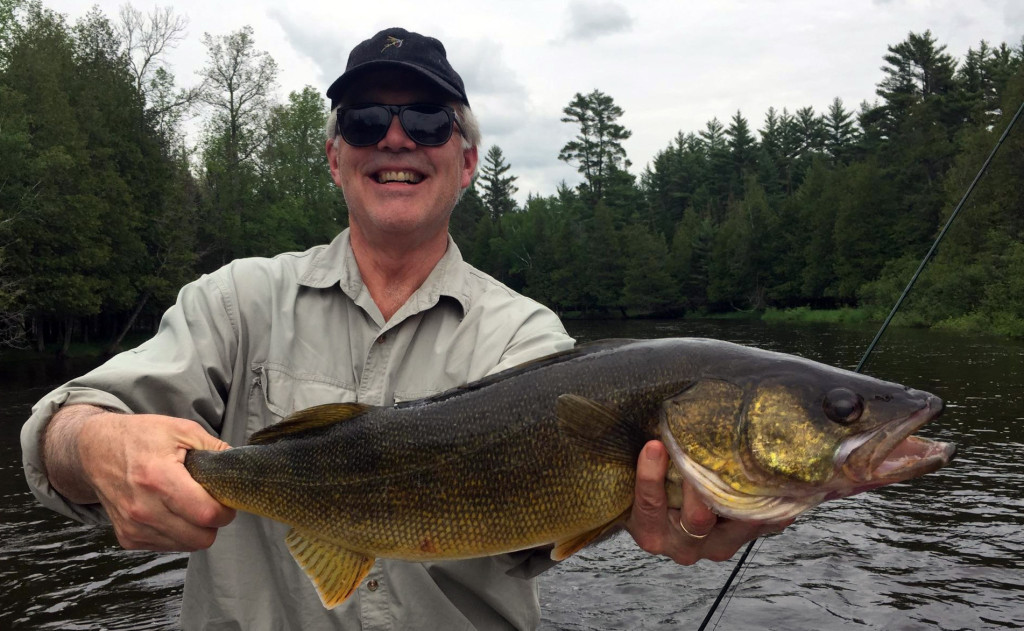 The third weekend in June is often a hex weekend, and this weekend will be a hex weekend, with some footnotes.  The river is high.  The South Branch is flowing at 350 cfs, though dropping.  The Holy Waters is still rushing pretty well.  But flows are receding, and as we cross our fingers against more rain, the hex have started to appear in VERY limited numbers in the system.  We're on the front of the front edge, which means that the brown drakes are still on the Holy Waters and Manistee, the Isonychia are hatching everywhere that they hatch, and the sulphurs are still — by numbers — the predominant bug.
A fine late afternoon dry-fly trout: high water be damned!
The South Branch isn't wadeable but it is fishable insomuch as you can cover the shore you're on.  The water level is falling favorably though.  The South fluctuates far more than the other branches and it's difficult to predict if it'll keep dropping at the same rate, or stall.  As it is now, care is required to move around.  On the plus side, this marks the first summer that we've worked with the folks that manage the outflow at Lake St. Helen…and given the way the branches responded to the rain, I think the fact that the South Branch is under 500 cfs is a positive sign.
The mainstream is high but clearing and the fish are rising to a mix of drakes, Isos, stoneflies and sulphurs.  Downstream of Wakeley the river becomes fast and deep during even low flows.   Anglers must always be careful below the bridge.
The Manistee and the North Branch are both in excellent condition.  The North Branch fished very well a few days ago blind fishing Isos and attractors.
As the hex fervor builds through the weekend and into next week, be sure not to overlook the Iso.  This bug is way too often ignored, not only because it is overshadowed by the hex, but it also hatches funny.  A good Isonychia night might only include a few rising trout, but each rise requires special attention and consideration.  A big fish eats an Iso like it's mad at it.  The Iso is a strong swimmer and the fish often explode on them.  That one unexplainable GIGANTIC rise at 8 pm is fair game.  Rather than wait for the trout to get in a rhythm — as we are all taught by our elders to do — it's better to get a fly over such a fish as soon as possible.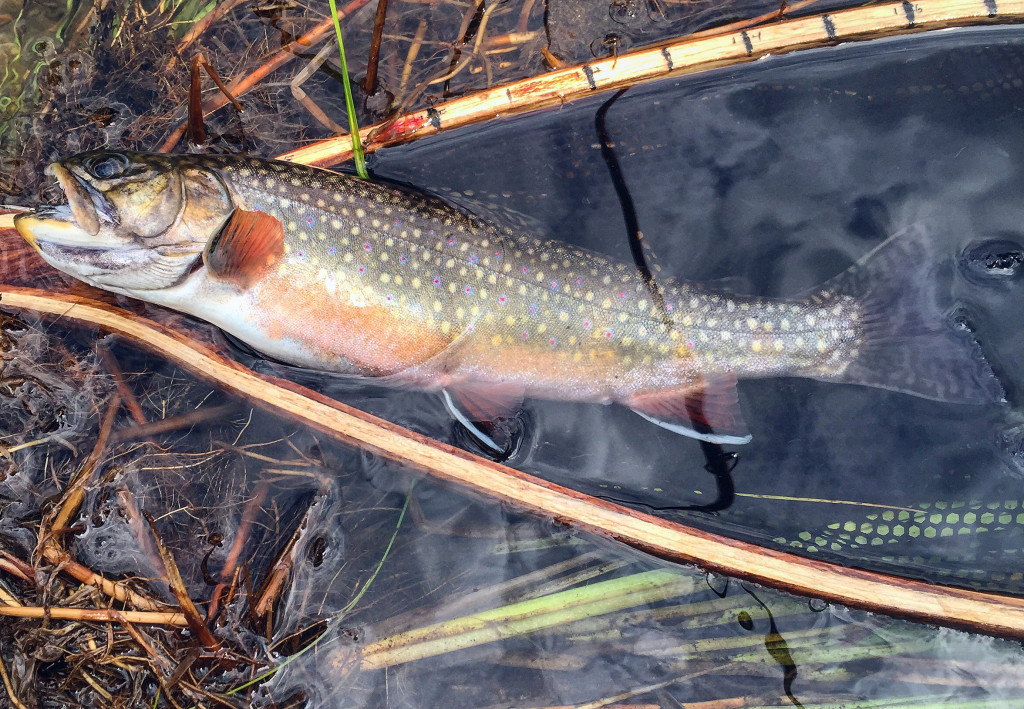 What a brook trout!
Enjoy the next week of fishing — it should be pretty awesome.  Stop in or call the shop for river conditions and hatch advice.  We try to stay on top of it…mostly because we like to fish!
—————————————
Buy a Rod and a line, get a Reel FREE: We have four Hardy DD reels that go out the door free with a purchase of any in stock Winston BIIIX, LS, or SX, Hardy Zenith or Jet, or Seele fly rod.  The Hardy DD is a $200+ reel that has a great, smooth drag system and large arbor so your line doesn't look like a slinky.   First come, first serve.  Call or email.
—————————————-
We've been thinking about it, and thinking about it…now we're going to do it:  a simple, fun, homespun fly-fishing catalog.  If you want in, send an email to me at [email protected] with your mailing address. We'll also have sign-up forms at the shop on Saturday and beyond. We're looking forward to making it, and we hope you're looking forward to reading it.  So far the response has been HUGE!  We can't wait to stumble through issue #1!