07/15/15  I meant to write this fishing report after a long day on the Pere Marquette with my dad and my friend Jeff Hubbard.  Instead, the PM dirtied with rain and while it'll likely be clear very soon, it wasn't clear enough today.
We were heading there for some hopper fishing.  This is the time of year to throw big attractor flies.  For years, on the Au Sable at least, this meant throwing the Au Sable Skunk: a fly whose name was probably derived from its black body and white rubber legs, but just as easily could represent its ability to break the skunk.  With the increasing incorporation of foam, there are hundreds of iterations of hoppers/stones/beetles/damselflies/"junk" that, at least around here, we tend to all call "skunks" and, the fishing of which, we refer to as "skunking."
The idea behind skunking is simple: to fish a big dry fly with the hope of attracting a lazy trout from cover, backwater, or deep trench.  This is to mid-summer what streamer fishing is to early spring.  Some days you get lots of bites but few hook-ups.  Other days, few rises but those that do rise, tend to commit to it.  The takes can be a quiet ring along a log, or violent.
This rainbow was the latter.  A big fly drifted over a very deep hole during the late afternoon drew this rainbow to the surface.  It leaped over the fly and tried, apparently, to eat it on the way down.  It missed.  Jimmy pulled the boat over and he and his angler, John, waited patiently.  Then they went back through the pool with the same fly.  This time, the trout didn't miss.  What a rush!  John's biggest rainbow on the Au Sable, and an explosion that Jimmy is still talking about.
In talking to an angler today, he marveled at how the dead-drift wasn't working, but twitching the fly was.  Some anglers literally never stop twitching the fly, retrieving it thru a semi-steady series of twitches and pops.  One of the great flies to fish in this method is the Turk's Tarantula, which — when greased — will dive beneath the surface and pop back up, leaving a little bubble in its wake.  What is this imitating?  I have no idea.  Food getting away, I guess.
In the evening, an angler can fish these big flies right thru spinnerfall, looking for bigger game.  The darker it gets, the less I twitch the fly, preferring instead a twitch or two near the top of the drift, and a few near the end of the drift.
Another great window for skunking occurs at first light — a woefully underfished time of day.  July mornings are alive!  Waking up and throwing a big dry fly is a great way to catch a big brown still wandering the once dark river.  Then the tricos and olives start, and quickly the angler changes tackle and mindsets and expectations, working pods of smaller trout that are rising gleefully to the little bugs.
The #18 olive, the lata, is hatching well on all three branches of river in the morning and spinning in the evening.  This is the peak of a very important hatch on the river.  Steve W, an Au Sable regular, reported great bugs on the mainstream and lots of fish rising yesterday morning.  This morning, on the South Branch, there were few bugs, but swinging a wet fly he found two brook trout over 10″.
The tricos are still confined to the North Branch, where they have been hatching for almost two weeks.  They should start on the Holy Waters and South Branch over the next week.  This is a fine time of year, when there are several hours of rising trout every sunny morning and another hour in the evening…and skunking and attractor fishing in between.
A few upcoming, fun events below.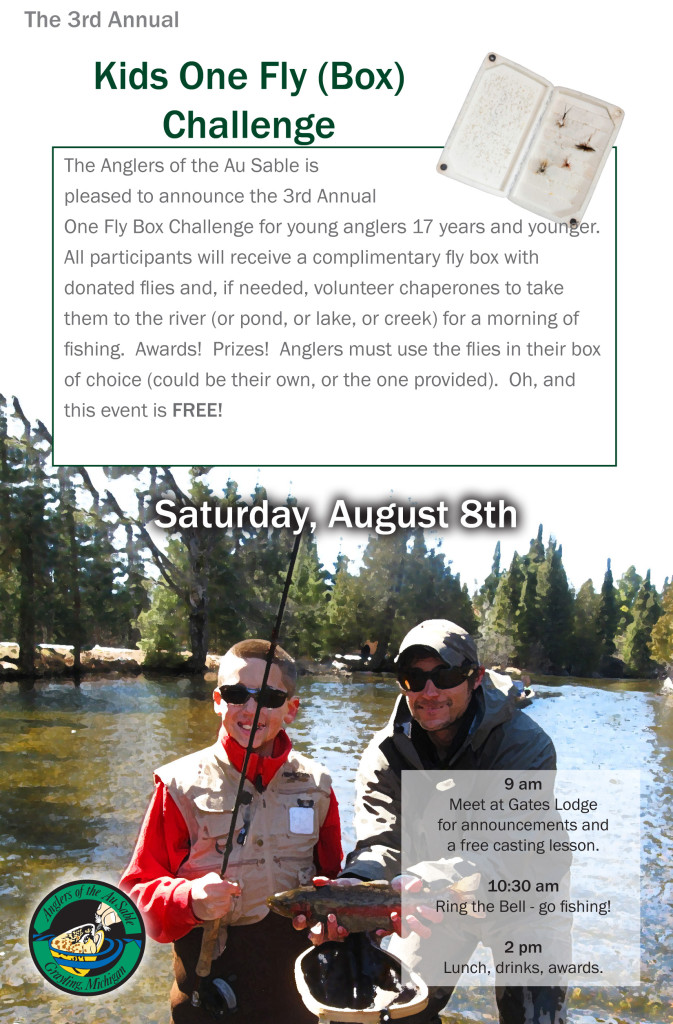 The Kid's One Fly (Box) Challenge is my favorite event of the year.  Kids show up and get a casting lesson, and then hit the river with a volunteer guide.  Many catch their first trout!  They then return for games, food and fun.  The idea is to make it easy for kids to get into trout fishing…and it works.  If you have a friend with kids, or you have kids, recommend this to them!  Every entrant receives a box of flies.  Please email or call to sign up.  Preregistration is preferred.  Limit is 30 kids.
That same afternoon, we tear down and set-up for the Midnight Derby, a significant fundraiser for the Headwaters Chapter of Trout Unlimited.  Why?  Because us Michigan anglers enjoy walking toward a dark river armed with mice and frog flies and a few flashlights.  And because over the last four years we've raised nearly $8,000.  This is a catch and release event that rarely results in lots of big fish but does provide for some good stories.  We meet for dinner and games at 7 pm, and ring the bell at 8 pm.  Entrants must return with pictures (and only pictures, of course) before 3 am.  We fish in teams of two for safety, and each team gets to use a total of two flies.  Prizes are for first fish, biggest fish, best fly, and best picture.  Cost of entry is $50 per team.  We limit the event to 40 teams.  Preregistration is preferred.
——————————————
We've been thinking about it, and thinking about it…now we're going to do it:  a simple, fun, homespun fly-fishing catalog.  If you want in, send an email to me at [email protected] with your mailing address. We'll also have sign-up forms at the shop on Saturday and beyond. We're looking forward to making it, and we hope you're looking forward to reading it.  So far the response has been HUGE!  We can't wait to stumble through issue #1!