07/23/15  At some unpredictable point of the season, the drive for one kind of fishing for one kind of fish diminishes, and is replaced for a more wholesome outlook toward the sport of angling.   I'm no less driven to enjoy the woods and water, but much less driven to do the same thing twice.  This past week I've fished small flies on the North Branch, hit the bluegill lake with the kids, and thrown hoppers on the lower river for browns.  The folks around the shop have done the same.  Pels and Lance went looking for whitefish.  Chef Haley, our resident fly-fishing bassmaster, showed Denny how it's done at Wakeley Lake.  Jordan hooped his fiberglass on some brook trout creeks.    And Colin found a big boy after dark.
This is how I know it's summertime.
A few nights ago, my four-year old Holden and I went to some new water.  Well it's not new really, it's just different water for this time of year.  The water temperatures were still good, though, and a few evening before we'd scouted it out and saw some fine trout feeding at last light.   What the heck?  Let's try it.
We tried to sneak out of the driveway with the boat attached, but Aaron — Holden's two year-old brother — saw thru the ruse and came running across the yard screaming "fish fish fish" while Katy chased after him.  It felt bad leaving the little guy behind, but it felt good a) not having to worry about him drowning and, b) seeing that young passion for fishing.
On our way to the river, a thin band of intense rain swept through.
"We can tough it out, right dad?" Holden said.
Yes we could.  By the time we got to the river the rain had quit and the river was foggy, but already, upstream, a few rings showed.  I had never done this stretch at this time of evening with this event in mind.   After Holden nailed a chub off the landing, we launched and started the hunt.  It was already getting dark quickly — a persistent reminder that the days are shortening — but we were able to get set up on some fish.
In the glare upstream I could see several different sized spinners sitting on the flat water.  The prevalent bug was the #18 lata, the morning-hatching olive that spins at dark.  But with them were the tiny olives and a surprising number of #14 light cahills.  It was a great summer mixed bag of bugs.
Holden wanted to net what I caught.  The pressures of being a dad: catch a trout so your kid can net it.  The first trout was easy.  It was rising off a slow current seam off a big log jam.  It was fat, feisty rainbow that jumped a few times and no more required a net than a grape requires a fork.
The next fish though was something different.  It was big.  I didn't have to speculate on its size.  My body told me — I got nervous, heart beating.  It was rising in the middle of a long flat and moving around a bit.  I suspected it was eating the cahills but it finally did eat the #16 brown spinner I was throwing.  The river was dark and the rise was silent but I could see its white mouth when it ate my fly.  I set, and the fish thrashed and took off quickly — too quickly for me — and took my fly with it.
I don't like losing fish.  But I HATE breaking them off.
"You're not supposed to say those words, dad," Holden told me.
Redemption was the last fish of the night.  We set up below the fish so we could see it in the glare.  It was a long cast and it took me forever to get it right but I did.  The fish vaulted from the water three times, like a silver skipping stone.  In the net it was a fine rainbow, fat and worth netting.  Upon release, it coughed up what it appeared to be a small seed pod from a tag alder(?)  Trout are nothing if not mysterious.  Holden held the fish and then released it well.
That was the end of the night.  Holden was asleep before we left the parking lot.
It has been a warmer summer than the last two, and it has sped the hatches somewhat.  The tricos are rolling on the mainstream and the North Branch of the Au Sable, and trickling on the South Branch as well.  It has been good to very good morning fish.  On hot mornings, the tricos come early, hatching in the pre-dawn and spinning right at first light.  I love turning anglers onto this hatch — especially those who typically fish the river at other times of the year.  You hear things like "the fish were everywhere" and "incredible" and "7x is hard enough to work with, but 8x?"
Trico fishing isn't easy, but it's fun.  Finding a riffle and realizing it's not a riffle but instead the overlapping wakes of a dozen rising trout is a unique joy, like realizing the posts in that evening farm field aren't posts at all, but sandhill cranes.  Watching your tiny fly bob through all those mouths and finally disappear is fantastic.  And gently coming tight to a fish and playing it cautiously through the limpid currents of the summer Au Sable offers a quiet joy in proportion to the flies on the water.
The high skies and warm weather can make for some finicky midday fish.  Small patriots fished on fine tippet, or fishing a dry and dropper, can be surprisingly effective on the very hottest days.  Please do pay attention to water temperatures where you fish.  Most of the upper rivers are protected enough by springs and shade to stay trout-friendly.  But the lower rivers and especially the river below Mio is not.  I would discourage catch and release anglers from fishing the Trophy Waters through the weekend and concentrate on the wealth of coldwater reaches upstream, and on the Manistee.
This is the weekend of the big Au Sable Canoe Marathon, a race that subsumes the river and will leave the mainstream dirty for a day or two.  The racers typically go past the lodge at around 10:15 pm.  But there are plenty of opportunities for anglers to beat the traffic.  For years, Picket Pin and I would watch the racers paddle past the lodge and then head to the South Branch for some night fishing.  There's always something to do this time of year — from night fishing to dawn fishing to bass fishing — and fewer folks doing it.
————————————————-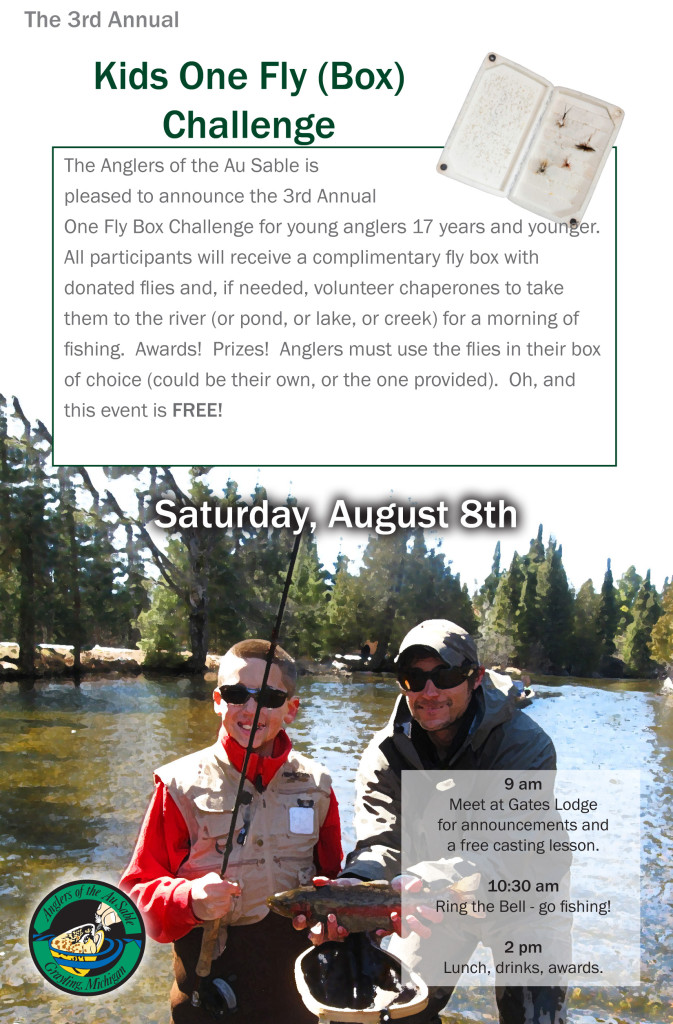 The Kid's One Fly (Box) Challenge is my favorite event of the year.  Kids show up and get a casting lesson, and then hit the river with a volunteer guide.  Many catch their first trout!  They then return for games, food and fun.  The idea is to make it easy for kids to get into trout fishing…and it works.  If you have a friend with kids, or you have kids, recommend this to them!  Every entrant receives a box of flies.  Please email or call to sign up.  Preregistration is preferred.  Limit is 30 kids.
That same afternoon, we tear down and set-up for the Midnight Derby, a significant fundraiser for the Headwaters Chapter of Trout Unlimited.  Why?  Because us Michigan anglers enjoy walking toward a dark river armed with mice and frog flies and a few flashlights.  And because over the last four years we've raised nearly $8,000.  This is a catch and release event that rarely results in lots of big fish but does provide for some good stories.  We meet for dinner and games at 7 pm, and ring the bell at 8 pm.  Entrants must return with pictures (and only pictures, of course) before 3 am.  We fish in teams of two for safety, and each team gets to use a total of two flies.  Prizes are for first fish, biggest fish, best fly, and best picture.  Cost of entry is $50 per team.  We limit the event to 40 teams.  Preregistration is preferred.
——————————————
We've been thinking about it, and thinking about it…now we're going to do it:  a simple, fun, homespun fly-fishing catalog.  If you want in, send an email to me at [email protected] with your mailing address. We'll also have sign-up forms at the shop on Saturday and beyond. We're looking forward to making it, and we hope you're looking forward to reading it.  So far the response has been HUGE!  We can't wait to stumble through issue #1!