07/08/15  It was in the thirties this morning!  Not quite enough to frost the plants but enough to delay the early hatches.  By the afternoon, trout were feeding off the dock and things were as they should be.  It has been an excellent July.   Dave C had some great skunking afternoons.  The guides have been finding trout throughout even the sunny afternoons.  And the daytime small attractors — patriots, deerflies, etc. — fished on fine tippets are drawing trout to the surface on even the sunny days.  This evening, at Louie's Landing, the fish were podded up and eating a mix of yellow stones, olive spinners, and a tiny caddis that we politely call a microcaddis and secretly consider a SOB.
For the most part, the hex have come and gone.  Those that know the cold water stretches that have hex will continue to find some.  For a few nights yet, I might be one of those seeking the last vestiges of June.  But a new season stretches before us: it's the second season on the Au Sable.  To the trophy hunter, this is the beginning of mouse season.  For the small fly enthusiast — of which there are too few — this is the season of tricos (just starting) and blue wing olives (both the #18 and #24 are hatching).  For the terrestrial/attractor angler, there are endless bouncy riffles and seductive log jams and banks.   For the person who enjoys all of the above, and warmwater species as well, this is no less a fishing season than any other.  And the variety is so immense that it offers as much opportunity as "prime time" often doesn't.
This huge trout was caught on what was innocently booked as an evening half day.  Not sure if the camera lens was blurry or the angler was shaking!
I often joke that if an early May angler came in July they might not come back in May.  That's probably not fair — the last few springs have been cold, early May has been tough — but if you truly enjoy fishing to rising trout, there is no better season.  My friend Chris fished his first trico spinnerfall last year and couldn't believe it.  "It's like this every morning?" he said.  Pretty much.  Yes.
On our annual float last year, Jimmy and I passed Don and son Donny fishing a bend.  This year, same day, same place, Donny — now a foot taller — is landing a fine trout on an Iso as we round the bend.  Love this pic.  Think dad is excited? 
There are rumors of tricos having started on the North Branch, but the #18 olive, the lata, is here, and it is the primary bug for the month of June.  The lata hatches in the mornings and on cloudy afternoons, and spins in the evenings.  Their prevalence makes them important throughout the day, even if they aren't hatching.  For nymphs, this means a #16-#20 pheasant tail or BWO nymph fished during the day as a dropper off a dry, or in the early mornings on a full nymph rig in the deeper runs.  For dries, blind fishing #14-#18s is close enough to suggest the lata, yet large enough to get attention during slow periods.  This can be some of the finest dry fly fishing of the year.  That it's happening on a beautiful summer morning or evening is all the better.
But my favorite thing to do in July is to pitch big foamy rubber legged flies toward the banks.  A big container of water, a breathable shirt and some sunscreen, and several miles of river moving downhill.  Twitching a big fly through a shady spring-fed backwater offers a miniature version of what I suppose snook fishing the mangroves is like.  Even the small trout leave a wake as they approach.  The creative and varied casting and the rush of teasing a big fish out of a log jam offers several punctuation marks in what would otherwise be a fine summer day.
Enjoy the cold river and warm air.  Keep an eye on water temperatures during warm spells, particularly below Mio dam.   So far, so good — for us and the trout!
A few upcoming, fun events below.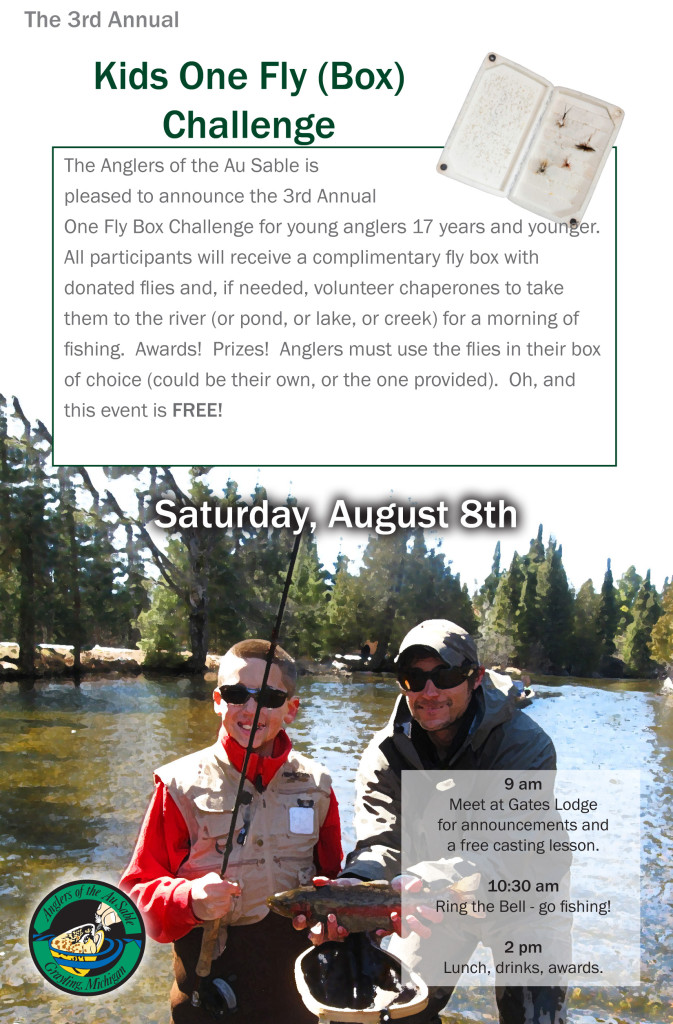 The Kid's One Fly (Box) Challenge is my favorite event of the year.  Kids show up and get a casting lesson, and then hit the river with a volunteer guide.  Many catch their first trout!  They then return for games, food and fun.  The idea is to make it easy for kids to get into trout fishing…and it works.  If you have a friend with kids, or you have kids, recommend this to them!  Every entrant receives a box of flies.  Please email or call to sign up.  Preregistration is preferred.  Limit is 30 kids.
That same afternoon, we tear down and set-up for the Midnight Derby, a significant fundraiser for the Headwaters Chapter of Trout Unlimited.  Why?  Because us Michigan anglers enjoy walking toward a dark river armed with mice and frog flies and a few flashlights.  And because over the last four years we've raised nearly $8,000.  This is a catch and release event that rarely results in lots of big fish but does provide for some good stories.  We meet for dinner and games at 7 pm, and ring the bell at 8 pm.  Entrants must return with pictures (and only pictures, of course) before 3 am.  We fish in teams of two for safety, and each team gets to use a total of two flies.  Prizes are for first fish, biggest fish, best fly, and best picture.  Cost of entry is $50 per team.  We limit the event to 40 teams.  Preregistration is preferred.
——————————————
We've been thinking about it, and thinking about it…now we're going to do it:  a simple, fun, homespun fly-fishing catalog.  If you want in, send an email to me at [email protected] with your mailing address. We'll also have sign-up forms at the shop on Saturday and beyond. We're looking forward to making it, and we hope you're looking forward to reading it.  So far the response has been HUGE!  We can't wait to stumble through issue #1!