07/29/15  There's a snippet of a Nick Lyons essay that sticks with me.   With work overwhelming and angling pressure centered around the later hours, he begins to fish the very early mornings to escape both.  What he finds during his many sunrises on the water is a river alive.  By the time he's finished fishing, the day has awoken and the river, in his words, is dead.
While I don't think anglers are necessarily escaping work or angling pressure — and the afternoon fishing has been just fine — it's the heat and the promise of tricos that has driven folks toward the dawn hour.
It's been good.  And good in many ways.  The morning tricos are rocking.  The olives are fast on their heels.  And then, despite the low clear water and warm temperatures the trout have been feeding on and off throughout the day.  Smallish attractor patterns, including something called a "Hippy Stomper" (who thinks of these things?) are working surprisingly well.  With the very clear water and the high skies leader length, tippet and drift (none of which are mutually exclusive) are very important.  This (usually) means 8x for tricos, 7x for olives and other size #16-20s, and 6x for most everything else.  Fluorocarbon last a long time, costs a lot of money, and seems to catch a lot of trout.
The evening rise is the result of hatching and spinning tiny olives, larger #18 olives, light cahills, and a hodge-podge of caddis.  With the heat, it won't last long, and the last hour can be the best or worst of the day, depending on what fly you tied on before the fading light made the thought of changing to another unbearable.  The forecast shows cooling.  This will make the evening deal better, if only because it lasts a little longer.  Trying to catch a rising trout in the near dark with a #26 is an accomplishment, regardless of size.
We're getting excited about the Kid's One Fly (Box) Challenge and the Midnight Derby.  The night fishing has certainly picked up.  Even with the bright moon the guides have led some folks to some fine trout after dark.  The low water makes for ideal night fishing conditions.  The brighter the night, the more carefully the angler must fish.  Quiet approaches, careful leader and fly selections, and thoughtful strategies (casting upstream, or working the shade, or fishing wets) are important.  I've always liked the moon for night fishing even if, over the course of the season, it's not as productive.  Some of the largest trout I've hooked or seen have been while night fishing a moonlit night.
The heat giveth, and it taketh away.  The lower rivers are too hot to fish, particularly below Mio dam.  We're hoping this cool down drops temperatures for the sake of the trout.  And so until this happens, it's best for catch and release anglers to avoid the trophy water.  Here's to hoping that the white flies — certainly soon to arrive — don't blow out BEFORE the water temperatures have safely returned to the 60s.  Last year's white flies were phenomenal.
I think of fishing this time of year as a series of events — like a parent's schedule for a vacation.  Tricos: 6-9 am.  Olives 9 am – 10 am.  Dry and dropper: 10 am – 2 pm.  Attractors: 2 pm – 7 pm.  Caddis emergers: 7 pm – 8 pm.  Evening rise: 8 pm – 10 pm.  Night fishing : 10 pm – 5 am.  Morning streamers: 5 am – 6 am.
When does one sleep?  I'm not sure.
———————————-
———————————————-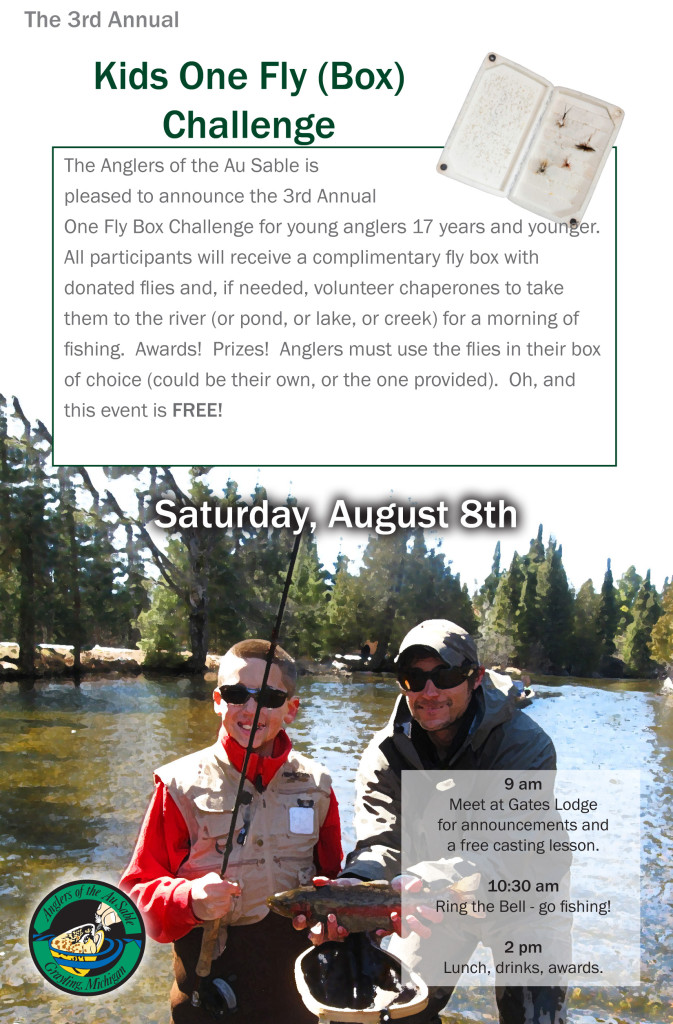 The Kid's One Fly (Box) Challenge is my favorite event of the year.  Kids show up and get a casting lesson, and then hit the river with a volunteer guide.  Many catch their first trout!  They then return for games, food and fun.  The idea is to make it easy for kids to get into trout fishing…and it works.  If you have a friend with kids, or you have kids, recommend this to them!  Every entrant receives a box of flies.  Please email or call to sign up.  Preregistration is preferred.  Limit is 30 kids.
That same afternoon, we tear down and set-up for the Midnight Derby, a significant fundraiser for the Headwaters Chapter of Trout Unlimited.  Why?  Because us Michigan anglers enjoy walking toward a dark river armed with mice and frog flies and a few flashlights.  And because over the last four years we've raised nearly $8,000.  This is a catch and release event that rarely results in lots of big fish but does provide for some good stories.  We meet for dinner and games at 7 pm, and ring the bell at 8 pm.  Entrants must return with pictures (and only pictures, of course) before 3 am.  We fish in teams of two for safety, and each team gets to use a total of two flies.  Prizes are for first fish, biggest fish, best fly, and best picture.  Cost of entry is $50 per team.  We limit the event to 40 teams.  Preregistration is preferred.
——————————————
We've been thinking about it, and thinking about it…now we're going to do it:  a simple, fun, homespun fly-fishing catalog.  If you want in, send an email to me at [email protected] with your mailing address. We'll also have sign-up forms at the shop on Saturday and beyond. We're looking forward to making it, and we hope you're looking forward to reading it.  So far the response has been HUGE!  We can't wait to stumble through issue #1!