08/12/15 You can't say it feels like fall, because it doesn't. But it doesn't feel like June either. The lightning bugs have finished flashing. The Monarch has emerged from the cocoon we had in a container on our dining room table. The veggies are ripe in the garden. And the white flies are coming below Mio. This is that slow summer fade, where we sit suspended between two seasons, fishing mice and tricos and also throwing small streamers and much smaller olives.  Or chucking big hoppers and, well, hoping that this happens:
This past weekend was a blast. So many thanks to the many volunteers and participants that make the Kid's One Fly (Box) Challenge and the Midnight Derby come to life.
We had over forty kids this year and many were already accomplished anglers. Some kids had been to all three Kid's events. In fact, there were a lot of trout caught…including some first trout, some most trout, some biggest trout, and so on. Then we had an awesome raffle and gave away a ton of sweet fly rods courtesy of a secret donor. This is my favorite event of the year.
The Derby was awesome. It's always fun. Blues guitarist Keith Scott rocked. Chef Matt worked the grills. A lot of casters took shots at the mailbox and despite some close calls no one succeeded this year – four years, and no winners. It's gonna happen soon!
The first of two rock bass from the Derby
Over the last four years I've learned that there are three types of Derby participants:
Not sure why entered, had fun, done by 11 pm
Usually take night fishing seriously but more about the party
In it to win it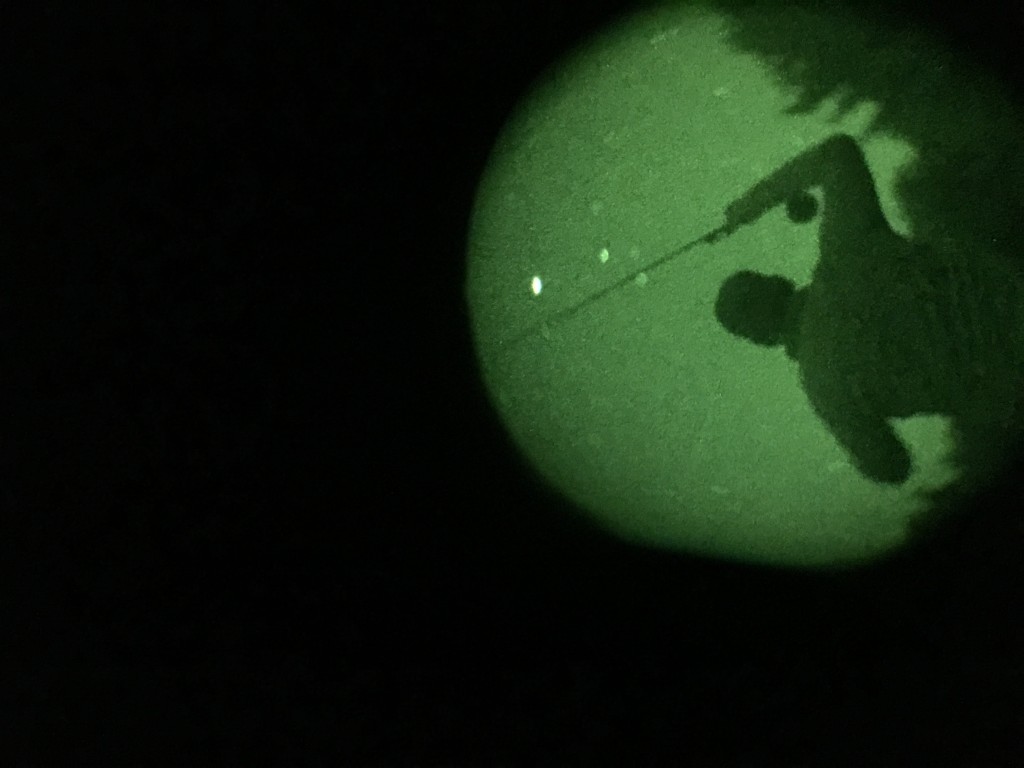 This pic keeps coming up crooked on the website.  Still awesome.  Kinda like the man on the moon, trout style.
Due to a rules hitch (fixed for next year) biggest fish ended up with two winning teams – Rick's team collected two new Hardy Zenith rods and Ethan's team collected a pair of Hatch Reels. Ryan and Dane took home best pic with his night vision silhouette and a couple of new, proto SA fly lines. And these flies won best flies (and a matching set of badass flashlights from Ryan Carmona) and if they have a picture with either of these flies in a trout's mouth they might take best pic too! Oh yeah, and Tanker kissed a rock bass. Good times.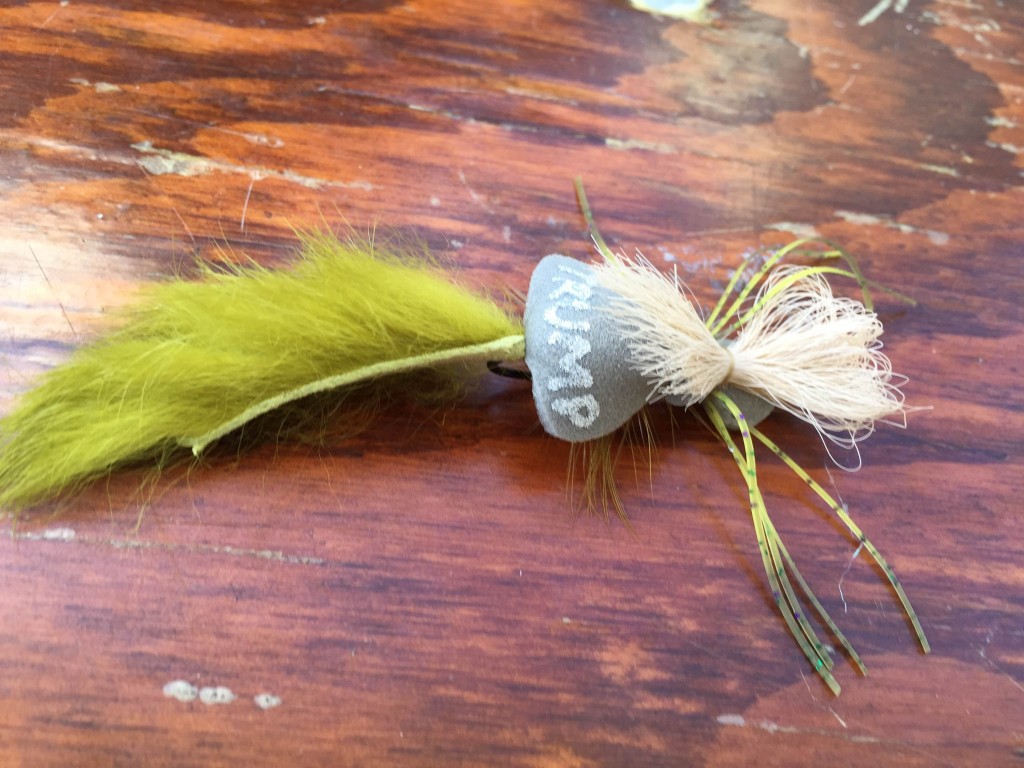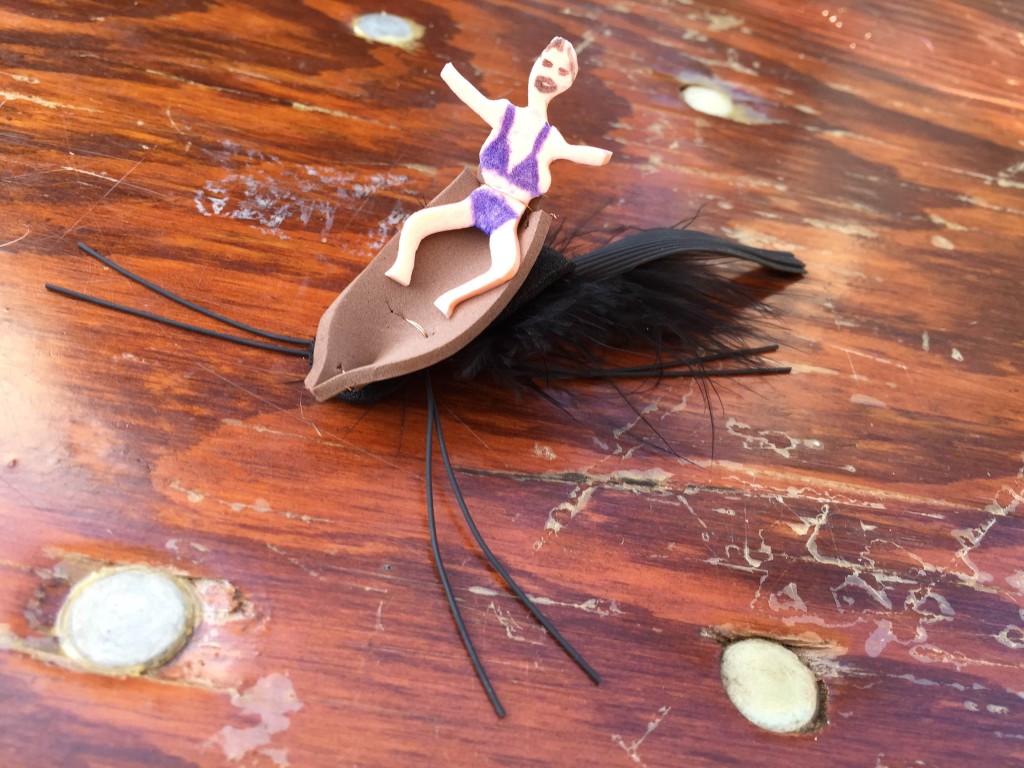 It does match a common summer hatch
Floated below Mio this evening for a firsthand (lack of) white fly report. Nope, the mighty white fly hasn't begun hatching yet. Sources predict this weekend. We did raise a dandy up to an enormous, Mio sized hopper fly and found some other willing to go for a dry and dropper rig. There was a nice little spinner fall at dusk but it was pretty fast and pretty sparse (and pretty small). I know the bulk of the trout below Mio dam are stocked, but they are nice, hard pulling fish and honestly they were pretty tough to catch, rising at the tail-end of a huge slow spinning eddy. They didn't want the Borchers. And not the #20 olive spinner. They wanted the #24 olive spinner…and then back to the Borchers right at dark.
A great shot of the trail to the river
The evening fishing on the upper river has been stellar, and the morning tricos have been excellent. The daytime fishing in general has been better than it should be considering the consistent blue skies. Fluorocarbon makes a difference! A couple anglers reported that 5x fluorocarbon and a #16 parachute Adams outperformed 7x mono and a trico during the trico spinnerfall.
We have several boats out night fishing tonight. The next 10 days should be the finest night fishing of the year. The brown trout start to get a little sassy as we head toward fall. I wouldn't call it anything like pre-spawn. It's more like post-summer.  This is fishing at its most mysterious.  What makes a good night of night fishing?  It's hard to tell.  It can be too dark, too light, too cold, too hot.  Ultimately, the trout seem to decide what they like best.  And why they decide this — what mechanism activates for what reason — is almost besides the point.  You just hope the "when" coincides with your "when", which is whenever you can go.  Cast, step, cast, step, cast.   Slow.  Slower.  Slowest.  Just right.
————————————————–
We've been thinking about it, and thinking about it…now we're going to do it:  a simple, fun, homespun fly-fishing catalog.  If you want in, send an email to me at [email protected] with your mailing address. We'll also have sign-up forms at the shop on Saturday and beyond. We're looking forward to making it, and we hope you're looking forward to reading it.  So far the response has been HUGE!  We can't wait to stumble through issue #1!