08/06/2015  Where is the fishing report?  It has been figuratively buried beneath the trees and power outages  and downed phone lines.  A huge storm came thru late Sunday afternoon with sustained high winds and hail.  Trees fell everywhere, crushed homes, and sent insurance companies into a tizzy.   A few folks were on the river and lived to tell the tale of giant white pines crushing riverside cabins, waves on the river, and an ominous green sky that forced the question: where is the safest place to position your unprotected self whilst stuck on a river?
Jordan's fish car has a dent, but don't feel too bad — Jordan and Denny, who live at the end of a remote two track, somehow had power throughout the storm.  Jerks.
No one was hurt that I know of.   Many homes were damaged and few were totaled.   A few folks were blocked in at the landings.  The river looks considerably different.  This was a million dollar large woody debris project that took minutes to complete.  There's something cool though about living around here during one of these big storms, be it winter or summer.  Post-storm, there were folks just driving around with chainsaws clearing roads and driveways and volunteering their services.  It was a strange, foggy land.  The river was high and dirty.  Power poles were snapped all around.  And people wandered the darkening dirt roads with flashlights, chatting with neighbors they'd never met, talking about the weather which, for once, was the thing to talk about.
And now as clean-up becomes less hurried and power grids are reconnected, thoughts return to trout fishing in that way they do for us trout fishers.  The main rivers have been more or less cleared by do-gooders.  The access roads — particularly those on the South Branch — will almost certainly be an adventure.
The shot of cooler temperatures and cooler water (and hail!) have lowered water temperatures and have made for some very solid daytime dry fly fishing.  The late rising moon (which was blood red last night) has made for some decent night fishing as well.  The tricos have been extremely heavy on the Holy Waters and the trout have been difficult, fun, and free-rising all at the same time.  And the afternoon "junk" fishing — which is nothing more than tossing an attractor or terrestrial at likely looking water — has been great all season.
Heading toward the dark nights of August, it's hard not to think of night fishing.  While I think the moonlit nights are underrated and sometimes surprisingly good, the best nights are almost always the dark ones in August.  Low water,  a quiet stretch of river, and a foamy bug that makes a nice quiet plop when it hits is fine.  A good fishing buddy is better.  I like to move deliberately, and try to think my way through the water.  What's best is to study the water during the day.  Where are the fish coming from?  And where are they going to feed?  An example:
A huge jam near the tail-out of a run that extends for say 50 yards, is chest deep in a spot, and has a hard riffle that drops into a thigh-deep choppy run.  Below the jam is another shallow riffle, but with a deepish backwater on the inside.  In the daytime, we know where the fish are going to be: stuck under that jam.  I've watched these big jams get shocked during the day.  You wouldn't believe the fish that coexist under there.  But at night, they move.  They drop down to feed in that little backwater below the big jam.  They move to the middle of the shallow tail-out.  But the best spot always seems to be right where the riffle at the head of the run drops off into chop.  There the fish have everything: food coming to them, easy currents, and oxygen.   A good night fishing strategy is less exploration, and more a stake-out.  Predicting where the fish are going to be feeding is as or more important than the fly, tippet or fly rod.  And most nights I think the fish leave these jams and head to the prime feeding stations — and they do this every night they want to feed.
Some of these fish are so different from the normal northern Michigan stream trout they seem from a different state entirely, like this Holy Waters fish below: a bright silver dandy with a not a red spot on him.  This was, according to guide Matt, one of the hardest fighting fish he's ever hooked or had hooked.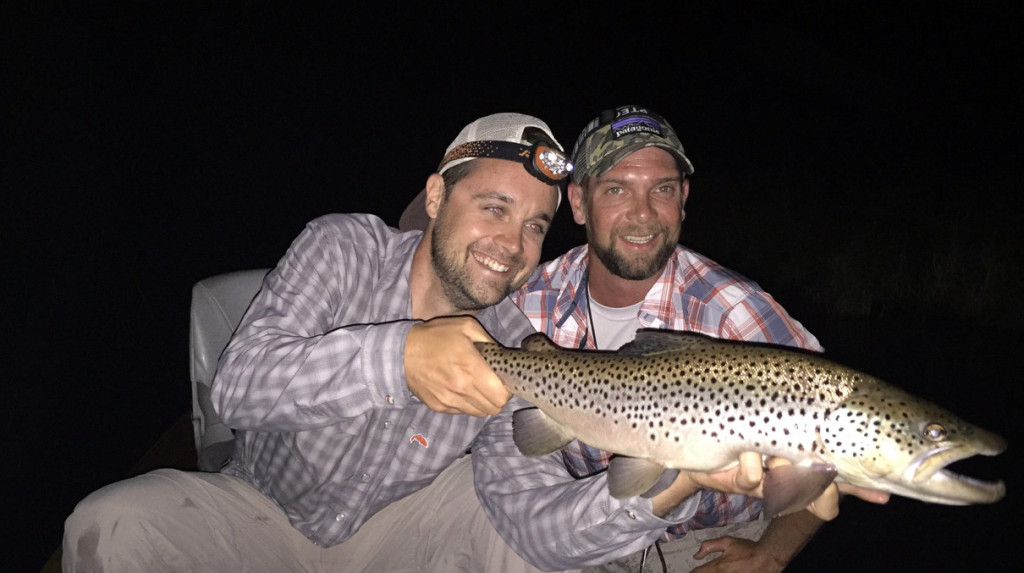 This is a special and busy weekend for us with the Kids One Fly (Box) Challenge and the Midnight Derby.  But we're excited, loading fly boxes for the kids and getting ready for a great time.  We have VERY FEW openings left for either event so it's now or never if you want to sign up.  The Kids One Fly (Box) Challenge is an Anglers of the Au Sable event that receives a significant underwriting from our friends at Riverview Lodge.  The Midnight Derby is a fundraiser we do for the Headwaters Chapter of Trout Unlimited that receives support from Hatch Reels, Scientific Anglers, CF Products, among many others.  Information for both events is below.  We're very excited for Saturday.
This weekend also marks the expected arrival of all our cool fall gear.  So we'll be having a huge clearing-of-the-shelves sale on Friday and Saturday.  Clothes, rods, reels, fly boxes, fly lines…  We're a small shop, and we gotta make some room!  We'll also have lots of new stuff: Simms new Bulkley Jacket and rain jackets, Patagonia field wear (great bird hunting stuff), and more.
——————————————–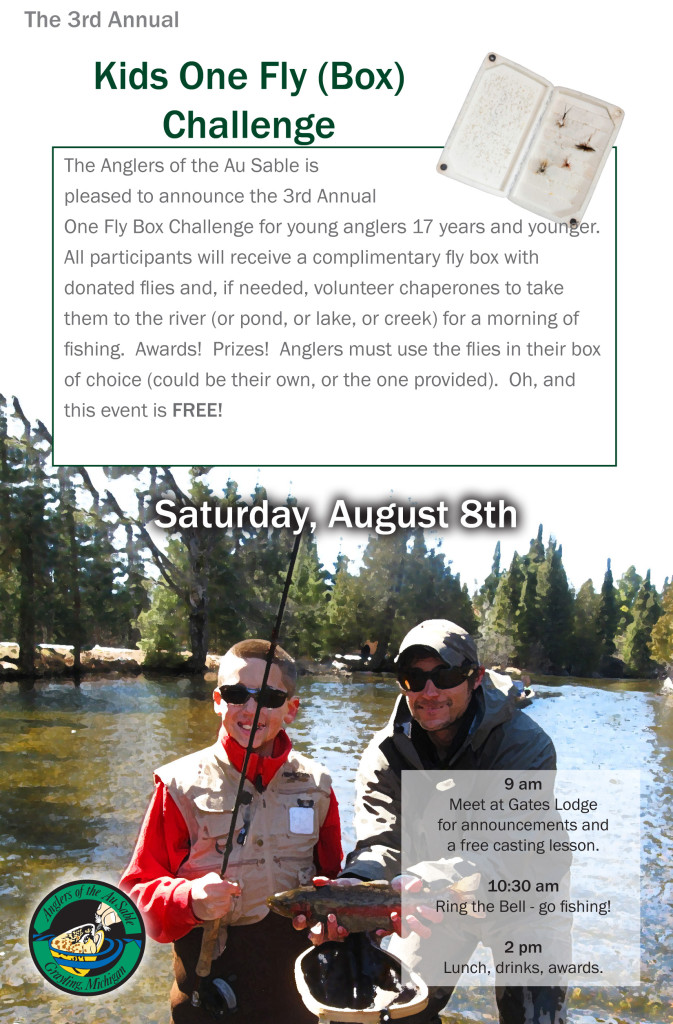 The Kid's One Fly (Box) Challenge is my favorite event of the year.  Kids show up and get a casting lesson, and then hit the river with a volunteer guide.  Many catch their first trout!  They then return for games, food and fun.  The idea is to make it easy for kids to get into trout fishing…and it works.  If you have a friend with kids, or you have kids, recommend this to them!  Every entrant receives a box of flies.  Please email or call to sign up.  Preregistration is preferred.  Limit is 30 kids.
That same afternoon, we tear down and set-up for the Midnight Derby, a significant fundraiser for the Headwaters Chapter of Trout Unlimited.  Why?  Because us Michigan anglers enjoy walking toward a dark river armed with mice and frog flies and a few flashlights.  This is a catch and release event that rarely results in lots of big fish but does provide for some good stories.  We meet for dinner and games at 7 pm, and ring the bell at 8 pm.  Entrants must return with pictures (and only pictures, of course) before 3 am.  We fish in teams of two for safety, and each team gets to use a total of two flies.  Prizes are for first fish, biggest fish, best fly, and best picture.  Cost of entry is $50 per team.  We limit the event to 40 teams.  Preregistration is preferred.  Au Sable and Manistee Rivers and tribs only.
——————————————
We've been thinking about it, and thinking about it…now we're going to do it:  a simple, fun, homespun fly-fishing catalog.  If you want in, send an email to me at [email protected] with your mailing address. We'll also have sign-up forms at the shop on Saturday and beyond. We're looking forward to making it, and we hope you're looking forward to reading it.  So far the response has been HUGE!  We can't wait to stumble through issue #1!