10/22/15  Late last week, it happened: the northwest winds whipped across the Great Lakes, skies darkened, snow fell.  Brown trout — some enormously large — appeared, as they do this time of year, working gravel and preparing to spawn.  Sure, the water was clear.  And the barometer wasn't quite right.  But conditions, to me at least, seemed right enough.  Fish were caught, but not the fish.  Flipping back through photos of years past, this fall has been slow compared to previous falls.  Compared to even last fall.
Living in a tightly-knit (and, at times, tightly wound) fly fishing community, this can make for intense evening discussion.  Sure we do this for a living, but not because we're getting rich.  No, it's because we get to fish.  So when the fish aren't chasing, we get a little turned around because a) the fish aren't biting your flies, and b) the fish aren't biting our flies.
My friend Junker doesn't pay attention to percent cloud cover, wind direction, water clarity.
"Plumber Dan's Calendar's fish calendar, man.  If the day has the little fish, it's good.  The  little fish isn't even on this past week.  But by the end of the week the little fish like filled in and colored up and stuff.  So I guess it's going to be great this weekend," he tells me when we're watching Monday Night Football.
"What about Tuesday?" I said, "because that's when I'm going fishing."
"No fish," he said, shaking his head.
So what about Tuesday?  Eight hours, at least a dozen fly changes, four trout, one pike.  Best color, black.  Fish rising?  Actually, yes, and if we'd had a dry fly rig we'd have caught some.  So it wasn't terrible.  But certainly not worthy of a little fish on a calendar.
Maybe this Plumber Dan's Fish Calendar thing has some merit.
But then what about the olives?  Yes, the little BWOs that have been hatching like crazy in the afternoons.  There has been a bright spot this week: almost every stretch of slow, flat, semi-shallow water has had excellent hatches and pods of rising trout.  Think flat water on the Mason Tract, the upper North Branch, the upper Holy Waters.  Find the olives, and you'll find brook trout.  And they'll be beautiful, dyed to the liking of their loved ones.  A fully mature ten-inch male brook trout, hook-jawed and hump-backed, is a regal, proud fish.  They can be as picky as the most-pressured spring creek brown, and will bend a four weight.  This is, and has been, great fishing, and it's not on Plumber Dan's Calendar.
But yesterday the little fish was on Plumber Dan's Calendar, it just wasn't colored in.
"How was the fishing?" I asked Jimmy after his trip.
"Great," he said.  "Streamers."
"How was the fishing?" I asked Terry, Jerry, Skip and Larry: all had been after the olive fishing.
Their combined superlatives swirled around in my head.  They hadn't even needed 8x.  And some of the fish were willing to eat size 16 Patriots!  Now that's some dry fly fishing.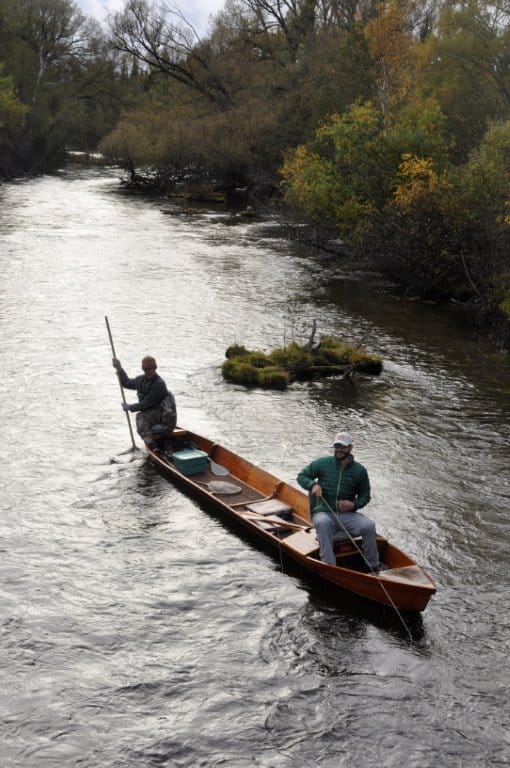 Dan Armitage of Buckeye Sportsman sent me this great pic
The world of fishing forecasts is a murky one, especially when the water is this low and clear.  But the best fall streamer fishing I've ever seen was in low, clear water.  The biggest trout caught on this weekend last year was during high pressure.  The worst days can be the rainy, supposed-to-be-perfect ones.  It's funny, but streamer fishing and night fishing seem to have this mojo about them.  June fishing is different.  We don't think so much about high pressure, low pressure, clear water, wind direction and so on when the brown drakes are hatching.  We think about the drakes, and whether they'll come down.  Which is more of a bug forecast than it is a fishing forecast.
So we fished hard Tuesday — as hard as I've fished this year.  We switched retrieves, leaders, tippets, color, size.  We worked the insides, the outsides.  The best trout came from the center of the river, over an enormous sand flat.  It didn't chase.  It simply at the fly as it swam  right in front of its nose.  The odds of this happening on any particular cast aren't that great.  And it brought a somewhat collective groan and laugh from us: so…we should be fishing the seemingly barren water in the middle of the river.  Perfect.  So we changed our boat positions, and then Matt cracked one as well.  This wasn't the proverbial light bulb, but on a tough day, a few hard-won trout forge a simple satisfaction.
We're anxious for the streamer fishing to turn.  We love this time of year, and the next three or four weeks.  Is it worth it?  Oh, it can be.  In a big way.  And even after the restaurant closes after breakfast on Sunday, we keep the fly shop lights burning and the guides keep floating and the rooms stay open because it's worth it.  Every cast is a story with a potential for a big ending.  We'll fish right into November chasing the mystery, looking for answers everywhere, even on free calendars.
——————————————
The Fish Farm: Learn more by watching the video or check out the Anglers of the Au Sable's new website (www.ausableanglers.org), and learn about the fish farm and what a bad idea it is. 
————————————————————-
Mailing out soon!  Get your name on the list…
We've been thinking about it, and thinking about it…now we're going to do it:  a simple, fun, homespun fly-fishing catalog.  If you want in, send an email to me at [email protected] with your mailing address. We'll also have sign-up forms at the shop on Saturday and beyond. We're looking forward to making it, and we hope you're looking forward to reading it.  So far the response has been HUGE!  We can't wait to stumble through issue #1!