12/02/15  It's looking like a fine weekend to be on the Au Sable.  The water should stain up once again with the mixed precipitation we're currently receiving.  This is not always a good thing in the winter.  But it is a good thing when the air temperatures are warm enough to get trout on the prowl.  And they've been on the prowl.
Jordan said it was epic.  Not sure about that, but yesterday was damn good.  After running down a list of fishing options (ranging from cross-state adventure to a few hours of sight-nymphing, and everything in-between) we settled on a rather pedestrian float down the mainstream.  At the launch, it was immediately clear that we could have gone sight-nymphing: a pod of 6 trout, none smaller than 8 inches, none much over a foot, high in the water column, drift feeding.  It was too much to pass up, and I roped a Prince nymph onto my 0x streamer leader and, well, didn't catch them.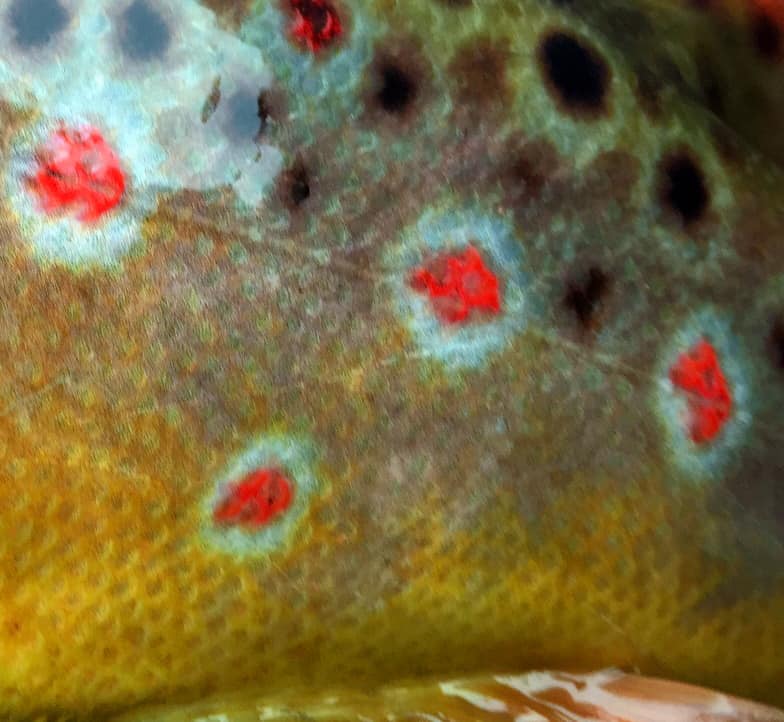 Fine.  I deserved that.  It's easier to fail when you don't really try.  Then again, it's also harder to succeed.
The river was alive.  It was as alive as I've seen it look in three years.  There were trout everywhere, most in that encouraging, upcoming age class of 8-10 inchers.  But plenty of larger ones as well.  They scattered from the boat, often in groups of two or three.  It would have been a perfect sight-fishing day, and we were bummed after the first mile and only one small chase.
But things changed rapidly.  Within a second, actually, as they do when you streamer fish.
On a long, very shallow, outside bend, I absently threw a cast at a bare patch of river bottom between mats of weeds (they're hanging in there, despite the late date).  As my fly flew toward the bare patch, I noticed that swimming up through the bare patch was a rather large brown trout.  My fly hit a foot short and three feet in front of him.  Of course, if I'd seen the fish before I'd cast, I probably would have plopped the fly on his head and ruined it.
As it was, the fish sped and twirled, confused.  I, equally confused, stripped, and he rushed the fly like it was on sale on Black Friday.  I stopped stripping and he ate in a great, wave-forming, turn.
What is awesome about streamer fishing is to see a big, dark, secretive brown trout appear from cover as if propelled by jet fuel, zip across sand, and meet your fly in cadence with your own rushing adrenaline.  Everything else about it is just repetition.  Absent banter.   It's the lottery, really.  Your euphoria grows as the numbers begin to match.  But so often, the fish turns away, and the ticket finds the trash.
Black was the magic color for us.  It often is in the winter.  But water temperatures are going to jump.  And when they do, white, olive, copper, and even yellow can move fish (particularly if the water loses some clarity).
We sit between two seasons…but much closer to winter.  Add snow to this picture, and you have winter:
And a couple of cold nights left ice on the banks:
Nymph fishing should be very good this weekend.  Standard rig, a couple of split shot, a few good runs, and a box of nymphs.  I like to fish the heads of the runs when it is over 35 degrees or so.  If you want a challenge, wading upstream and sight fishing the inside bends with a single small nymph and a very long leader is the best sport in the winter, in my opinion.  Not for the faint of heart or easily discouraged.  As is often the cast, the best fishing on these warmer days are typically from 2-5 pm.
We even saw three fish rise.  But I wouldn't count on that!
Got a few days?  This is a great weekend to try some winter fishing.  We have rooms available for $50/$75.  There's no snow, and plenty of accessible water.  If you're new to the December season, we'll be glad to help you get started.
——————————–
Holiday Shopping at Gates Fly Shop
Our fall "gift" catalog is in the mail.  We ran out of room, and are tweaking it for spring 2016, but we hope you like it, and will consider us for your holiday shopping.  Check out our online fly shop at: http://www.gatesflyshop.com.  Don't see it?  We'll get it for you.
——————————–
The Fish Farm MATCHING GRANT
I think the idea of a fish farm on the Au Sable is a bad joke, the punchline being that it will provide a couple of jobs, as opposed to the hundreds that rely on a healthy wild trout fishery.  The technology does exist for it to be done cleanly.  But the permit the state granted won't require it be done cleanly at all.   Not even close.  It will instead be run like a backwoods septic system.  Look at it this way, if a cabin owner wanted to install a septic system like the fish farm has, they would NEVER get permitted.  This double standard is striking.
Here's how to do it:
1. Mail check to:
Anglers of the Au Sable, PO Box 200, Grayling, MI  49738
Memo: NFP or FISH FARM MATCH
2. Donate online:
Go to "One-Time Donation".  In the box entitled "If you would like this gift to go towards a certain cause The Anglers are working on , please note below" type "FISH FARM MATCH"
FOR MORE INFORMATION ON THE FISH FARM:
Watch this video or check out the Anglers of the Au Sable's new website (www.ausableanglers.org), and learn about the fish farm and what a bad idea it is.