Early Season Guide Special, March 25-April 10:  
Full day double + double occupancy room = $400
Full day single + single occupancy room = $375
Half day + single or double occupancy room = $325
03/30/16  Tannic rivers.  Snow under cedars.   Whistling wood ducks.  A few 100% confirmed blue wing olives (even what one angler considered a hatch).  Midges.  Stoneflies.  Boat cups full of streamers.
Winter accumulation
It's a wild time of year.  Snow, thunderstorms, bluebird, rain, and then back to snow this weekend.  And betwixt all this…chasing trout.  Trout on streamers and trout on nymphs.  Trout-fueled plans.   And, most importantly, trout-based optimism.  You need it out there when the river is in the woods and it's raining, and the river is kinda pea-soup looking.  You have to avoid imagining that you're impersonating a SIMMS advertisement as you stare bravely toward the river and hurl what feels like ten pounds of sinking line and fly in the general direction of a half-submerged tree.  It works.  Trust it.  It just takes time.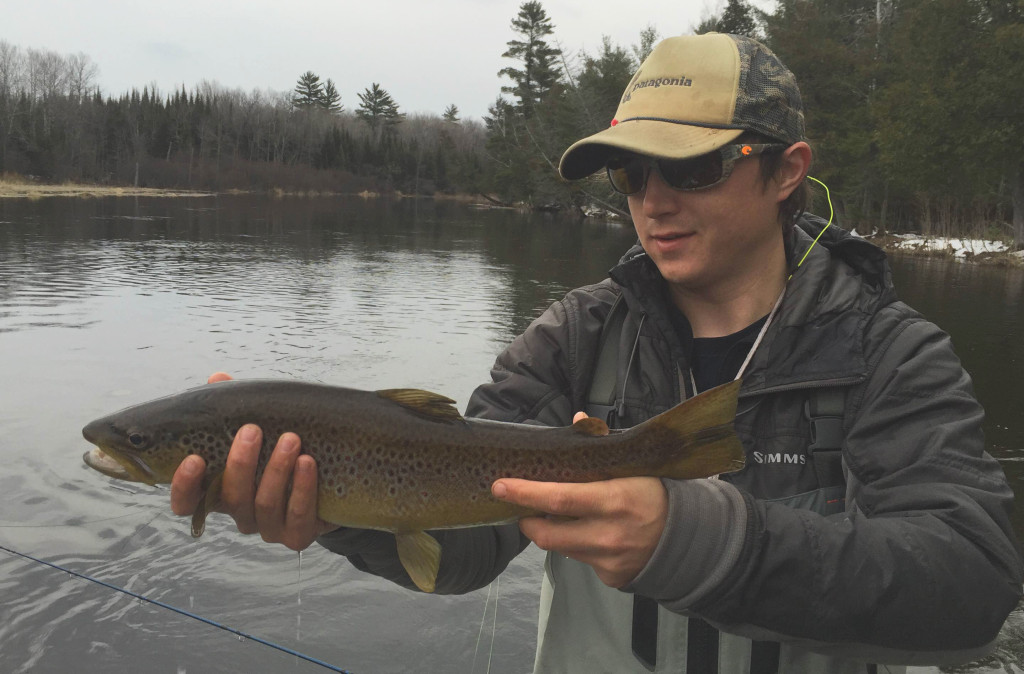 Jordan with a healthy one
It's hard to call the streamer fishing "good" when there are so many variables to what makes it good.  Is a day in which you flash a dozen fish and land none better than the day that the one you catch is the only one you saw?  Depends on the person.  Very rarely does the angler head to the river in March/April and start catching fish one after another.  If it happened more often, there'd be more people doing it.  The empty river is part of the reward for your perseverance…and also a bit of a prediction.
Today did a mixer float…fished some small water and some big water.  The small water was rowing exercise after Greg jinxed the trip by moving a nice trout a few hundred yards down from the launch.  We switched between lots of different flies.  Saw an olive.  We'd heard rumors of a downed tree and we had an enormous chainsaw and an even larger bow saw for some reason — in the name of excess, I guess — and never even bumped a brach.
The big water produced a few nice trout, and one confused 6-inch brown that bravely attacked a streamer.  I hope we meet again in five years.
You never know what you mind find in a backwater
Big streamers, big nymphs, big river.  This is six and seven-weight territory right now.  The upper North Branch is in fine shape.  The Holy Waters are high but sorta clear and kinda wadeable (if that makes sense), and currently receding.  The lower North Branch is flowing pretty hard but is fishable.  The South Branch is doing its spring flood thing.  We are supposed to get an inch of rain tonight, but the radar looks like we might get spared the worst of it.  This would not be such a bad thing for those willing to brave the cold temperatures this weekend.
Fortnightly Fly: It's back.  The fly is a re-run…but new ones are coming soon!
————————————————-
Winter Rates: If you need to play hooky, give us a call.  We have guides and rooms available.  Our winter weekend room rates are $50/single and $75/double.
—————————————————
Anglers of the Au Sable: Visit ausableanglers.org, join or contribute, and receive fish farm updates.   All donations go 100% toward our efforts in overturning the DEQ permit.  If you have questions about the case, please don't hesitate to email me at [email protected]