Still some spots left in our Spring Dry Flies tying class this Saturday, 8:30 am – 12:30 pm. Tie some flies, and then go fishing!
How's the fishing?  It's not really going yet…but it's WAY better than the last two springs.  Examples are:
We've been blind-fishing dries on the North, the Main, and the Manistee and the trout are eating them
The trout are chasing streamers, even in the bright sun
Fish are rising at times when the bugs are heavy enough
We've had hendricksons hatching sporadically…before the May 1st!
Water temps have climbed and held into the 50s during daylight hours.  The sudden change to warmth didn't result in clouds of hendricksons or anything like that.  There's still snow around in old dirty piles, crouched under cedars or beside the road.  But we've been seeing hendricksons, including a few egg-laden spinners, lots of olives, black stones and even some Mattress Thrasher stoneflies (big fly, yellow thorax, about a size #10).  Trout have been caught on a variety of techniques, from soft hackles to dry flies to dry and droppers to streamers.
There seems to be a two strong year classes of fish in the river, which means a lot of 8-12 inch trout.  This is a marked improvement from the last two springs, and its clear that the gap we've had in 2014 and 2015 in the upper river is filling in nicely.
Blind fishing dries has been one of our most productive methods this past week.  Borchers, hendrickson parachutes, hendrickson usuals, and Quigleys have been raising fish.  Work the off-currents and slow flows trailing off the back of log jams.  I also find a lot of trout on the inside drop-offs whenever the river is a bit high, as it is now.  If you think this dry fly fishing has felt good…you're right.  It has felt great!  It's not every spring that you can raise them on an artificial fly before they start rising in earnest to the real thing.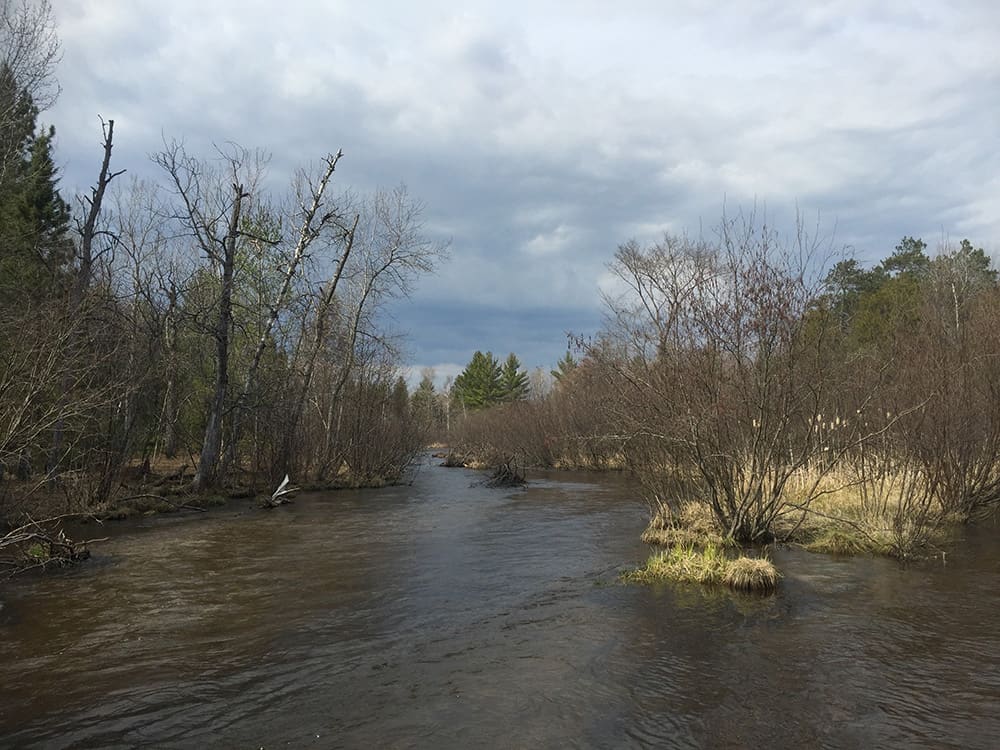 The streamer fishing has been very good in the upper rivers.  Small, bright and stripped quickly will move trout!  My friend Andrew and I floated on Monday and had quite a few fish chase across the sunny river.  The one below fought like mad, leapt twice, ran across the river, and otherwise punctuated yet another beautiful day.
We're looking forward to the next week of fishing.  The cool down should keep the bugs on the water, and help these trout — already happy enough to rise — a little rhythm.  It's starting to come together…and the ten-day forecast, when 48 is the "cold" day, looks like a hendrickson forecast to me.
---
Check out our new Bulletin Board!  Stop by here for news and notes.  We've got an art contest going with cool prizes, and MATCHING FUNDS ON THE TABLE to fight the Fish Farm permit.
---
Gates Lodge Fly Fishing Schools and Classes: We have an awesome, expanded line of Schools and Classes for 2016.  Some are full, many still have a few openings.  Check them out here.  I just got confirmation that Ed Engle will be here in August to host a small-fly weekend!  We're excited to have Ed coming.  This will be a can't-miss event.  Details forthcoming.
---