At some point during today's timeless afternoon, I caught myself looking for the next riser while reeling in the previous one.  And, okay, that's fun.  But it's only April.  And so I took a moment to refocus on the scene: hendricksons lifting from the river in bright half-dozens.  Olive spinners bouncing between.  Stoneflies dropping like bombs.  Trout working a broad bubble line formed from a downed birch: a casualty of last August's wind shear.  After the last two springs, seeing a good run alive with rising trout during the afternoon was pure tonic.  Pure fun.  And then, well, just pretty pure.
Curtis putting a set in the Leonard
Chef Haley had meant to wander far upstream.  Just as I had meant to wander far downstream.  Neither of us made it very far.  The trout were lined up along the entire south bank (extra sunlight?  Hydraulics?  Feeding lane?) and you'd have to be silly or blind to skip them.  This wasn't a headhunting mission.  It was just old-fashioned dry-fly trout fishing.
The river was heavy in the middle, cold.  The river tannic and pressing and loud in the ears, thankfully not loud enough to drown out the grouse drumming on the far bank.  Sadly, not loud enough to obscure the banging and bass-heavy beats of a nearby construction crew building a house and listening to music.
At the end of such days you reconvene and just wear out the details of the afternoon.  The individual situations.  The heroic casts.  That one picky trout that was doing something different: eating olives, or olive spinners, or other.  You talk about needing to change your fly-line, or work on your reach cast, and otherwise shake off the rust and get back to the easy rhythms and complex problems of dry fly fishing.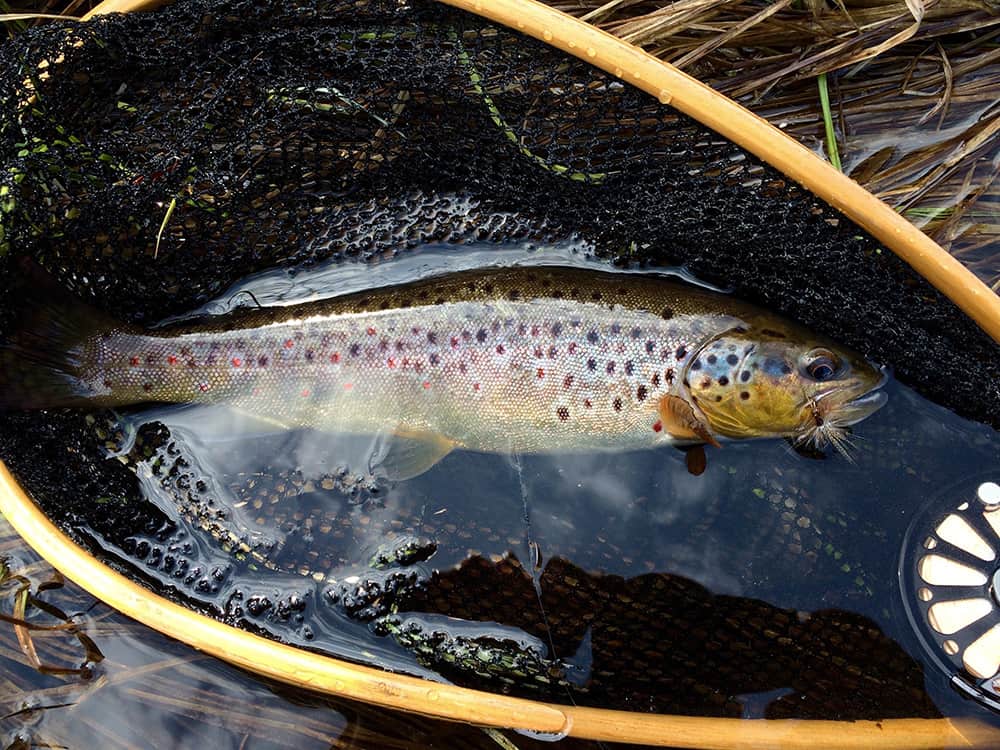 The last two springs stunk.  They had high points, sure.  But they were crummy.  The river of 2016 is different.  It's stuffed full of 6-12 inch fish.  The trout are fat, bright, and feisty.  And so when you sprinkle some hatches into the mix, you get rises.  Lots of them.  And that's why I'm so looking forward to this season.  It's a rebirth of the river after two historically harsh winters.
This is a roundabout way of saying that the Main and North Branches of the Au Sable, along with the Manistee, are flowing high but fishing very well: streamer, nymph, and dry.  The South Branch, and the river below the confluence with the South Branch, are still very high.  Not that a few fish might not rise or, more likely, chase a streamer…but still, they are high and churning.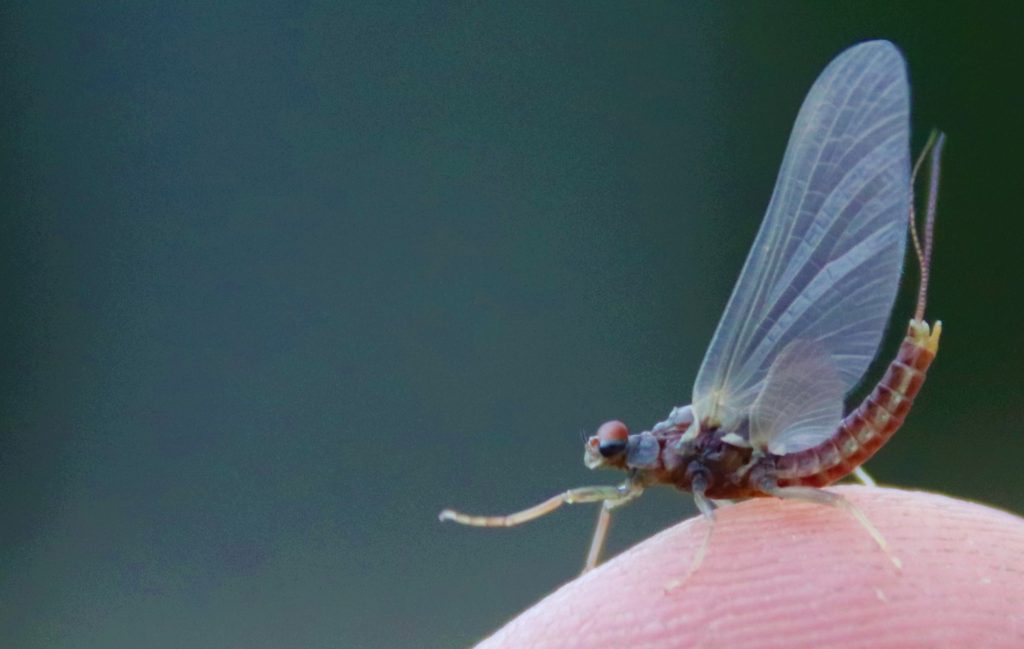 "I'm making your day, aren't I?"
This will be a hendrickson weekend.  Big time.  Expect strong afternoon hatches and early evening spinnerfalls.  Expect to have trout rising in every good slack water run, drop-off, or bubble line trailing off a log jam.  Expect to have tough wading in spots, and be prepared for it.  Be also prepared for complex hatches, tricky fish.  The hendrickson hatch demands patience and variety.  Sure, you can just chuck a Borchers at them.  But I truly believe the hendrickson is not a one-trick-pony hatch.  Some fish will want the emerger.  Others the dun.  And for every stage of the insect cycle, there are countless variations that do seem to make a difference.  You may get away with 5x.  You might need to try 6x.  And so on.
On the shoulders of the day, nymphing the likely runs will catch fish.  Denny fished down to work the other morning and tight-lined nymphs to the logjams and caught four trout, including a 17″ brown.  Some folks have had great streamer fishing, including Rob and company, who supplied most of the pics for this report.
A grand trout
Opening day doesn't mean much anymore, since most of our rivers are open year 'round. But here I am still talking about it. I think it's because us fly-fishers are here for the river, so there is no one celebration, or one way to celebrate. We're not going to see a band, or going to Vegas. It's the river, which means different things to each of us. Yes, it's the hatches, the trout, the scenery. For Larry and Jason, it's cribbage, fires, baseball, and the afternoon rises. For Tanker, it's wiffle ball and Pirate Camp. For the boys down at Two Arrows, it's brown water and the stars. None of these have to do with the river. But they all have to do with the river.
We'll see you soon.  It's going to be a good one…
---
Opening Day is Often Chili!  This Saturday!  Be prepared for some fantastic, off-the-charts chili.  We're serving it Saturday, 11 am until 2 pm, or until the fish start rising.  This isn't the old throw a buncha stuff in a pot chili.  This is the good stuff.  Generous portions, and under $10.   Will last you til' dinner…
---
New Bulletin Board Post!  Need a trip up north this September?  Have a group or a family vacation planned?  Here's an option that puts you in a secluded cabin, and donates all the money to Anglers of the Au Sable.