FREE FLY-FISHING LESSONS THIS SATURDAY…CLICK HERE TO SIGN UP!
You know the feeling: a swarm of mosquitoes, fading light, a box of flies, and one big rising trout that is slowly…stopping…rising.  You're sure that you have the answer just as the bugs run out.  A May spinnerfall can be a cruel hourglass…in a seductive way.
Chris with a dandy evening rise trout
This week has been awesome.  Just awesome.  Many of our guests said this was some of the best fishing they've had.  As the evening flies lasted into dusk, the better trout began looking up.  We've had a great mix of bugs: yellow stones, then the sulphurs, then the Borchers spinners, then mahoganies, then the sulphur spinners.  Instead of waiting for the final fifteen minutes, there have been several hours of good evening fishing.  The river is stuffed full of trout.  The air has been filled with bugs:
"That's a lot of spinners. 
The daytime anglers have found trout along logs with mattress thrashers, on nymphs and caddis wets fished under dries, on tiny streamers, and on a variety of searching patterns that mimic one or more of the bugs that are around.  Blind fishing a Robert's Yellow Drake, or Borchers, or Patriot, or Yellow Stone or Stimulator will raise trout all day.
A pretty one…
All this good fishing, and what is everyone talking about?  Drakes.  What am I talking about?  Drakes.
Drakes are fun.  But they are kind of a filter.  They take this incredible, diverse mix of bugs and opportunity that we have now, and sort of remove it from our consciousness.  All that's left is drakes.  I'm not complaining.  I'm just anxious to enjoy as much of the pre-drake awesome hatch-matching technical dry fly fishing as I can before the drakes override it all.  Mind you, drakes are just about my favorite bug.  But right now the question is whether or not a trout is eating a #18 sulphur or #10 Siphloplecton, or maybe size 16 yellow stone, or #14 Borchers, or spent caddis, or mahogany.  Soon it will be should I fish the parachute or the spinner?  
Holden hooked up!
So, yes, it will be drake season soon (within hours?  Minutes?  Right now?  Friday?)  Between now and next week's fishing report, the drakes will emerge from the North and South Branches of the Au Sable.  It's hot.  The rivers are low.  There's lightning flickering through an overcast night.  You wonder what's happening along a certain muck bank.
I'm old enough to know to let younger, more determined shop workers sit out all night looking for first drakes.   Then again, there's something magical about seeing those first bugs. It's after midnight.  You've been sitting in the dark since the sulphur spinnerfall ended, feet dangling in the river, and during one of your lighthouse-like flashlight scans, you see it: three-tailed, undeniable proof that the brown drakes are happening!  Right now!  A year in the making!  
The forecast is "drakey": a mix of thunderstorms and heat not uncommon to this particular week of the year.  A lot of folks get psyched out by a forecast with lightning bolts through it.  And yes, lightning bolts do not traditionally treat anglers well.  But thunderstorms come and go, and barring a major rain event, we should be able to find fishing before and after the storms, and hopefully some of the storms don't last the evening, and hopefully the cool thereafter leads to spinners aplenty of some or all of the many varieties that bounce above the riffles this time of year.
---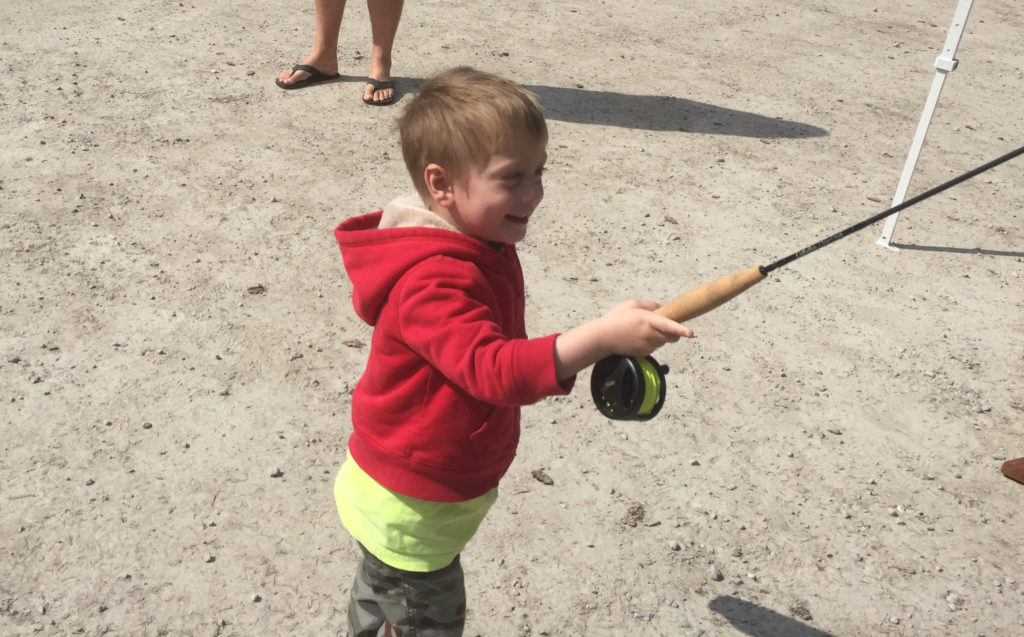 It's another year of Paying it Forward!  
This began last year, and on it goes.  For the last two years, anglers have been dropping off spare and forgotten rods to the shop, and asking us to give them to kids.  Our pleasure!  You think he's happy?
---
Bring in any old unbroken serviceable rod, and take 20% off any made-in-USA Orvis rod.  Better yet, your old rods are donated to TU youth camps and other youth organizations that offer fly-fishing activities.  That's awesome!  May 13 – June 19.  No fine print.
---
The Fish Farm Fight Flotilla:
Not only does this raise money for Anglers, you also can get a guide during times when there are otherwise no guides available.  Cigars and dinner included.  Fun guaranteed!  Click here for more info.
---