There's something special about hooking a big trout on a dry fly after dark.  There must be, judging by the number of people that desire it, dream about it, and otherwise shed all normalcy to achieve it.  I've wondered if it would be the same in the day.  I guess it would, but it would be less unique.  There are plenty of places in the world to catch big fish on dry flies during the day, though many require — at least for us — a plane ride.  The after dark Michigan hatches are special because they do happen in the dark, and the additional barrier somehow strengthens the sensation of the ultimate, midnight connection.
But there's another part of me that is ready for the change of seasons…or at least the pleasant fade one makes into the other.  The diversity that often arrives around July 4th is awesome.  Sure, yes, there are hex around: in the cold water stretches of the Au Sable, and throughout the Manistee.  And yes, I'll probably chase after them a bit over the next two weeks.  But I'll start to include Isonychia spinner falls on the South Branch, where — less than a week or two removed from the business of South Branch hex — the river will be low, clear, alive, and empty.  There'll be some afternoons on a small stream.  I'll do a long wade with a foam bug to try to draw a big trout or two from the wood.  There'll be the #18 olives in the morning, and within a week or two, the first tricos should start on the upper North Branch.  There'll be poppers for bass and bluegill.  A smallmouth trip or two.
There's more to do now than ever.
Tonight was a wonderful cold but productive evening on the river.  The final satisfaction was getting the big one by the birch tree, and finding in its mouth not only my fly, but another fly as well.  I've broken off more fish than I've found flies in their mouths, and it was good to be on the other end of the equation: removing two flies, rather than retying one.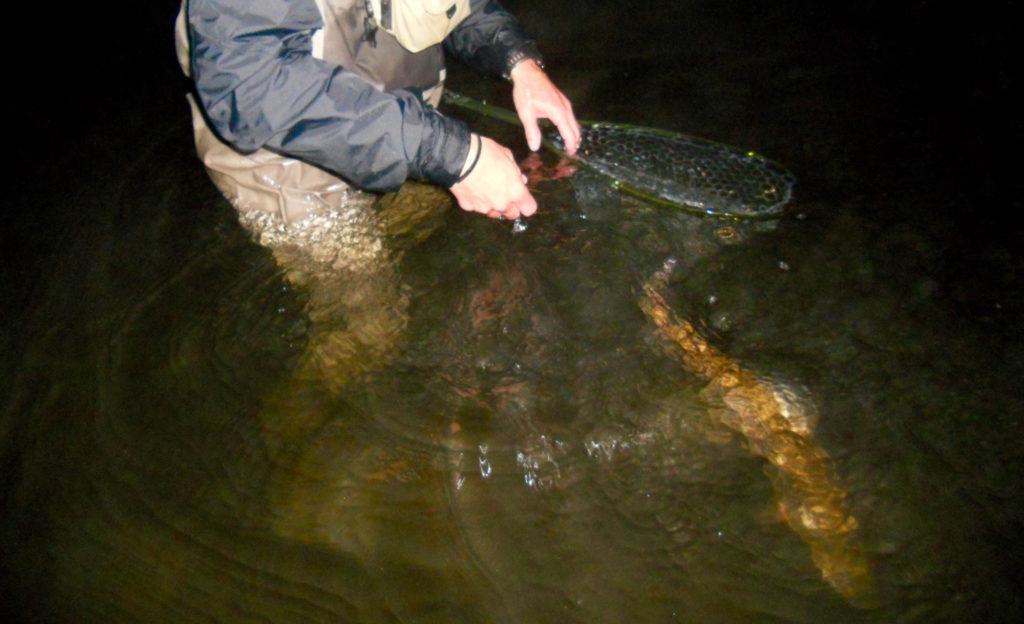 These late season hex fish are pretty wise.  It's best to reduce tippet (3x) and hook size (a size 8 is not out of place) and focus on the drift.  The last two nights have once again illustrated to me why that extra reach in the cast, that extra mend, the extra slack…all help keep the fly in the slick backwater where the unseen fish slurps.
This is going to be a fun week.
For daytime wading, start thinking Patriots, Deerflies, Adams parachutes, Skunks, Missing Links.  For evening non-hex hatches, you'll see piles of Isonychia, cahills, bat flies, caddis, and yellow stones.  This is a great time of year to fish a stimulator in sizes 10-16.  It's a great time of year to fish a dry and dropper.  It's just a great time of year…period.
That's a bear!  
This weekend, we'll have Free Fly Fishing Lessons on Saturday, 9 am – 12 pm.  A great river barbecue and breakfast quiches.  It's looking like a fine holiday weekend, and every year it's fun to be on the river listening for rises between the gentle explosions of distant fireworks.