07/14/16  I had a week — five straight days, at least — of being on the water for part or all of the day.  It was awesome, if hot.  You can't beat a summer float down a river.  I spent most of the time in the back of the boat, guiding friends, or friend clients, or my son; or fishing stern from a drifter down the Pere Marquette with guide Jeff Hubbard and my dad.  I fished skunks with an elderly, now retired, river guide. Fished the tiny evening dries.  Fished some rubber legs  Worked some flat water.  Had evening rises that never materialized, and some that did.  I meant to sneak in some night fishing, but never had the energy to get out there.  But plenty of others got out there…apparently that was good as well:
Marco holding what we're calling a "Trarp": half-trout, half carp.  
The morning tricos have been hatching and spinning on all three branches, most heavily on the North Branch.  Overshadowing them, for now at least, are the size 18 olives (latin = latas).   This consistent hatch begins when the air temperature reaches around sixty or so.  Cold night = late hatch.  Hot night…and they can be hatching at dawn.  The lata is a great hatch, one of the truly underrated hatches on the river.  It will not only hatch in the morning, but right through a cloudy afternoon.  They spin in the evenings, and in bulk.
My five year old Holden and I hit an early lata spinnerfall during a cool Saturday evening.  He's just starting to put it together.  Cast, mend, follow with the rod.  He's got a great eye for rises.  Doesn't care much after the fly lands and just "floats there".  One of the hardest thing to teach anyone  is the hook-set.  Yelling set after a trout eats a fly at a five-year-old is about as effective as yelling go to sleep! before bed.  The perfect hookset is about 3/4 backcast.  "So," Holden said, "why not just yell back cast?"  So I started yelling "backcast" after he lost interest in watching his fly during the long drifts.  He never lost interest in reeling in trout (if you want to get your kid(s) involved in fly-fishing, check out our Kid's One Fly Box Challenge on August 6th).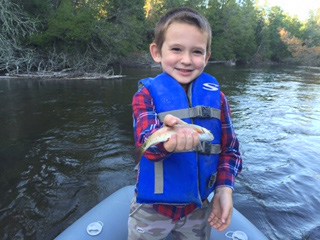 The lata spinners fall over riffles but the best fishing is in the flat water below the riffles.  Many flies work.  A thin-bodied brown spinner is the perfect lata, but can be difficult to see at dusk.  I've found that many of the trout feeding on lata spinners will happily take a #16 or #18 Borchers, Patriot Parachute, or even #16 Adams…provided you fish it on 6x or 7x.
The fish during the hatch — especially on a sunny morning — can be a bit more persnickety.  Fishing a two-fly rig, with a dry and a nymph dropper, is a very effective technique through the hatch and into the afternoon.  I like to fish the dropper on 7x fluorocarbon and believe it makes a big difference in the number of trout that ultimately get hooked.  One of the best ways to start the day is with an olive tied to 6x, and a trico tied to 7x.  Fish the tricos (half the fish will probably eat the olive) and then, as the rising slows down or switches over to the olives, cut off the trico and tie on the olive nymph or emerger.  For this rig, a dropper distance of 20-24″ is about right.  Fluorocarbon makes a difference.
The midday fishing was a bit off with the heat…which is probably why the night fishing has been so good.  But the cool down over the weekend will reinvigorate the system and the trout should start eating some rubber leg stuff.  That said, fishing big attractors has been good enough, and some amazing daytime trout have been hooked.  There is a story of a trout, well over twenty inches, that was within feet of getting netted.  Well before dusk.  On size 12 attractor.  On the Holy Waters.  You know that story.  We all know that story.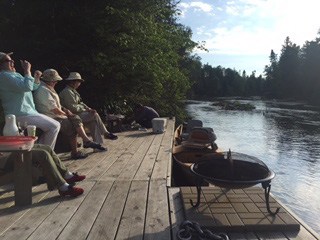 Jimmy cooking steaks and cracking us up during our two boat annual float with Judy, Fran, Nancy, and Sidney.  
It's going to be a pretty fine week of July trout fishing.  The cool down will help the daytime fishing immensely.  We had some cancellations for floats early next week, and the weather looks right (warming up…but not yet hot).   We offer everything from the morning and evening rise, to day trips, to mousin' trips after dark.  For more info, or to contact us about a trip, click here.
The river below Mio dam is over 70 degrees and shouldn't be fished unless you plan on keeping what you catch (and only catching legal sized trout!)  This river cools down less quickly as it drains a lake.  Hopefully by Sunday it'll be below 70 degrees for a day or two…before the heat sends it soaring again.
---
Less than a month until the Midnight Derby!  It's time to start signing up…Give me an email to get on the list, and help us raise some money.  Since we began 4 years ago, we've raised over $6k to various coldwater causes.
---
And it's also less than a month until the Kid's One-Fly Box Challenge!  Kids get free gear, casting instruction, and personal, volunteer "guides" to help.  This is our favorite event of the year.