On Tuesday Matt and I snuck out for an afternoon float. The time was too short for the stretch that we did.  It was a great float, though what I remember aren't the fish that we caught and the many that we moved but the hundreds of trout, large and small, that were scattering from the boat as they streaked upstream.   Some stretches were surreal, aquarium-like, as dozens of trout (not whitefish, not suckers, but trout) hurried up past us. Some were very, very large.
"How do you catch them?" Yep, we said that. And we tried. But after two hours of good fishing, something switched, and the trout were on the move and not on the feed.
It was awesome. Fall awesome.  Gritty, windy, drizzly. A few leaves had begun to change. They, like the fall olives, ran behind schedule. Afterward, other anglers and guides echoed the report: lots of trout scurrying about. Maybe it was the cold and the wind, the rising water, the colder water, or the barometer. It's certainly the time of year.
On a half-day float the other day, we caught fish on streamers, then on nymphs as the olives started (#20s and #24s), then on dries, and back to streamers. Small, sleek and black has been best. This may change through a weekend that, to a streamer or blue wing olive aficionado, looks delicious.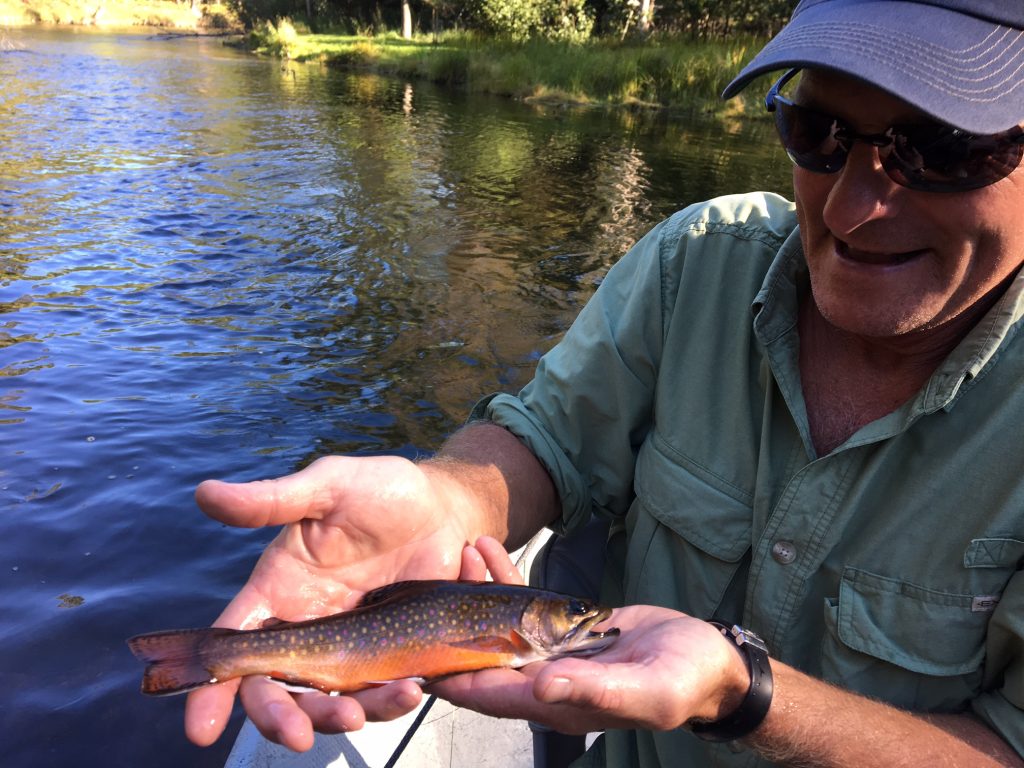 The fall olive hatches on all three branches as well as the Manistee, and below Mio dam (which has been fishing well, even with dry flies). I find the best fishing to be in the long slicks. The brook trout will feed in pods, and the colder and rainier the day, the more consistently they'll rise.   I like to fish a two fly rig this time of year, either with a dry and a dropper (think patriot and pheasant tail) or dry/dry (#20…#26). Slow, careful wading and thoughtful casting are very important when fishing the low nearly still water fall trout tend to rise in.
The rivers are still clear, though the rain is starting to have an effect on everything but the South Branch, which is low. We could use a great big soaking rain for both the fishing and just for morale. The rivers have been so clear for so long, an angler tends to get psyched out, or at least mentally exhausted.
The streamer fishing has been better than fine. Not spectacular, not yet, but darn good. Partly cloudy is good. Overcast is better. Accurate casting is more important than the fly, the tippet, and the retrieve combined. The fly must land as close to the cover as possible. I like to pause for a half second, and then begin stripping moderately fast, in foot long bursts, until I'm certain nothing is chasing it. On the float yesterday, a huge trout – several inches longer than any of the other ones we saw – waited until I was about to lift the fly out of the water to recast to start his charge. He was a huge, deep, red-colored, hook-jawed brown and he came right to the boat, turned away, returned even madder then before, and then realized there was a boat right there with two awestruck dudes staring down at him…and fled. It's amazing how the trout materialize from seemingly nothing this year, almost as if they can shape shift.
If you've never floated the river in the fall, the next month or so is a fine time to do it. We'll throw streamers, or find some rising trout, and otherwise enjoy the quiet river and the beautiful fall colors. There's no better time to be up north.
---
Last chance: 
River Art…a contest (DEADLINE SOON)
Love to fly-fish?  Love to write, photograph, paint?  We're looking for everything…funny, sad, reflective.  Take your best blog post, photo or doodle, and send it!  The absolute max word limit is 2000 words.  Please don't send us anything that is already published.  We welcome all mediums, though it must in some manner — however obscure — connect to Northern Michigan.  All entries will be judged by an alternative but indifferent third-party.  There's only one winner, but other entries may be published.  Deadline is October 1st.
Honorable Mentions: $100 Gift Certificate to Gates Lodge
Grand Prize: $500 Gift Certificat to Gates Lodge
All entries must be submitted digitally to [email protected], subject line: "Contest 2016."  We reserve the right to publish any submissions we receive in our spring and fall catalogs.
---
This will be our second year of producing a print catalog for those that still check their mailboxes!  Good back of the toilet material, if nothing else.  This is a print catalog, so we'll need your mailingaddress.  Email it to me [email protected] to get on the list!