On a slow streamer day, it might just be a brown trout, and not a muskie, that is the fish of 10,000 casts. On Monday, I would bet that our boat threw somewhere around 7,500 of them, not including false casts. My hands were frozen into little claws and my elbow throbbed to the point that I was considering cortisone or at least single malt. We started early and stayed late. Sure some trout were caught. Never the big trout, but George found a nice one to end the day (he did all the fish catching, in fact) and after nearly ten hours of flailing, it was a high-five moment.
What makes a streamer angler do this? I think the streamer angler is either converted immediately or not at all, usually by the unexpected sight of a huge trout coming from nowhere and now hot pursuit.   Such memories are what built the hopefulness (I almost wrote confidence) that the really cool thing that happened once might in fact happen again. And it does. Sometimes. Sometimes on the first cast of the day. Sometimes on the last. And so from this conviction a breed of anglers has emerged as "streamer anglers" who love nothing more than to dress head-to-toe for the elements and sling, and sling, and sling. I'm not sure I'm one of them, but for half the year I'll happily play the part. And this is the start of that half of the year, and I'm excited.
The river, seemingly overnight, is wearing autumn. The trees are just popping up bright red on the otherwise green hillsides.   Leaves are starting to fall into the river. The afternoon olive fishing has been good, finally, and the reports from yesterday and today (it's 75 degrees right now) are daytime rising trout and good attractor dry fly fishing. This heat wave will push the streamer angling to just after first light and just after the sun goes behind the hills.
Jordan and Chef Haley explored some stillwaters
The upper river anglers are doing best with both smaller, flashy streamers and slinky black streamers. The lower river and below Mio we've also been doing well with black, along with brighter articulated patterns. The river below Mio dam gets a strong fall olive hatch and the trout will pod up and rise throughout the afternoon.
No frost, no ice on the parking lot puddles. It has been warm and this afternoon we hope for a significant rain. The rivers are in better shape, but the streamer fishing would be really good if we had some higher water.
We have one more streamer class coming up, on October 22, with Alex Lafkas. This is an awesome class that includes everything from casting techniques to a short streamer float. There are two slots that have opened up.  If you want to learn more about streamer fishing this is the class to do it.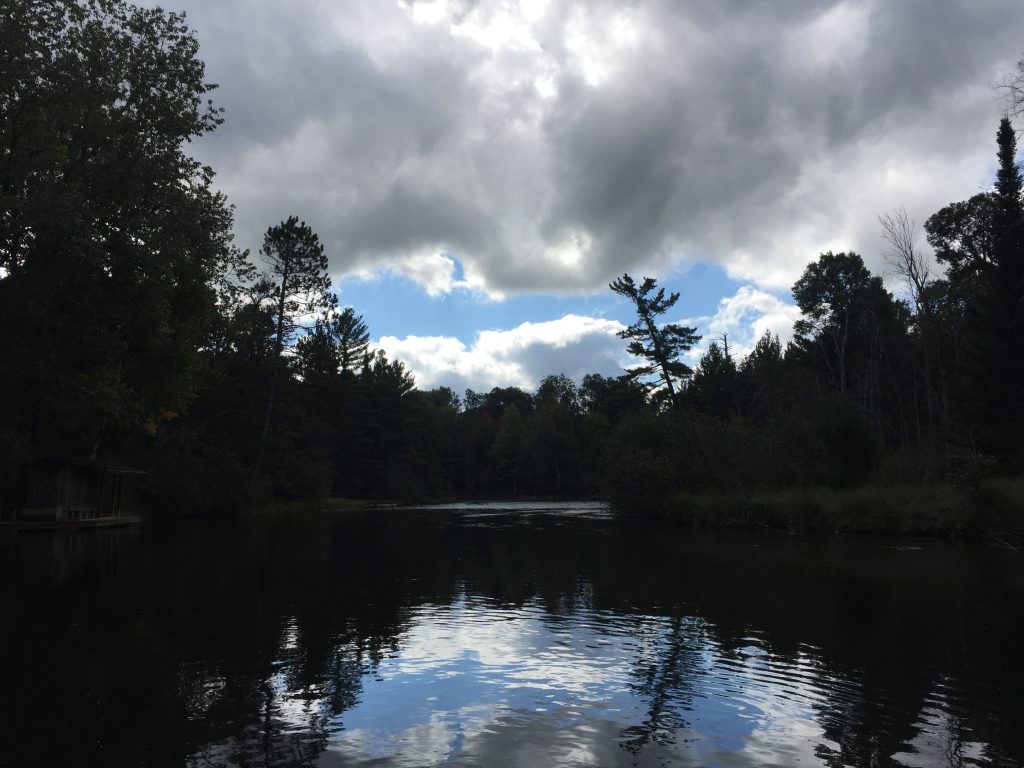 We're also adding an additional week to our season and will be open for lodging, guides and food until October 29. That last weekend is a beautiful mix of afternoon olives and streamer fishing. It's one of my favorite weekends of the year. After we "close", we'll be renting our rooms at offseason rates and while the restaurant will be closed and the fly shop only open limited hours, we will still be running guide trips right through the post-spawn season (November, December), which is some of the best streamer fishing of the year.
---
This will be our second year of producing a print catalog for those that still check their mailboxes!  Good back of the toilet material, if nothing else.  This is a print catalog, so we'll need your mailing address.  Email it to me [email protected] to get on the list!