The last of the trees to change is my favorite.  Long after the maples have dropped their showy red dress, the tamarack begins to glow golden.  Along our swampy river, this is the predominant "color" tree.  It is tenacious in its grip on an angler's flies.  When it glows most golden, you can bet the brown trout are spawning.  Such is the case now.
The streamer fishing has been fine indeed, as it is often is around the end of October.  The good streamer fishing will continue right through November and December as the trout finish spawning and start to think about eating as much as they can as easily as they can.  On a western tailwater, this might mean midges.  On the Au Sable and Manistee, this means big streamers.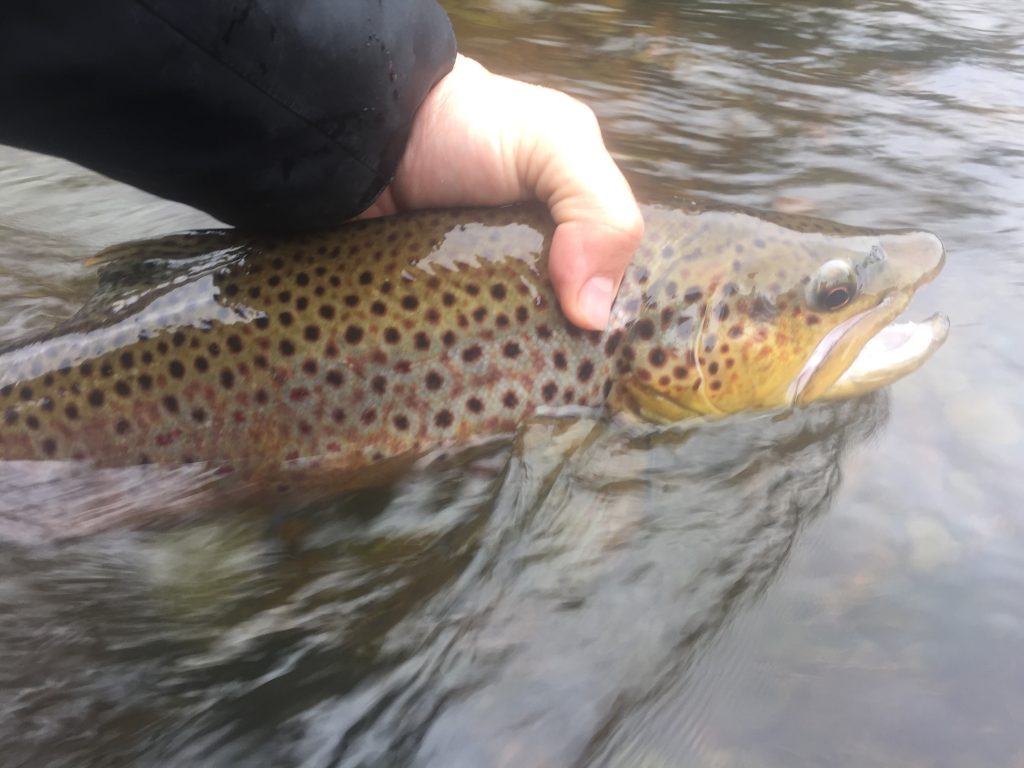 It's been warm!  On a nice afternoon float with Kevin the other day, the trout were rising freely to a sparse mix of hatching and spinning olives…as well as to random junk.  My guess is is that the better water temperatures had them looking up, and so when a buggy looking pine needle or a bit of leaf hit the surface, they'd take a swipe at it.  We fished streamers and at first it was great, but soon the clouds broke and the sun came out and only the small fish would chase, and even then without much enthusiasm.
With warm water temperatures, fishing brighter streamers can be the ticket.  If/when things turn cold, black is usually the color.  By our annual mid-November streamer camp, black is the only color, with few exceptions.
We're just wrapping up the fall catalog so sign up now (info below) and get on our mailing list.  If you already receive our spring and fall catalogs, don't worry, you're in!
We're playing by "winter rules" now at the lodge.  Our shop hours are 9 am – 2 pm, 7 days/week, and our room rates are $60/single and $75/double.  If you need a nice quiet place to stay along a river, give us a call or send an email.
---
This will be our second year of producing a print catalog for those that still check their mailboxes!  Good back of the toilet material, if nothing else.  This is a print catalog, so we'll need your mailing address.  Email it to me at [email protected] to get on the list!  Our Fall Holiday Catalog should be out by mid-November.