We've got about two weeks left to get your Christmas stuff shipped out. Our online store is packed with cool things: www.gatesflyshop.com, and if you don't see, it we can get it for you.  We're happy to help put together unique gift packages.  Please note that our online store has new "hours" 9 am – 9 pm.  This means if you have a question or want to place an order at 8 pm, just give us a call and we'll either answer, or call you right back. Thanks for including us in your holiday shopping.
———————
Today wasn't November cold.  Today was winter cold.  It froze the snow that had been melting in the shadows at the lodge.  It skimmed some of the shallow ponds and swamps.  The earth crunched underfoot.  It was the perfect day to sit inside and tie flies and gather ones thoughts on the winter.  We are on the front end of a different kind of season, one that requires almost constant monitoring of the weather, and planning, and predicting, and pouncing when the conditions are right, as they were this past weekend and even yesterday, when Katy and I hopped in the little raft and floated a short, convenient stretch of river.
It was awesome.  I was supposed to float with Verlac, then Jordan, and finally Junker.  It all fell through.  I decided on a solo float.  Right before I left, I asked Katy if she wanted to come, and she said sure.  I think we were so surprised to have simultaneous afternoons free we never even thought to, like, go fishing together.
The sun blazed at about 3 pm, and the wind howled from the west.  The air temperature wasn't bad, high 30s, but it was dropping quickly.   The cold front seemed to have already arrived, and I didn't have high hopes.  Katy wanted to row, which was fine with me.  The little rafts that are out now – I have the Confluence, from Stealthraft – are so easy to row, load, and fish from (If you're thinking of such a craft, let me know).
We stopped at a couple of nymphing runs and found in the second one a perfect little rainbow that ate a standard, non-bead squirrel nymph.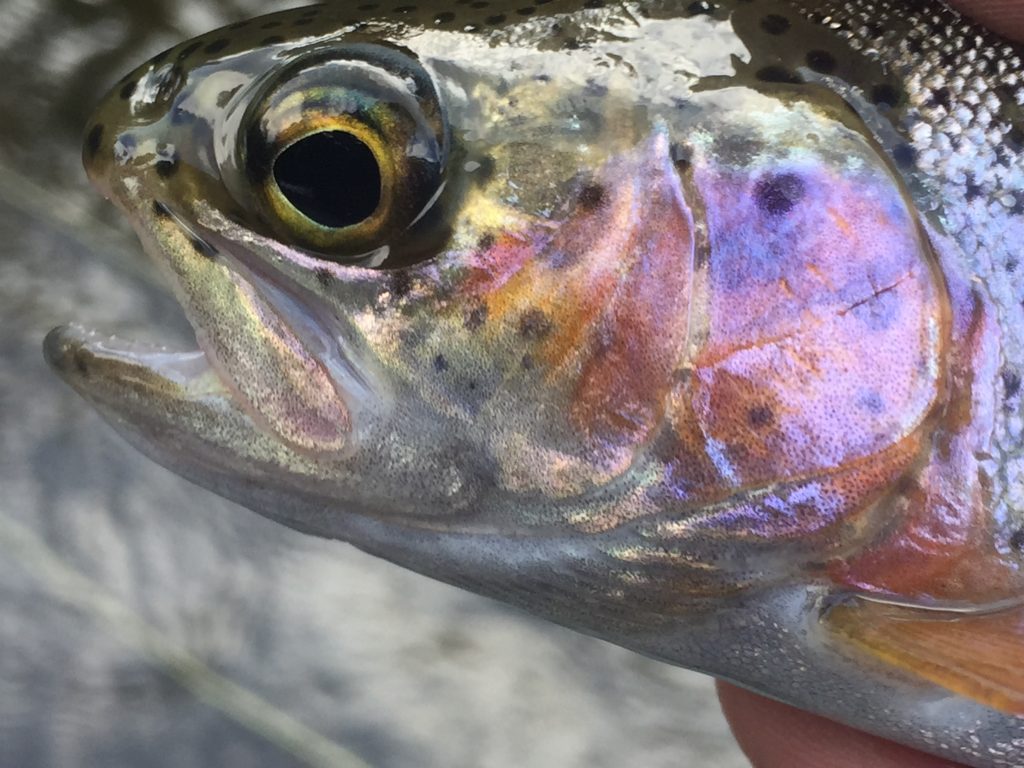 Full of color: 2016 was the year of the rainbow
The next pool downstream we found another.  Not bad.  Not great.  We spooked some better trout from a few deep insides and then we found a dandy on a streamer to end the day.  It was one of those sublime afternoon floats that you can have in the winter.   Greg, Jordan and Eric had a similar experience the day before: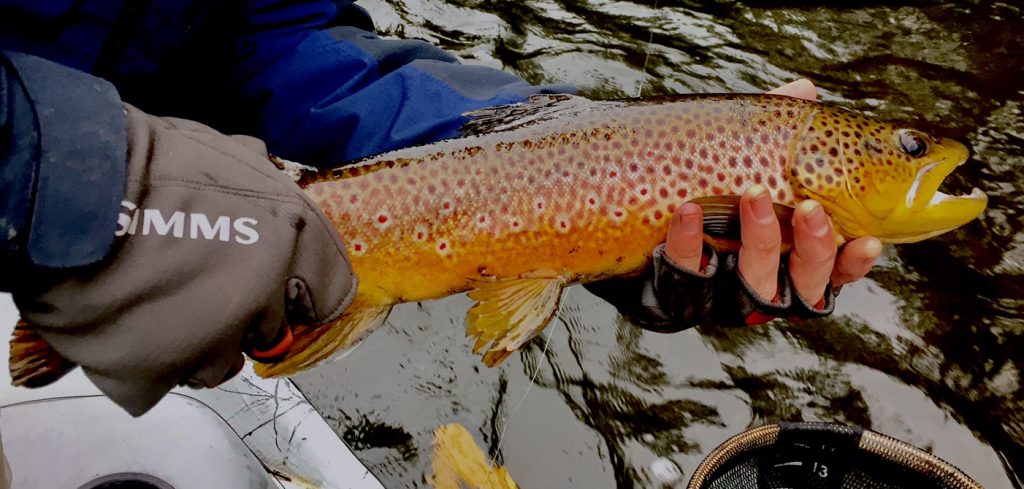 And so despite the forecast, which is equal parts brutal and exciting (ice fishing, skiing, etc), the winter angler must plod, prod, and plan.  Have your streamer box full of black, brown, and olive…with plenty of weight.  Have your nymph box with a wide mix of colors and beads, from black beaded subtle flies to the very brightest you can imagine, they'll all have their moments.  I remember a mid-winter blizzard that had me befuddled.  Caked in snow and cold as hell, I tied on an ENORMOUS olive Copper John, heaved it into a fast trench, watched the line predictably stop as it hit bottom, and the come unpredictably alive as a brown trout came leaping out into the falling snow, and was landed and appreciated as only a single winter trout can be.
——————————
We just got these new Hatch reels in…
Gates Lodge custom, limited edition.   Matte gray, bright green trim.  Would look pretty fine on a Winston!  I think Hatch reels are one of the finest things in fly-fishing.  Locally, the company helps us raise money for the river through a variety of fundraisers.  Technically, they are simple, sealed drag reels that are perfectly machined in the USA.  Love salt and fresh water.  The 4+ will handle a 4,5,6 weight.  The 5+ a 5,6,7 weight.  And the 7+ a 7,8,9 weight.
——————————————–
Here is our catalog if you didn't get yours in the mail.  Click on the pic!