After a long couple of weeks I decided to go full-hooky on Tuesday…well, after spinning out some pre-dawn drakes and some emails.  First it was ice fishing with Jordan, and then a float with Matt.  I had to be at the elementary school by 6 pm for a science fair with the kids.
It was the kind of 35 degree windy/rainy/slushy morning that was well-spent inside Jordan's state of the art insulated shanty.  We jigged up a few trout from the ice hole, and laughed at the ones we lost.  We had the lake to ourselves that morning, but the surface was riddled with old holes, a few of which hadn't frozen over.  Some corn was sprinkled around one of the holes, and trout being suckers for corn, we figured the guy was either using corn as bait or using it as chum.  That wasn't the weird part.  The weird part was what looked to be a discarded, frozen, slightly undersized trout.  Closer inspection revealed it to be a pretty massive mudpuppy.  Had this guy caught it and chucked it on the ice to suffocate and freeze?  Or had the mudpuppy crawled through the hole itself, perhaps in search of corn?  Who knows.  But I snatched it up to show the kids, in the name of science.
After Jordan and I were done fishing, and without changing from my ice fishing bibs, Matt and I loaded up the raft and fishing stuff and decided, against all good advice and experience, to drive into the Mason Tract, drop the raft, and spot the truck down at Smith Bridge.  The roads inside the tract were pretty good due to logging activity.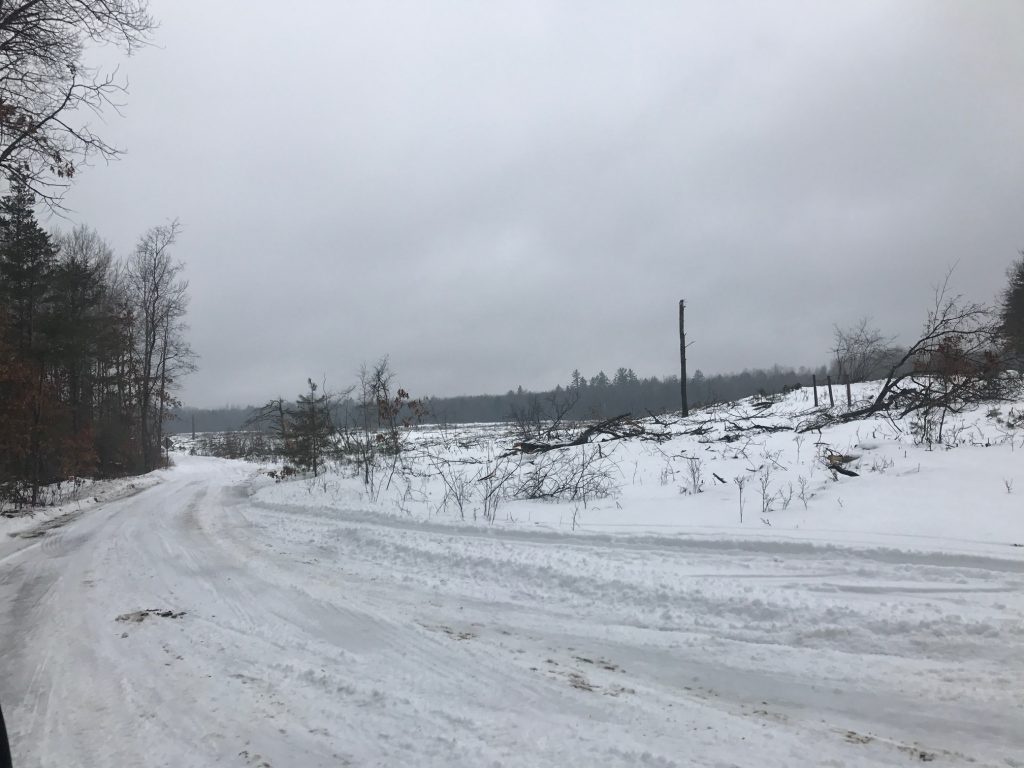 Your drive in will look different in 2017
Way back in the winter woods, it's very much a life and death game. We found a deer that had been torn to shreds by some coyotes.  It was pretty fresh and pretty gruesome, and all that was left was the stomach.  It was probably late at night.  Maybe a little moon.  The sounds of joy and terror.
The river was beautiful.  All the rivers are beautiful in the winter, but the South Branch is just so wild…  When you're halfway through the float, in a big still stretch that the guides paddle through in the summer, you're about as far from hardtop as you can get in Crawford County.  The land around it is dotted with beaver ponds that are connected by a series of feeder creeks.  It is tough walking through the woods.  The trout are as tough and wild as the river valley is.
The water was low and pretty clear, which I think are the best conditions when the water temperatures are cold.  It makes sense, really.  What fish wants to fight high, cold water?  We started out with the same fly we realized we'd been fishing for the last two winters,: an off-yellow wedgehead. In fact, it's the only fly we've used all winter.  Not just a style of fly, but the fly.  Tied on the the leader.  Attached to the rod.  And since December, fished every Tuesday.  This terminal tackle was fine for the first trout of the day, one of a dozen or so trout we moved in the 12-16″ range.
But the tippet, which had been tugged, twisted, spun and retrieved from any number of tangles and clusters, was no match for a hard-charging trout that clean broke me off and then sat there on the bottom trying to shake the fly from its mouth…which it did, but we couldn't retrieve it.
"We had that coming," I said.  "That's just bad fishing."
We tied on black…which was probably the right fly to begin with.
That lost, big trout started a wild 100 yards of river which saw me lose another trout right at the net that was nearly as big as the one I broke off, and then catching a prehistoric looking male that shot from a log jam like a spear and I thought for sure was a pike.  He fought hard, and kept his hookjaw pointing downward under the boat.  He looked big in the net.  In the winter, you don't catch a lot, but if you fish diligently and with faith that you'll get one or two…you usually do.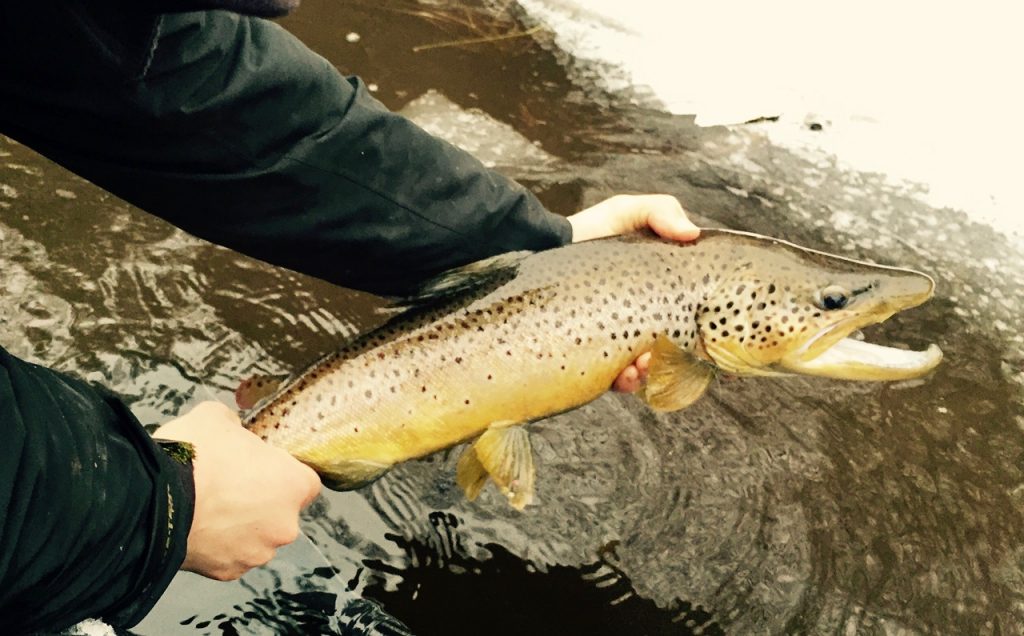 Along the way we found somebody's old hut or tee-pee or whatever it was — a pretty tidy cone of logs, reflective thermal blankets, a blue tarp, and a bunch of para cord.  The inside was a bed of spruce branches.  There was an old creamer packet in there from the morning coffee.  There were no tracks in the snow, so we tore it down, removing the plastics and the ropes.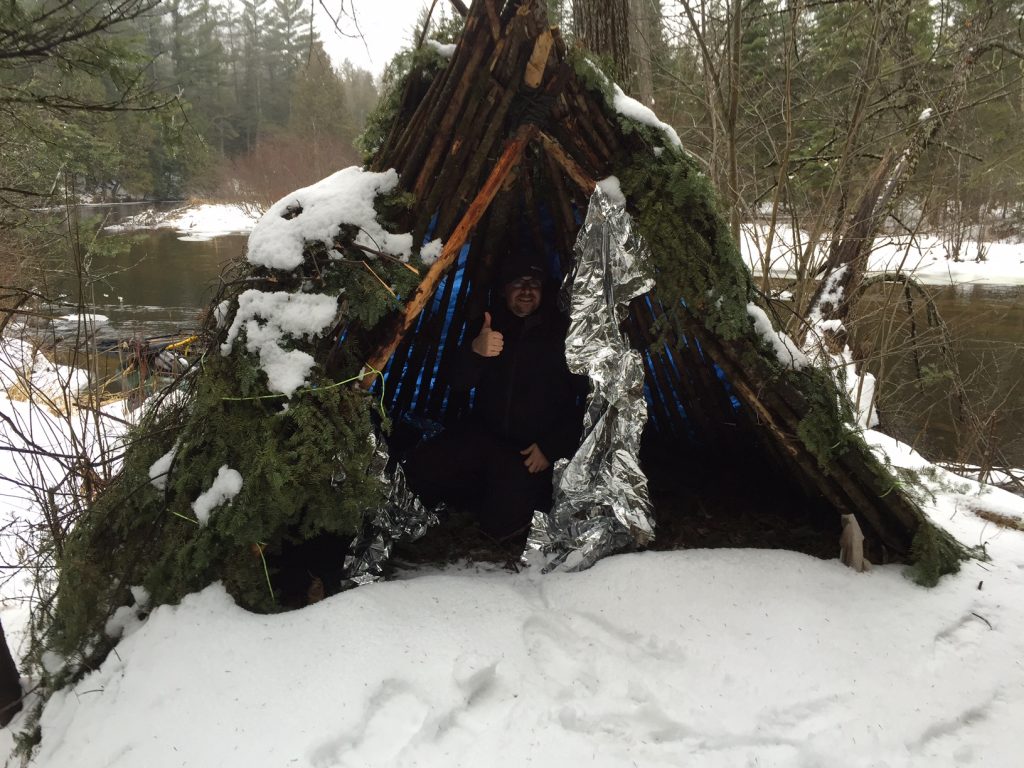 Before 
After
After the big trout, it began raining.  Matt moved a few more and landed one, and then we push-rowed out of there.  I was going to be late for the science fair, but not terribly, if things went well.  Which of course they didn't.  We pulled the raft up onto the bank at the landing and I realized I'd left the tiedowns in my truck, and Matt had left his keys in my truck as well.  No problem, he had a spare.  But the snowy Mason Tract roads were a problem…the rain had made them soft.  Even Matt's quasi-monster truck struggled.  We decided it would be faster to get my truck and take the road out to Chase Bridge — the nearest hard top — and then drive all the way back around to Smith Bridge.  Instead of a fifteen minute car spot, it took about an hour.  And during that time it rained and iced constantly, and that rain must have accumulated in the raft and pooled up in the stern.  This extra weight would be the best theory as to why the raft slid down the ramp and into the river and floated, unmanned, downstream while we were miles away trying not to slide into the ditch.
When we finally made it back to the boat launch, the raft was long gone.  We sprinted through the dark, icy woods without flashlights.  My bibs were soaked.  I felt like I was wearing a huge sponge of cold water.  The woods were a slushy, snowy mess,  My glasses were so fogged I couldn't have seen the raft the anyway.  We finally found the craft lodged into a log jam across the river about a mile downstream.  Phew.  Matt crossed the river without waders to get the raft  and we tied it a tree for removal later (which was completed this afternoon), and then sprinted out of there.
I made it to the science fair at the last possible minute.  Holden was inside a closed classroom staring — along with a bunch of other kids — at a man with an owl on his forearm.  I barged through the door, sopping wet, sticks in my hair, and nearly ran over the teacher stationed there to prevent interruption, and sat next to my kindergartner, who paused from his earnest study of the owl to stare at me.
"Did you catch a big one?" he whispered.
---
Sign up for our Spring 2017 Catalog
Full of new, cool stuff, a few trouty meditations, and our events calendar for 2017.  If you're already on our catalog list, you'll get this one too.  If you're not, send me your mailing address to sign up!  Our new events section on this website will be updated shortly as well.  From George Daniel's streamer class to fly tying with Alex Lafkas, we have a great season of events, schools and classes fast approaching.
---
The last Free Fly Tying Saturday of 2017 is Saturday, February 18, from 9 am – 2 pm…
Bring what you have — even if it's just yourself — and we'll provide the rest.  Never tied a fly: we'll teach you.  Want to learn to spin deer hair: we'll teach you.  Want to just come eat some chili and tie some flies: have at it.  Want to help others: the more the merrier.  These free-form sessions are great fun, and have introduced countless people to the craft of fly-tying.  Some have gone on to be first-rate fly tyers!  All the info is available here.