…Not too bad, and not nearly as bad as I thought it would be after listening to it rain last night.  This morning, the ground was bare.  Tonight, there's half-a-foot of snow at the lodge, and a few inches more than that in Lovells.  It's beautiful if heartbreaking: spring seemed imminent. It's a familiar heartbreak, one that'll be felt weekly from now until the trout are rising to mayflies.
I drove around the snowy county today to try to get a feel for the water levels.  That, combined with a float down the Manistee yesterday, has given me a pretty fair notion of where we're at heading into a warm (Sunday looks sweet) weekend.
Manistee: High but with clear edges down to M-72
North Branch: Somewhat high but very dark down by Kellogg.  Pretty dark at Lovells.  Should have wadeable stretches by the weekend.
Looking downstream at Lovells.  Water is dark but not terribly high.  Should be in good shape by weekend.  
South Branch: Very high and dark.  No wading.
Holy Waters: Dark and somewhat high:
Looking upstream from Wakeley Bridge river is very dark but not too high.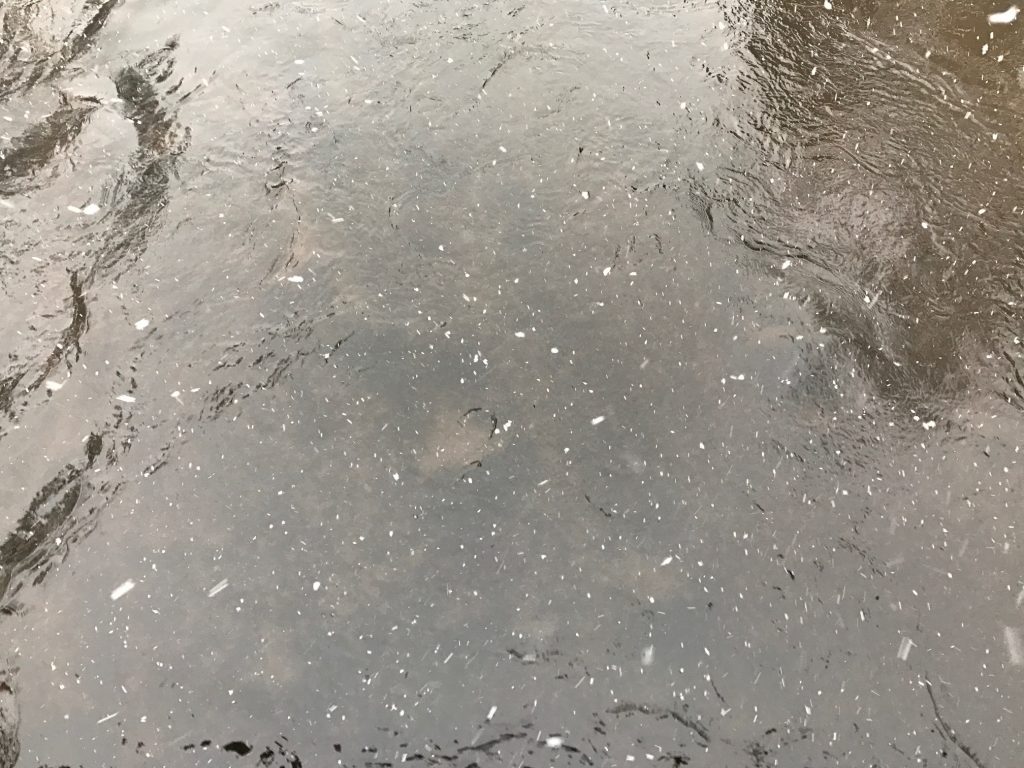 Water clarity at Wakeley
The Holy Waters could be waded in spots by stronger waders using caution.  We can help find you spots to fish if you need to get out and you're on foot.
High water when combined with a cold front can be difficult, and Friday's low is supposed to be four degrees, which at our location east of Grayling generally translates to about five below.  By Saturday, the high temperature is supposed to beat freezing (best to be out in the afternoon or early evening.  I've had good nymph fishing in these conditions).  On Sunday, we'll be sniffing fifty and pitching streamers.  Monday is 53 degrees.  It'll turn around quickly.  It may not be spring yet.  But it definitely isn't winter.
For nymphs, you can go pretty big, bold and flashy.  The fish will be feeding this time of year.  We've already seen plenty of stoneflies hatching, and the trout we caught yesterday all looked like the one above: fat, sassy, and full of fight…a far cry from a month ago when a hooked trout was content to gator roll on the surface.  These are beadhead conditions, and require plenty of split shot.  But as the water warms this weekend the trout will feed.  Work individual pools thoroughly and don't be afraid to keep adding weight until you're sure you're ticking the bottom.
For streamers: I like copper and olive, yellow, and olive and white.  These are sinking line conditions now.  Fish close to the banks and keep the faith.  While somedays you might see a couple dozen fish come to the fly, you might also only see one or two.  And one might be the trout of a lifetime.  Slim odds, I guess.  But no slimmer of odds than other, less worthwhile pursuits.
We have rooms open this weekend for those ready to ride this next warm-up.  Our off-season rates continue at $60/single and $75/double.  We also have guides available Saturday, Sunday and Monday.  This is a great time of year to hunt for big fish with streamers, or work on nymphing techniques, or both.