Sign up for the Au Sable River Cleanup!
September 9, 2017, 10 am, Gates Lodge
---
Subtle changes: one lone firefly flashing above cattails where once there were hundreds, a quiet river at dusk, white flies below Mio, fishing mice before 10 pm, swatting a flying ant from my neck, a Saturday afternoon not entirely overrun by canoes, tricos until noon, more fish rising at 5 pm than at 9 pm.
I like to joke that August exists to make us look forward to fall.  Summer is fun.  But the ripening plants around the garden let me know that the quiet season awaits.  Turn off the air conditioner and open the windows.  Chase the white fly hatch below Mio.  Clean a river.  Watch a preseason dog work a cover.  Swing a mouse through the low late summer flows.  Pop for bass on still water.  Find the first few fish ready to chase a streamer.  Plop a hopper at 5 pm.  Plan for ants.  Fish a creek.  I think that a lot of people don't know what to make of August because, aside from the white flies, there are no "main events."  But the next month offers a new kind of diversity:This is a great time to float below Mio dam throwing small streamers, nymphs and hoppers during the day, and hitting the white flies at dusk.  It is the best night fishing of the year.  There will be some great streamer days (Thursday evening and Friday morning could be incredible).  The flying ants should be on this weekend after the rain.  You can have great days fishing small terrestrials under the cedars.  Sheets and Bebow had some awesome creekin'.  You can't beat it out of the Au Sable in August, you just have to play to its seasons.  That's why you float until 2:30 am a few nights in a row…because now is the time to do it!  
A few nights ago, Verlac and I did a quick bucket list float on the Au Sable.  It shouldn't be a bucket list float, but it's a pain in the butt to do and I always wanted to do it.  It involved a couple long canoe drags, and way too little sleep.  The meteors were awesome…again.
"Good one."
"Fish?"
"No, meteor.  Whoa!"
"Meteor?"
"No, that was a fish."
The highlight of the night was Matt turning on his light to check his fly and seeing a giant beaver a foot away from the boat, staring at him.  So much is happening at night that is hidden from us.  I turned my light on at one point and there was a heron two yards from me on a log jam.
[I just got a text that Mio was "awesome…so many fish…good big fish" — how does one concentrate when the last big mayfly hatch of the year is happening right now?  "It's snowing in Mio"  Stop it!]
We're supposed to get a big dump of rain tomorrow.  Heavy rains have been a common, and unreliable, forecast this season…but for once we could use the rain.  The river is low and clear; rain would freshen things up and move some fish around.  Otherwise the forecast this week is for good average temps, nice cool nights, and perfect August weather.
Brienna — thespian, soon-to-be veterinarian, and housekeeper at the lodge, played hooky for a minute to catch this fine rainbow… 
Thanks to everyone that made our weekend events a success.  The Midnight Derby was awesome, lots of big fish landed, lots of good times, a tie for first place, some hijinks, a lot of good music by the campfire, another unsuccessful Mailbox Challenge, a lot of money raised for the Headwaters Chapter of Trout Unlimited, and just plain fun:
Winners of Best Fly(Flies) also caught:
Kermit finally shut up!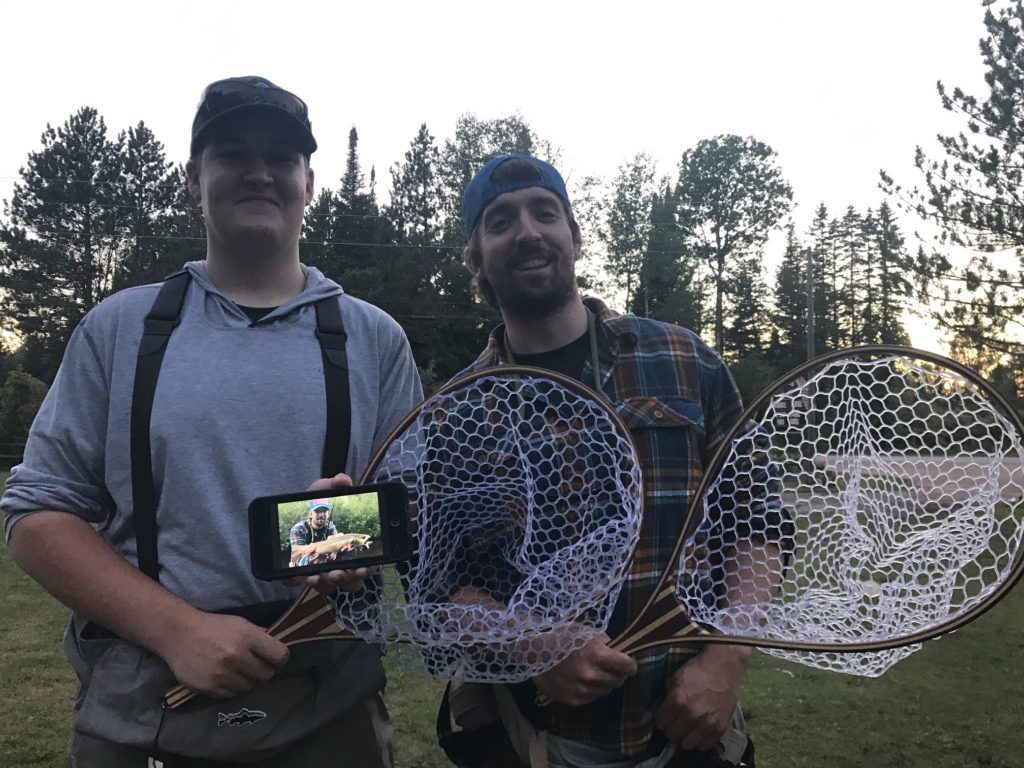 First fish: a gigantic brook trout caught on a gurgler at a secret spot.  Thanks to CF River Products for the awesome nets.
The Kids One Fly (Box) Challenge was even better.  This next generation is tuned in (see top photo!) and thinks this fly fishing thing is pretty cool:
Nearly fifty kids worked hit the river this past Saturday..and some even caught a few fish!  
---
Project Healing Waters Banquet:  Come on over for barbecue and fundraising on August 26th at the lodge.  Your attendance will help Project Healing Waters' important mission:  to aid in the physical and emotional rehabilitation of disabled active military service personnel and disabled veterans through fly fishing.  This is a program worth supporting in Michigan, and we are honored to be the hosts.  Tickets are $100 and available thru the lodge.  Here is the link.