Grab your family, fishing buddies, and/or friends, some garbage bags and Rusty's signature "trash pokers" and hit the river!  It's less than a month until the Anglers of the Au Sable's annual river cleanup.  We have TONS of beats to fill, and need your help to do it.  We'll fill a dumpster, eat some good grillin', and leave the river better than we found it…which is part of what being a fly-fisher is.  We clean the North, South, Main, lower Main, and the river below Mio dam.  The only reason the river looks as good as it does is because of this annual event.  To sign up, email [email protected]  Pick your beat, or we'll assign you one tailored to your wading ability and whim.
---
It's cliché but man yesterday (Tuesday) was awesome…even if you were by the river on a whim and didn't have waders or a fly rod.  Size 12 flying ants all over the water and good trout rising up and down the river, from Conners Flats (where we stopped first) to Keystone (where we stopped last).
This big fish took up the center of the river
It wasn't blanket ants, like it can be sometimes.  It was just enough…to break some hearts.
So we got out today and there were a few ants, a light flight in the late afternoon, and some sporadic rises to them.  The trout – even the little trout – are never pushovers on the Au Sable in late August.  But the little fellow hooked a bunch including one dandy teen-sized fish that leapt way out of the water and right into freedom.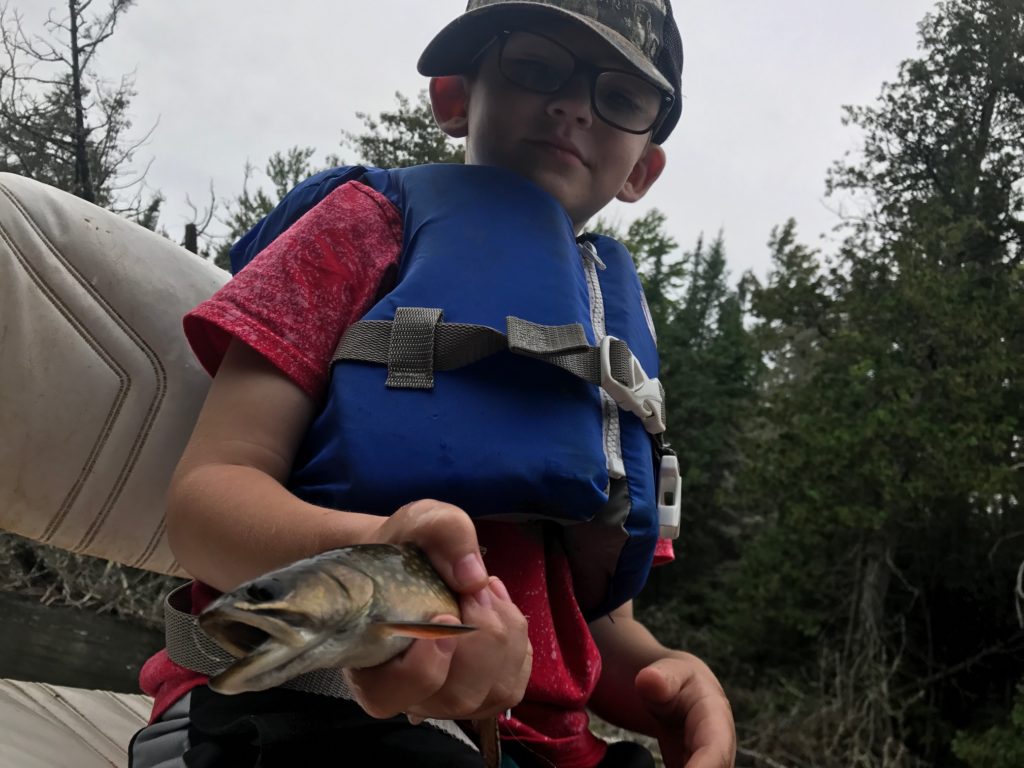 Had a fun week getting ready for fall, and just the kicked-back nature of late August.  The kids are getting ready for school.  The pursuit of trout is whimsical.  Some are here to night fish.  Some are here to day fish.  Some opt for smallmouth.  Or creeks.  But the keen edge or spring has dulled with the long summer.  I always joke that August is the thing that makes us want fall.
Perhaps the funniest thing that happened (well it might not have been funny at the time) was explaining to a nice couple not to worry about the bears on the river.  As I explained this, Terry M walked in and sat down at the tying bench.  I went through my whole bear thing ("I haven't seen one in three years" and "It's the last thing I'd worry about") and after I finished they headed off to the river.
"I didn't want to say anything, but last night I got chased off the river by a bear," Terry said.  And then he filled in the details.  How the bear came crashing through the woods and right into the middle of the river, and woofed, and grunted, and thrashed.  And how Terry, like any sane man, bolted.
A few days later, I found this just up the ridge from where Terry was fishing:
Fall is going to come early.  Or at least early fall is going to come early.  Next week there are a few days that might not even touch sixty.  It'll be nice to wear something other than flip-flops and a t-shirt, and to toss a small streamer through the afternoon and watch the trout chase. This is the time of year of great trout movement.  The water is clear and low and beautiful and when you float the river the bottom can seem alive with trout.  Today we had a few lost-looking submarines go shooting past us.  I'm not sure if they are staging for spawning, or just spreading back out now that the water temperatures are good.  But every year this same movement seems to happen.
Still a few nights left to do this…
There are definitely some good nights left to fish late, but given the ten day forecast and what we've seen on the river, we're moving into a fall state of mind.  A few times this week the clouds hung low all afternoon and the trout rose all day long, starting with the tricos, then the midges, then the olives, then the ants, and then back to the olives right at dusk.  The same thing happened below Mio…but add in the white flies as well.  It's a great time of year to take an afternoon wade.  A careful angler that is paying attention could – and maybe should — use a great variety of techniques depending on the time of day and the nature of the water.  This can range to swinging a pair of classic wets through a long soft riffle, or twitching foam along a grassy bank, or tight line nymphing a narrow chute, or painstakingly covering delicate risers in a long, shallow slick.  (For a look at some of these late season wet fly technique, check out this new class).
This is also that time of year when things start to close for the season.  Wakeley Lake is open one more day – that is, Thursday.  Many of Michigan's general trout streams – including all those secret creeks you meant to fish this year – are closed starting October 1st.  I have a few creeks I mean to explore, or in one instance revisit, before it's over, and I begin to chase the dogs through the woods on the sunny days (rainy days are meant for fishing).
If you're ably to buck traditions and obligations and fish this holiday weekend, watch for ants…especially if we get a little bit of rain before the sun comes out.  Most of the ants I've seen so far have been size 12-16, in both black and cinnamon.  Even for the bigger ants, 6x fluorocarbon will fool more fish (a fact that we proved once again this afternoon).  The tricos are still hatching and spinning and will do so, to lessening degrees, for the rest of the month.   The olives right now are 20 – 26 (or smaller).  There are also a few different caddis around, including the orange sedge, which hatches at night but the trout will eat it fished blind through the day.
The water is cold again.  It is clear as it'll be all season.  The river maples are turning.  It's a beautiful time to be by the river.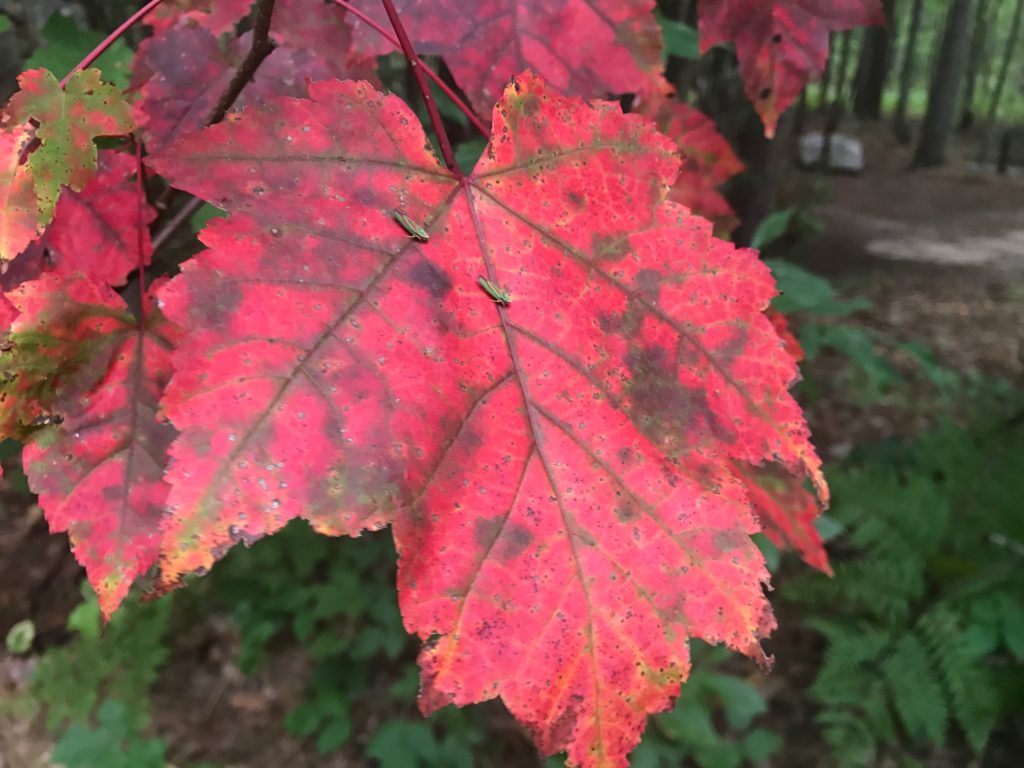 Next week should be great weather to clean the river.  After about twenty years of getting lucky, the last few years the annual Au Sable River Cleanup has been plagued by inexplicably high water.   Perhaps this year we'll get lucky.  We saw quite a bit of trash today…I know we don't find big heaping bags of junk anymore, but keep in mind that the result is cumulative.  If we didn't do it, we'd notice next spring.  If you haven't signed up, do so.  If you've never participated, send me an email and get signed up.
---
The Gates Lodge Annual Clambake: September 8th, 6 pm on the dot!
Starting at 6 p.m. sharp, we'll be lighting the fire and serving clams outside. What better way to celebrate the harvest season? Good eats and good times. This is an outdoor event, so dress appropriately.  RSVP required.  Outdoor bar serving cocktails.  Here's the full menu:
Garlic Herb Ciabatta
Grilled Corn on the Cobb
Green Salad
Chicken and Linguica Sausage
Steamed little neck clams
Enough butter to make Paula Dean die
Prices determined by market. This was so much fun last year!