What a great week of just general up north outside.
Alex and I took an afternoon to nymph fish this past week because the weather was sunny and the streamer chances seemed nil.  The trout were in the dark water, but more in the soft water, indicating (most likely) that they were post-spawn and hungry.  We had some sight nymphing to fish, one on the inside of a bend, one in a shallow side-channel, and some indicator fishing as well.  Pink eggs, yellow stone nymphs, modified pheasant tails.  Nymph fishing sure has gotten simple.  Airlock indicator, two split shot, two nymphs.  The Airlock slides easy for quick depth adjustment.
There was a work crew at a house across the river from where we were fishing and they stopped working to watch us.
"So you just fishing a sunken fly?"
"Yep."
"Under a bobber?"
"Yep."
I didn't tell them I think it's kind of ridiculous too.  But it's fun.
On the way back up the river I saw the tail of an enormous brown trout sticking out of a weed patch.  Must have been a tasty snack for a mink…but a trophy to us.  At least 24" of brown trout, the guts eaten out.  I once watched a mink dive down and yank a trout right off spawning gravel.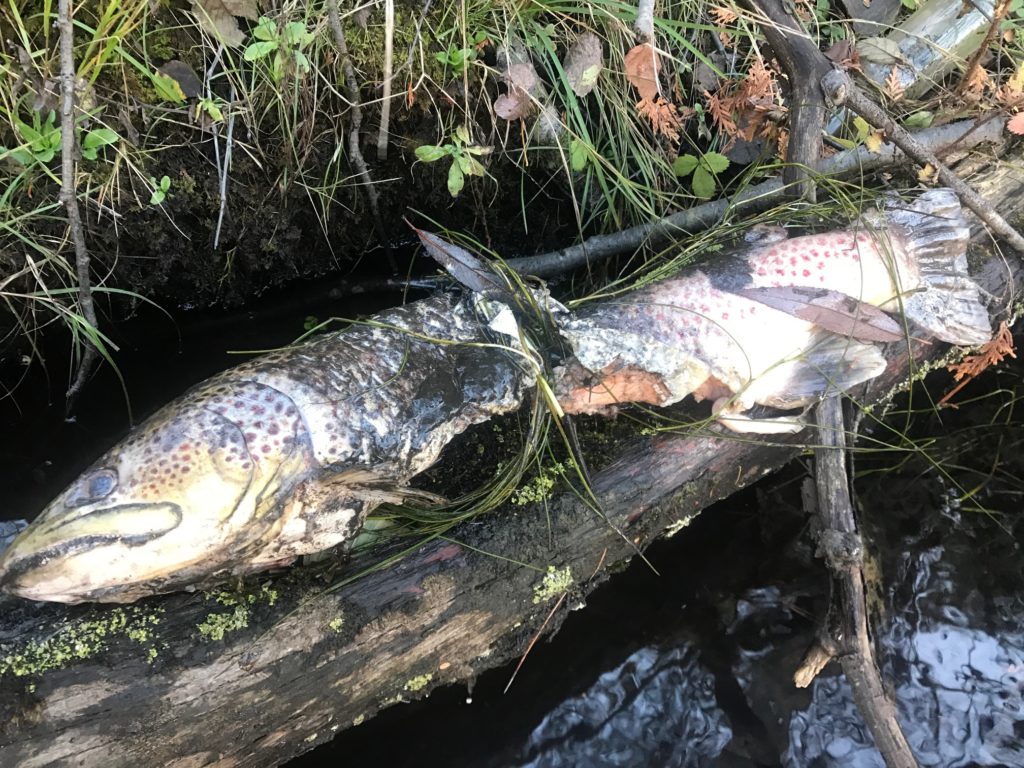 There are at base two ways to fish this time of year: streamer and nymph.  But really there are many intricacies to each, and upstream sight nymphing has very little in common with a bottom bouncing rig, which really has little in common with an indicator rig.  And none of these have much in common with streamer fishing, be it from a boat or on foot, on the strip or on the swing.  What I have to fight against this time of year is becoming a one trick pony.  Which is what was great about going nymph fishing for an afternoon: we caught plenty of fish on a cold, sunny afternoon when the streamer fishing would have likely stunk.  That same day my friend Jake sight fished and caught some small ones and had shots at some good fish.
November is full of opportunity.  It's just cold.  Like, real cold.  As a 12 month/year angler, I don't think any month feels quite as cold as November.  It is often humid, often windy, and just plain in-your-bones cold.  And on the eve of what looks to be our first significant snowfall (2-6" expected, depending on the forecast) I spent the last dark hour snugging up boats, stashing gear, and readying the scraper and snow shovel.  It's not about putting things away for the winter.  It's about respecting the season.  There's something sad – and unusable — about a boat full of snow.
All the rivers are now in excellent shape.  The South Branch is blocked for floating in the Mason Tract and below Smith Bridge.  We tried to clear the Mason Tract today but the hand saw was no match for the giant tree and it won't be until the weekend that I get down there with chainsaw and winch to fix the situation properly.  There are a ton of empty redds on the South Branch and I think that quite a few fish are done spawning there.  The mainstream still has plenty of fish on redds.
We brought the wrong tools for the job.  Still impassable.  And no beer in the cooler that washed up in the jam…just soggy potato chips.  
My annual streamer camp starts on Sunday and butts up against the opening day of rifle season (November 15 – the shop is closed that day).  Sometimes the weather will stay "mild" right thru December…sometimes it crashes by Thanksgiving.  But until that happens…enjoy this cool secret season.
---
Order Your Holiday Pies
Caramel Apple Pie, Pumpkin Roll, Blueberry Pie, Pumpkin Cheesecake
Fresh and Made-From-Scratch                     
$28 per pie
 Email orders to [email protected] by November 10th, pick up at the lodge either November 20 or November 21st