Winter Guide Trip Special: 6 hours, hot chili (or alternative), one or two people, $300.  Includes potential non-guaranteed adventures such as: blocked rivers, saws, tow straps, shovels, and twenty-inch trout.  We seriously love to fish in the winter, and we'll do so whenever the temperature tops 25 degrees (or less, depending on desperation levels).  Expect to do a lot of streamer fishing, and maybe stop at a nymph spot or two.  You rarely catch a lot of trout in the winter, but the ones you do are pretty nice.  We have opening slots on Saturday, Sunday and Monday this week to make the most of this midwinter warm-up.
---
Still unpacking from the West Michigan Fly Show.  Good times, nice folks, and a nice pace.  Enjoyed sharing some conversations with friends, eating some great food around Grand Rapids, and hanging out with my friend Tanker, who is in the process of redoing his drift boat trailer.  We also managed to have our show trailer come unhooked from the hitch – nice move, rookie! – and drag behind us on a main city road.  Got lucky on that one.  Not as lucky on the second mistake: we took the back way home and our entire rig broke through a frozen puddle and got stuck in the middle of icy nowhere.  Verlac had to come tow us out.  Not sure when I'll live that one down.
There hasn't been a lot of trout fishing up this way.  It was a cold week.  Alex braved a whole lot of cold to catch the trout at the top of this report.  I think he fished for about a half-hour.  Daytime high was in the mid-teens.  But just when you start pricing out new ice augers…
This weekend looks pretty good.  A few stretches of river are frozen shut, and I'd be nervous about floating too far below Townline Road.  I'm sure by the end of the weekend the South Branch, aside from one hair but doable portage, will be floatable as well, along with the Manistee.  A lot of the snow has melted, but the put-ins and the take-outs will likely require a tow strap or chains and four-wheel drive.  There are plenty of places to walk-in, with some accesses available on the North Branch and South Branch, along with the whole mainstream.  I expect the trout will be eager to chase streamers or eat nymphs.  We've been doing well with small eggs and mid-sizes (#14 or so) nymphs.  For streamers, it's hard to beat a black, articulated fly in the winter, especially when the water is low and clear, which it is now.  By the middle of next week, a combination of rain and snowmelt should require slower presentations and bigger, brighter flies.  I like to use a floating line in the small rivers during the winter streamer season, but when the water is cold and high, a sinking line will be best.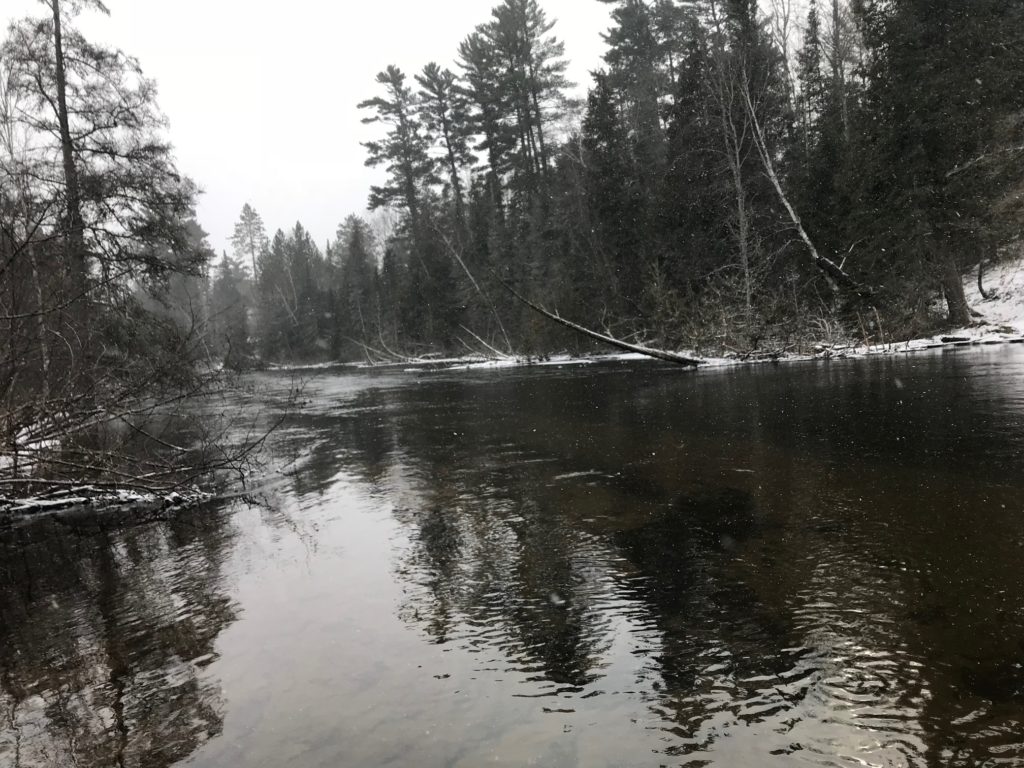 I'm looking forward to what appears to be a prolonged break in the weather.  Winter fishing is simple, fun, and exhilarating.  You hike through the snow, and witness the unseen nature of nature, captured in tracks, blood, and fur.  The river itself is a limpid, cold thing, and to the unfishy eye it appears dead.  But a river in the winter is anything but, and the trout go about their business of eating, and we go about our business of imitating what they're eating.  My favorite winter fishing is to hunt the inside bends looking for trout on the sand.  It requires a nice calm, cloudy day with not a lot of snow in the pine trees (which creates an opaque reflection), a long leader, and the right fly.  But I enjoy it all, from a long streamer wade or float, to picking apart some deep water with a nymph rig.  I'm looking forward to it already.
We have a Free Fly Tying Saturday this weekend in our restaurant, from 9 am – 2 pm.  Our Saturday evening dinner/tying class is full, but we'll return with another soon enough.  It looks like that idea might stick around for this winter and beyond.
---
Next Free Fly Tying Saturday is this Saturday, January 20th…