Both my kids are in that childhood stage of trying to decide which of their classmates is their best friend.  Which kind of makes me think about this notion of a fish of a lifetime.  I think there was a time that I was searching for a – singular — fish of a lifetime.  The fish would have to be large, rare, well-pursued, and captured without flaw.  With that mindset, I caught some nice trout and probably pondered which one was most meaningful, most rare, best pursued.  But over time I sort of dropped the idea.  "A fish of a lifetime" seemed to indicate a loss of appetite. I now use "a fish of a lifetime" as more of an adjective.  As in, that's a fish of a lifetime.  Matt and I chased one this summer, a ghost a client had hooked and lost near the boat.  A monster.  We fished hard for a week, working the main pool, the tailout, the head riffle, the inside, the outside, the pool below, the pool above.  We caught some nice collateral trout.  One was actually my biggest trout of the season.  But it wasn't a fish of a lifetime.
My friend Kevin got into a fish of a lifetime on a cold day this week. The day was cold and cloudy and the snow was doing that weird Grayling thing in which it just hangs in the air. It was a normal winter day.  Kevin said he considered staying inside.  But he decided to fish instead.  You know how it goes.
Another view 
It's awfully hard not to think about fishing right now.  On the return trip from the excellent Midwest Fly Fishing Expo, we spent over three hours discussing where we wanted to fish certain hatches this season.  I found myself momentarily stressed about early hex.  What would I do?  Damn the Daylight's Saving Time.  If it weren't for that, 10 pm would be the magic hour.  And on and on we spoke, right thru dinner and over endless roadside coffees, until the upcoming season danced like mayflies just above our heads.
The forecast is passable, but that's point, I guess.  It's time to think about the 2018 season as a thing already begun.  There have been stoneflies and trout chases of streamers.  There is snow, but not really any snowpack. There are red-winged blackbirds in the alders along the river.  There are steelhead in many of the steelhead rivers.  The nymphs are maturing and the food base, along with the (slowly) increasing water temperatures, means there are more fish feeding more often.
A stonefly taking a break 
With all of this in mind, the river conditions are as so:
The Holy Waters has a nice stain down the middle but is very wadeable, especially for mid-March.  We've been doing well with a variety of nymph rigs, though this is the VERY best time to use tight-line/Czech techniques on the river.  You can also catch trout with the traditional winter indicator rig, as well as some shallower water approaches.  One good technique is to rig up for tight-line with a heavy anchor fly at bottom, and then use an indicator to suspend the flies to efficiently cover the shallower water between good, deep runs.
The South Branch is at 250 cfs, which is perfect not only for the winter angler, but also the winter trout.  It's good to have flows below 300 cfs for the first time in two weeks.  Even with a few inches of snow, the river is easily accessed by most vehicles.
The North Branch and the Manistee are both in excellent condition.  The Manistee gets passable hatches of black stones and the Manistee trout isn't shy about rising to them. This in no way means there are rising trout on the Manistee.  But the next warm sunny day there probably will be a few.  Possibly even enough to make the drive.
This weekend looks to be clear and above freezing.  The best midday strategy will be to nymph fish the upper river or streamer fish, most likely by boat, the lower river.  There should be decent streamer opportunity in the mid-morning and again at last light in the upper rivers.  March is a big streamer month…meaning fish big streamers.  But there are no fast rules to any of it.  I'd recommend trying to fish the fly slow enough to keep the fly jigging in the good holding water (the slower water).  Fish it carefully and as precisely as a streamer can be fished.  If you see a trout start to chase, give it one strip and then pause the fly…most spring trout will eat it before it drops to the bottom.  Set the hook well, it might even be a fish of a lifetime.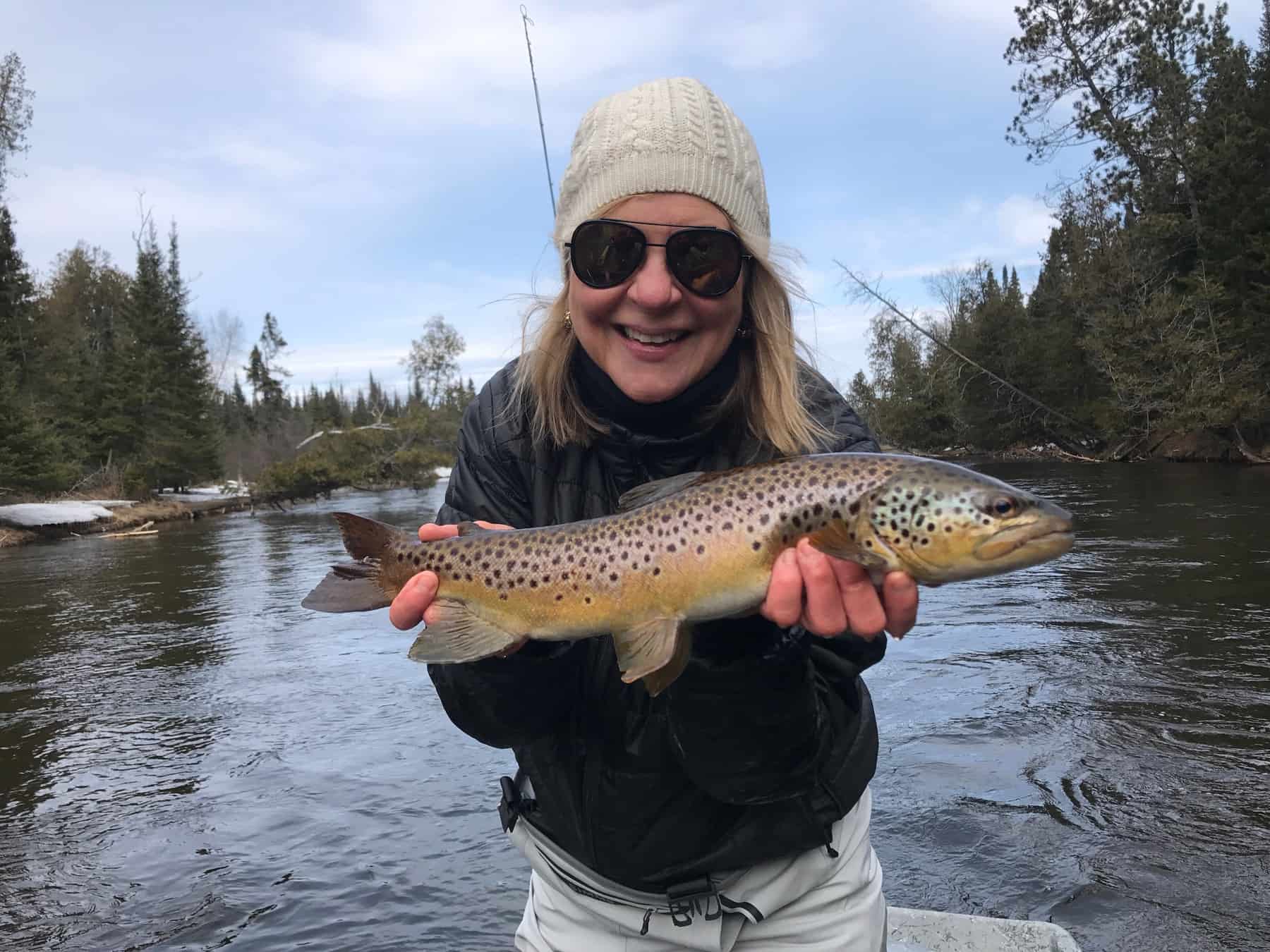 Julie with a good one from last week
---
We have a lot of GREAT events coming up:
Brats and Beers, March 17, 5 pm – 8 pm  
Just two spots left…
Spend dinner with Odd Side Ales brewer Eric Janson and chef Matt for beer tasting, sausage-making and cooking demo, recipe list and a brewing presentation followed by a special St. Patrick's-ish dinner. Scotch eggs, Guinness Braised Corned Beef, a selection of three fresh-made sausages, smoked chicken cassoulet, with beer and wine pairings.  Tasting pours included.
March 17, 5 pm – 8 pm, Limit 25 people, $35/person
Email [email protected], or call us at 989 348 8462, to make reservations
---
Upcoming Classes: 
Here is a full link to our many schools, events, and demo days: www.gateslodge.com/events
We have three schools upcoming:
March 31 and April 1 – Nymph fishing the Au Sable with Jordan Klemish and Dennis Nelson:  Learn how to really nymph fish the Au Sable by the guys who have cut through the stuff you read in books and know how to do it.  This class is full
April 7 – Streamer Techniques with Alex Lafkas: Alex is a streamer guru.  You'll learn theory, presentation, casting…and then have a half-day float putting these techniques into action.
April 21 – Wade Streamer Techniques with Alex Lafkas: Ever get frustrated trying to wade and fish streamers?  This class will show you how to do it right, and with confidence.
---
And a great Banquet for one of our great local TU Chapters: