I'm reminded of a Nick Lyons essay, I think it's in Bright Rivers, in which the author heads to the river at the odd times of day, when the water is cooler and the trout are acting in mysterious ways.  In the essay, he says that he fishes until the sun is up and the river is dead.  It's been kinda like that.  The night time has been excellent.  The late afternoons have been tough.  The mornings have been alternatively good and bad.  And then yesterday Jimmy's client caught a 16″ right from under then noon-day sun.  There are no rules, just trends.
The tricos have started on the North Branch and are spreading throughout the river system and should be everywhere by next weekend.  Alongside the tricos are the latas (#16-20 BWO) and the flies-formerly-known-as psuedocleons (#22-26 BWO), along with a few straggling, but important, Isonychia, the last of the hexes, and the cahills.
The only clouds we've seen have been clouds of tricos
I had a darn good July night on Tuesday.  John and I met at the lodge at 8 pm and hit the river before nine.  After a drink on a log jam the first olive spinners began to float by.  We split up, he heading down to the big flat, and I up to the a tight, deep pool which, for some reason, has never been given a proper name.
It's a good pool.  It's sure been good to me over the years.  The river divides and a section of it pushes against a bluff and backs up against a row stunted tag alders.  The bubble line is agains the bank, but at dusk the fish move inside the bubble line, only about twenty feet from the caster who, if they are paying attention, should be kneeling, fly in hand, ready to cast.
The rises are subtle.  I have to relearn this every July after a month of drakes and hex.  These rises, at best, are a soundless ring with a bubble.  Or, worse, just a snout.  The first fish was a 12″ brown and it left a bubble.  The 15″ rainbow did not.  Both gave me all I could take on 7x, leaping and running and testing my drag setting.  I had to switch flies.  First they wanted the #18.  Then the #24.  Then the #18.  This can be frustrating at last light.  There's nothing easy about a July evening spinnerfall unless you tie on a size 12 Borchers on 5x and say the hell with it, whatever bites will bite.  This works too, just not as well.  I like to match the hatch.  And this night was one of those good nights when matching the hatch (or spinnerfall) made a difference.  I was pretty happy when my fly came apart on the last one and I had a reason to quit and reflect (or gloat, depending on how you look at it).
As I waited on the log jam, I heard John's reel turn, and then a great leap of a trout, then another.  It sounded like a big fish.  The splashing died down and I heard John head upstream toward me.
"Did you get him?" he said.
"That wasn't me.  I thought it was you."
So I guess a big fish just started jumping between us, or it was a really big fish that he caught and he's messing with me.  Both seem equally possible.
John had no interest in mousing so we parted ways and I picked up Haley and we drove to a favorite deep bend for a little downstream midnight swing.  It was hot and still.  My phone beeped that a rain shower would start in five minutes and lo, a rain shower started in five minutes.  The trout were feeding in the margins, and some were big.  It wasn't consistent.  Not something you could hatch match.  Just the occasional sound of a big mouth closing.  We moved some nice fish, hooked two — both on a big wet fly — and landed one, an outsized hen, fat all the way through, comfortably over twenty inches, and plenty to call it a night.
I considered pulling an all-nighter, writing this fishing report, reading a book, and hitting tricos.  You can do such things in July.  There is no place to be in July.  You go to the river, and, I guess, that's the place to be.  As it was I decided to get some sleep and hit a favorite riffle of the South Branch in the early afternoon before the temps were too high, and was rewarded with some fine brook trout that ate a black ant, but I think might have eaten any dry fly.  Around 3 pm the fish shut down and the water around my legs felt warm so I left.
Should be one under there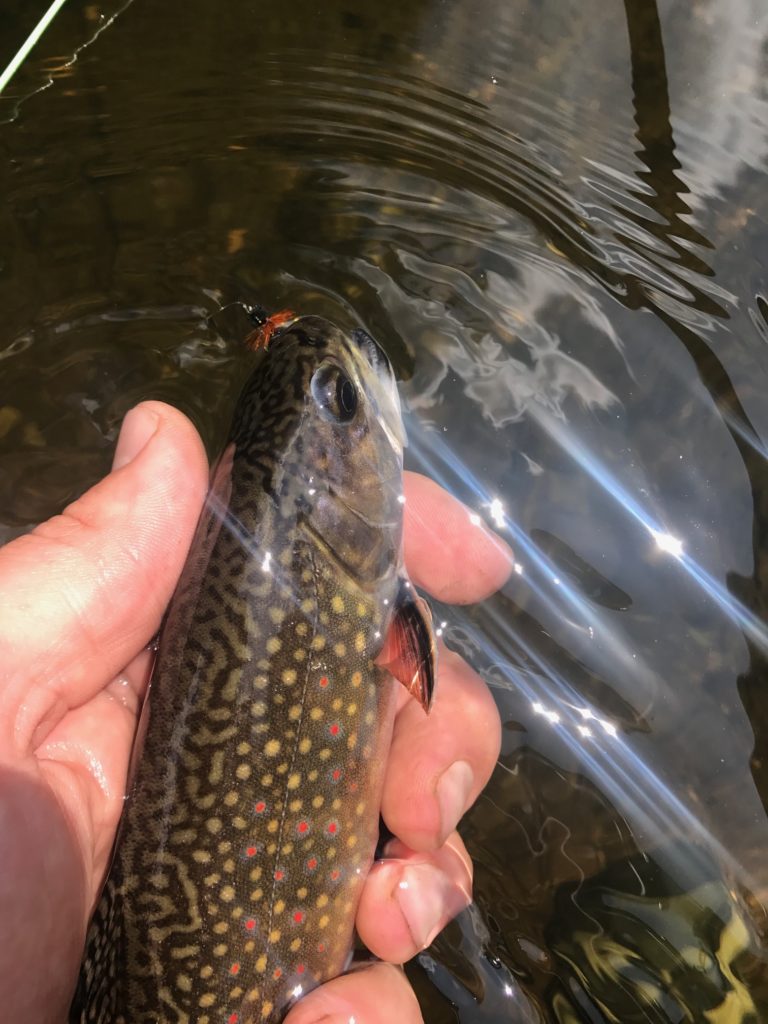 Yep
There's much to do in July, night and day.  Hot as it has been, and looks like it will be, there's simply more to do when the sun is gone, or low, in the morning, or after dark.  On the worse days the water is simply too warm, most often after a warm night.  Most days this week the overnight lows have started our day with water temps near 60 at 6 am at the lodge, and they've peaked in the high 60s by dinner time.  Not ideal, but not terrible.  What has been worse is the absolute lack of clouds, the drought.  The rivers are very low and clear.  Katy and I (and Matt and Katrina and Denny and Kim) had to evacuate our houses due to forest fire earlier this week (small fire, and quickly contained).  The grass is brown and crunchy.  We really need rain.
Summer is here, it's time to sign up for…
The Midnight Derby, August 11th:  Every year we have ourselves a little midnight party on the banks of the Au Sable.  40 teams, $50 per team.  7 pm – 3 am.  Barbecue, music, and fun. Your team of two will leave for the river at 8 pm when the horn blows, and can fish anywhere on the Au Sable and Manistee Rivers.  Two flies per team.  Some try hard, some try not at all.  Prizes for first fish, best pic, and biggest fish.  We use the honor system.  We have fun.  And we raise some serious money for the Headwaters Chapter of Trout Unlimited.  If you haven't done it, do it.  If you have, re-do it.
The Kids One Fly (Box) Challenge: Our favorite event of the year is on August 11th.  All kids receive a box of flies, and tippet and leaders from Scientific Anglers.   Games.  Prizes.  Food.  Free "guides".  We'll meet at 9 am, receive a casting demo from Mark Hendricks, form a chaotic circle, work on our 10s and our 2s (basic casts), and then hit the river with volunteer guides.  All you future trout bum kids, drag your parents to this event.  August 11th, 9 am – 2 pm.  Sponsored by the Anglers of the Au Sable.  If you'd like to volunteer to be a guide, please contact me at [email protected]