I tried to write this report yesterday but the forecast has changed three times since then, and it'll probably change three more times, so I'm just going to rewrite it.  Here goes:  The next two days – Thursday and Friday – look pretty good, though a light evening rain tomorrow could interrupt the spinnerfall (but not, perhaps, the light hendricksons) tomorrow night.  Otherwise…two pretty perfect May days.     Saturday and Sunday look wet and cold, though most of the rain is supposed to fall overnight Saturday and Sunday morning.   This cold carries through the first half of next week.  Then, well, does anyone trust days 7-10 of a 10-day forecast?
Moon, trees, river
Based on this past week, here is the bug line-up for the days that we see bugs (which I think will be most of them): dark hendricksons (the last of them), light hendricksons (the first of them), mahoganies, thrashers, black caddis.  Add the spinners for each of the mayflies, and you have some complex hatches.  Last night it seemed that some of the trout were eating mahoganies, some the hatching light hennies, and some the dark Hendrickson spinners.  The fish weren't completely tuned into the evening stuff yet, but some good ones were caught.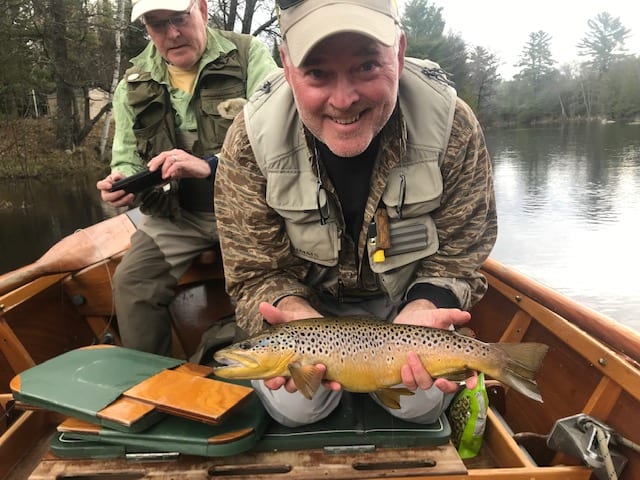 Doug with a dry fly dandy while brother Don figures out if he got the pic
The rundown:  Sunday and Monday were good, or excellent, depending on who you talk to and where they were…probably the best afternoons of dry fly fishing in 2019 by some magnitude.  The hendricksons, mahoganies, black caddis and the first light hendricksons hatched most of a half-sun, half-cloud afternoon.  The trout were in all the good spots.  It was, at times, about as good as it gets, and I was lucky enough to be in the boat for it.  The best fish wasn't the biggest but it did provide a 20 minute fight…19 minutes of which was me diving around trying to unwrap a leader from a log.  By the time the trout was landed and I think he was rooting for me as well.  We were all exhausted.
Tuesday and Wednesday looked like caddis and spinnerfall days but they didn't really amount to much.  The bugs were there, but the fish rose inconsistently.  Moon phase, pressure, water temps…I don't know. That's okay.  They can't all be winners, even in May.  But the sun felt good and the evening rise stuff, fickle though it was, did provide some dandy targets.
This weekend, however, is somewhat of a guess.  Thursday and Friday look pretty fishy to me in a traditional May sort of way.  Saturday, if the rain stays light, could provide some excellent daytime dry fly fishing.  If not, it's streamer time.  Sunday, after a full night of rain, could be some very good streamer fishing as the rivers rise (if, of course, we get the 1"+ of rain we're supposed to) or even going deep with the beadhead.   For anglers that look through the forecast and just go fishing, be it with dry, streamer, nymph, or soft hackle (or all of the above) there'll be fish to catch.  This has been a late, and cold, spring.  But it's not worth getting psyched out about.  It's May after all.  There are a few fish stories that begin "it was a rainy day in May…"  There'll be a few more after this weekend.
As of now, all our rivers are in pretty good shape.  The South Branch is flowing high but fishing pretty well for anglers that want a change of pace and don't mind the limitations of a high water South Branch.  I like sit on the bank and wait for a trout to rise.  Bank beavering, is what that's called.  Most of the time, high water or not, there's a safe place to stand and make a good presentation.  The Main and the North Branch are in excellent shape.  We expect the rain to bump the flows up across all the river systems though how much is a guess.
Now on Friday: Demo Days: Scott Fly Rods, Ross and Abel Reels, Airflo Lines:  Phil Cook will be here on Friday, not Saturday, so folks can demo products from Scott Fly Rods, Airflo, Ross and Abel Reels without getting rained on.  We'll be offering package deals on all these items.  Come say hi and talk fishing: Phil is an Au Sable angler from way back.
---
Orvis Rod Swap!  Trade in your tired old — but still working — fly rods…and save 20% off a new one.  Offer good until Father's Day