June 5, and no credible sign of brown drakes…but that hasn't stopped the chase.  Midnight patrols are now common.  Early morning shuck checks.  Conjecture.  More conjecture.  If you care enough to read this, then you probably care enough to check the forecast…so you know what we know, which is that the brown drake hatch is about to begin.  Could be tonight, could be Saturday night.  They might start in one spot, or all the spots at once.   Once they start, and spread, they can do so quickly and overwhelmingly.  But next week's cooler forecast will help hold them in place, and that's a good thing.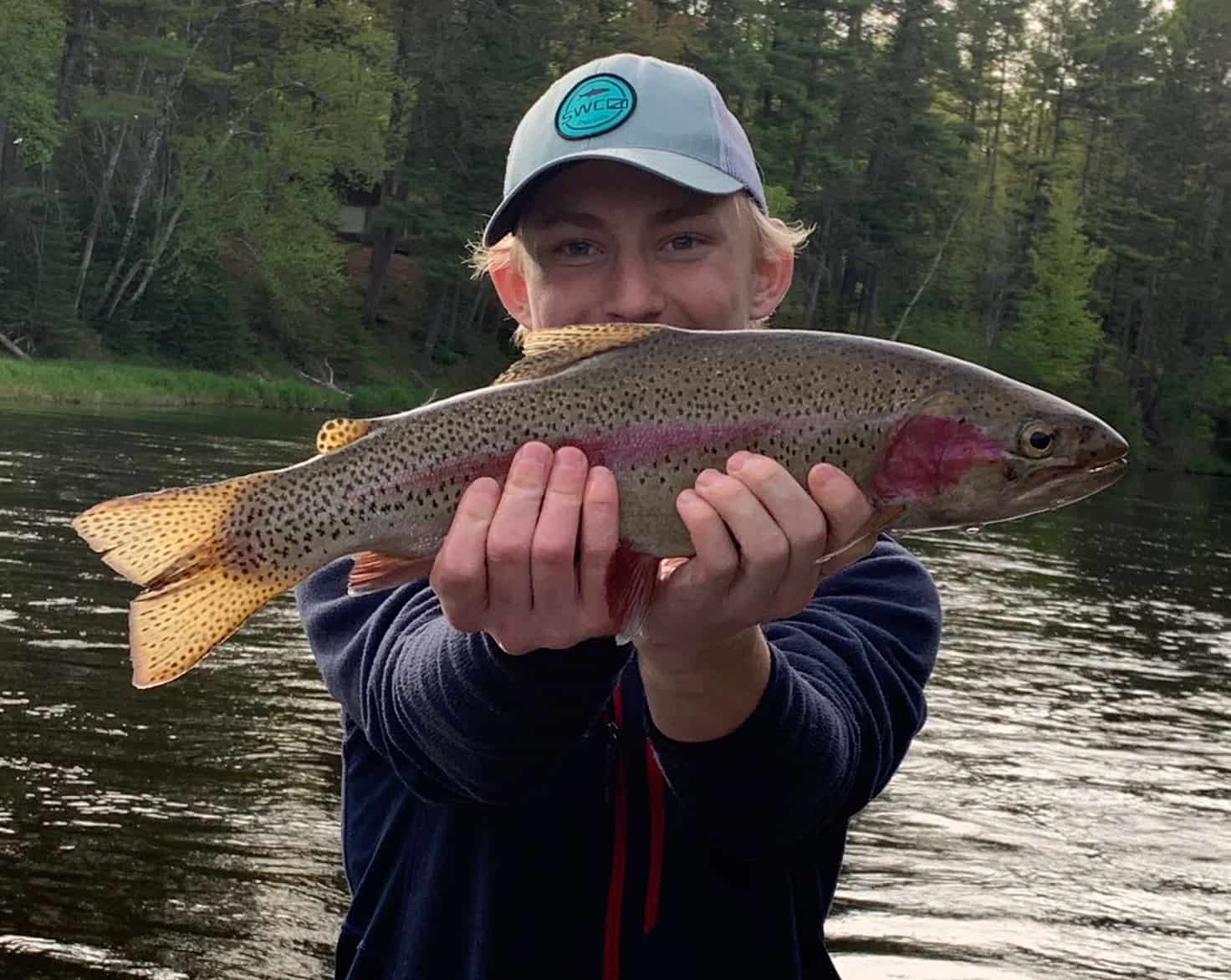 Johnny succeeded on this big, rising rainbow
Drakes symbolically mark the end of some pretty great fishing…but only symbolically.  We are in the height of brown bug season, which this year has occurred at the height of yellow bug season.  On a short wade this week in the Holy Water I found three good trout rising to Borchers drakes in a cedar-protected bubble line just before dusk.  Well, they may have been eating the yellow stones too…it was hard to tell because they kept refusal-rising to my flies.  Rise, set, nothing!  As it grew darker the sulphurs started hatching and spinning simultaneously and the trout began sliding all around that bubble line rising like crazy and driving me nuts.  Finally I cut off the 5x and tied on about five feet of 6x (I may have been a bit frustrated) and a sulphur parachute and went 1,2,3 right down the line of them (I lost #3 after the hook set, but he learned his lesson).  The best was a fat brown that pulled hard.  Aside from the three good consistent trout I had in casting distance (there were more in other bubble lines), and overlooking the dozen or so juveniles leaping for caddis in the backwaters, I had at least a half dozen trout — solid, solid trout — rise once or twice and not return.  I think these were trout that due to the high water of this year are just starting to look up for their food.
This weekend, I think there'll be drakes…maybe even a lot of them.  The Isonychia will probably get going as well.  But I know there'll be Borchers drakes, march browns, sulphurs, yellow stones, olive stones, thrashers, popcorn caddis, and probably a bunch of other things as well.  I can't remember conditions that are going to stack more bugs on top of each other than the ones in the forecast.  Entomologically-speaking, this is a late, late, late spring, but we're there.  The trees are full of leaves, those that blossom are blossoming, the woodcock banders are banding, the bears are on the move (three separate sightings yesterday), the fawns are in the long grass, and it feels "drakey."  I'd try to describe it, but I can't.  I was driving around town today running errands and I felt it thru the windows.  Smelled it in last night's bugspray in my hat.  I had the urge to U-Turn, and start driving to trout water, just in case something was happening.  I think you know what I mean.
---
Orvis Demo Days, this Saturday, 9 am – 5 pm:  Josh will play the part of an Orvis representative.  Waders, boots, rods, reels, and logo shirts: we'll have it all outside, all on sale, and all available to try out!   See you soon…  Oh, and…