It's hard not to start a fishing report with anything but the weather.  This little heat wave will go wrong, as they do, and crash.  Next week, we'll be stripping fall streamers and dead-drifting afternoon BWOs.  In the meantime, ants, morning streamers (and tricos, still), dry and droppers, and even some midnight mice.   The rivers have a little extra flow.  The water temperatures are perfect.  Blind fishing attractor dries in the afternoon has been pretty consistent.  The leaves are turning along the river.  There's a lot to enjoy.
On Friday, Jordan and I took a cloudy day, post-rain, and fished streames until the sun came out…and then tried some high-sticking just to pass the time (and a terrible south wind).  The streamer fishing was excellent for a spell.  It's really important to cover water this time of year.  Even when they were chasing at their best, we'd have fifty or sixty yards of dead water, and then move five trout in one bend.  Several times two trout chased in unison.  Jordan and I sat out as much sun as we could hoping for ants but eventually decided to bag it and row out.  As I put the boat away the ants were flying around my yard but I think it was too little, too late.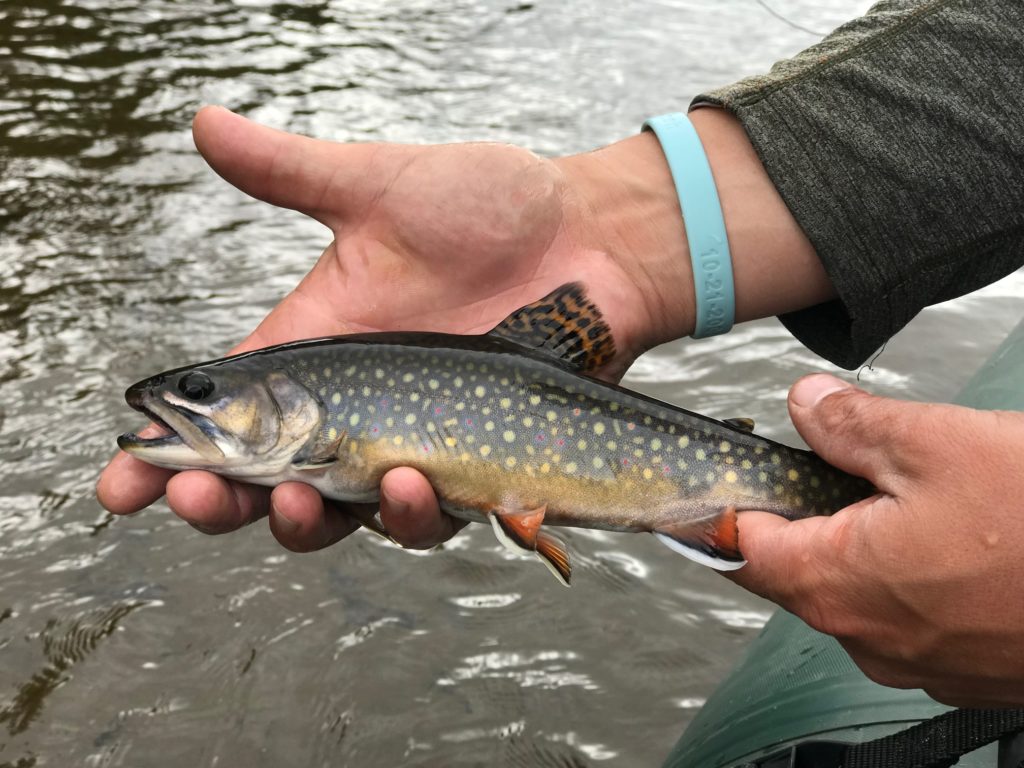 A few folks hit a very decent ant flight on Monday and had big fish rising from about 5 pm thru 7 pm.  The conditions were perfect for it: rain in the morning, seventy-some degrees by 5 pm.  The ants should be important the rest of this warm week and into the weekend…but to get a really good flight of them it'll need to rain, preferably overnight or in the morning.  Size 14 and 16 cinnamon ants have been the most prevalent.
With this heat the night fishing kicked back on and should be good right through the weekend.  A last little taste of the summer.  I had good reports from Tuesday night and I'll probably sneak out tonight or tomorrow, if only for an excuse to say I've done, and to remove the glow lines and prep the streamer sticks.  I've been cranking streamers at night.  I'm ready for a few long days of some real fall fishing.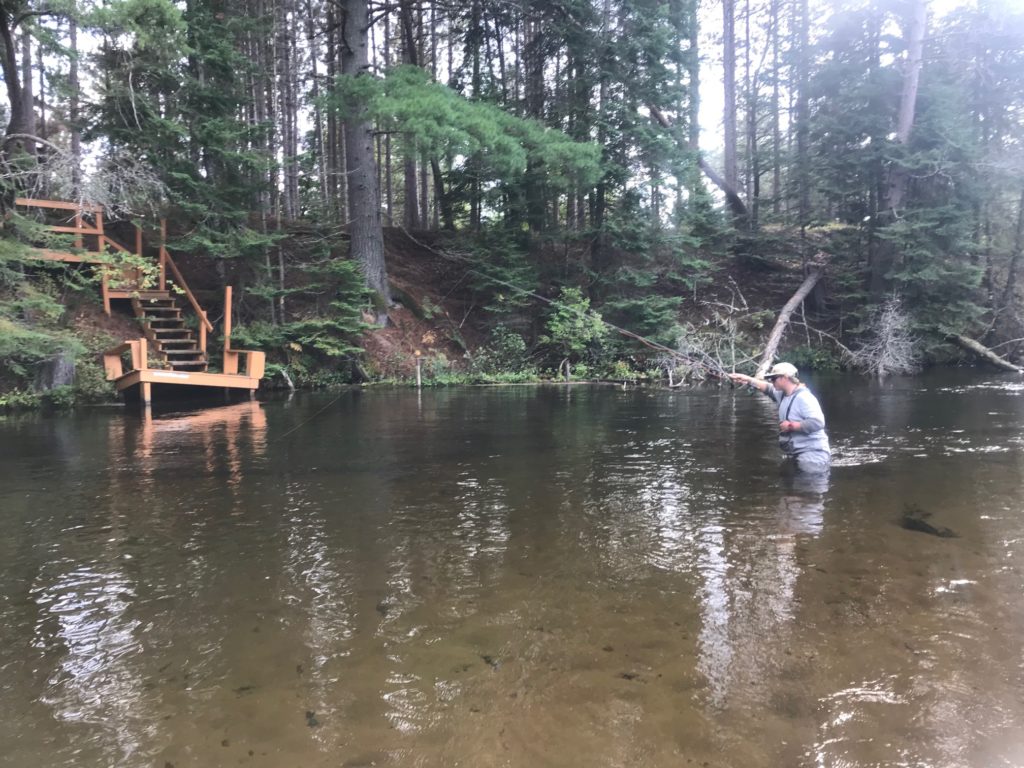 Yesterday I hit the river with Dan and Doug for a half-day float in some bigger water.  The goal was to have fun — it was this father and sons first float together, and the father is 89! — but also to, you know, catch some fish.  On the first good bubble line, the one along the undercut grassy bank, Dan had a dandy suck in a size 12 Royal Wulff (a killer fly on a hot fall day when the water is slightly high and slightly stained).  We lost that one right at the boat…but spirits were high.  Two hours later, and only a few small fish to show (and not land), spirits were still high but not as high as they should have been.  I had fly boxes scattered all around the boat trying to think of something.  Finally I put on a big fat dry fly and a big rubber legged nymph and told them we were done hoping for a brook trout, and done trying the streamer, and we were going to find a brown off one of those drop-offs.  We hooked one good one that got off.  And then Doug threw an ace cast at a little shady bubble line, whispered "right under that branch", and his dry fly went under.  It was a nice fat brown, his biggest ever during the day on the Au Sable.  Not quite bottom of the ninth.  But close enough for a high-five.
---
Help us plant cedars: Saturday, September 21
Anglers of Au Sable's annual cedar tree planting, this year in the lovely remote Deward stretch of the Manistee River, will be on Saturday, Sept. 21. If you want to volunteer, meet at 9 a.m. at the Old Au Sable Fly Shop parking lot in Grayling. Rubber boots, gloves and small mauls and post drivers are useful. Oh…and did we mention, you'll get lunch in the woods for your reward, along with a good feeling.  Contact Jim Shiflett if interested: [email protected] and let him know you're coming.