The weather is breaking.  I love that phrase.  The weather hasn't "broke".  It's breaking.  It continues breaking all weekend and next week and at some point it'll be "broke".  We're crossing our fingers for a gentle, consistent spring.  It has been a tumultuous half-a-decade.  Seriously.  Record April snowfalls.  Record river levels.  Record cold Aprils.  Look up the weather history and there'll be a nasty datapoint at some moment in the late 2010s.
The next ten days look like some excellent streamer fishing.  The sweet spot for early spring streamer fishing is to hit the first warm weeks before max run-off.  Some years the sweet spot is a few days.  Others, it might be a few weeks.  That'd be right now.  You won't catch a lot of fish this time of year.  But you'll find some big ones, and if it's a warm day, like the day Matt and I floated, you'll be extra happy to be alive.  This applies to people, as well as the grouse we flushed, the many deer, and this hawk and young eagle that took some time to ride a thermal around the moon.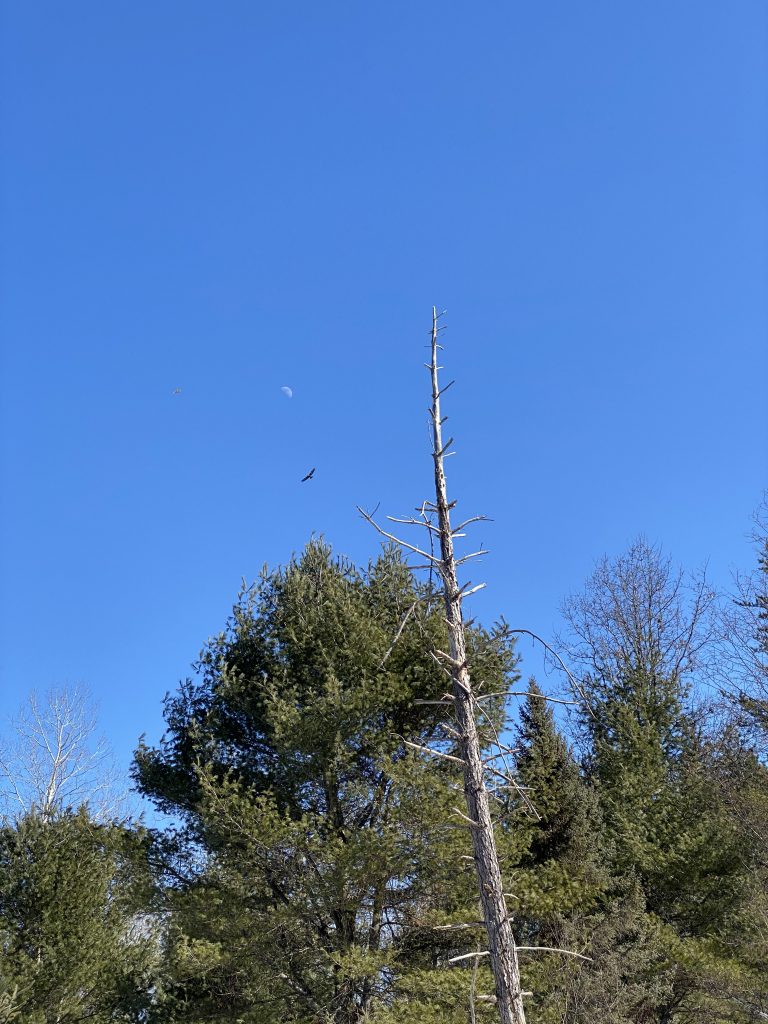 I'd be doing that if I could!  
It wasn't the best day of fishing.  We caught some nice trout but honestly didn't do much better than we'd been doing in the cold and wind over the last month.  That didn't matter.  It was fishing in light jackets, chainsawing out a few blockages, eating lunch on the riverside, admiring a few of the early black stones, and pitching around streamers (copper was the color and nothing else.  I had to bum one of Matt's steamers just to catch a fish, and I don't bum streamers lightly).  Mix in this streamer fishing with more trout moving into the riffles, and the rainbows running up, and, I'll bet, the first few rises of the season either Sunday or late next week when most of us will be at the Midwest Fly Fishing Expo.  The guides are starting to run more trips now, and if you want a drift boat/streamer trip or to work on your nymphing in the upper river, we have openings most days as we move into the early spring season.
We are excited for this weekend.  The restaurant is closed but we'll be serving a free continental breakfast for folks staying at the lodge (breakfast on Saturday and Sunday morning), and we'll be fly tying up in the boardroom in the morning (Free Fly Tying Saturday), and then we'll have a terrestrial tying class, with dinner, that evening.  Give us a call to come on up, ride the front edge of the weekend heatwave, and get on the stream.
And if you're thinking dry flies…here's the first one of the season.  They'll be bombing around on Sunday, and it's a good idea to have a few in your box…
And if you're still thinking of dry flies, at least a few fish are looking up.  This one from the confines of our living room fish tank: