This week felt like a month.  Seriously – the last fishing report seems eons ago.  And I thought it was time to get away then!  There is nowhere on earth too much safer than where we are right now.  This thing is global, and Mars looks like it sucks, so for now we're at the mercy of (and Gates Lodge is committed to) the mandated protocols and commonsense.  A lot of folks are squirreled away tying flies.  Some are fishing.  Some are reaching out to see how we're doing.  Thank you for all the support.  It's humbling.
We will be open online, on the web (more tying videos coming), and in person (in small and safe quantities).  We will soon offer take-out food service on the weekends, beginning with the March 27 weekend, provided we don't go into a mandated shelter phase.  We will still offer our nymph class on March 28 (limited to 8 people – currently full, but, if prudent, we'll do another the following weekend (April 4)) to be held outside (social distancing), and hopefully we'll catch some trout.  Our rooms will be open but will now only be rented – for the next month anyway — with three-day gaps between occupants.  Again, everything is at the mercy of what is recommended or mandated.  We will follow both.  It's a pleasure to watch people come together, even if we must stay six feet apart.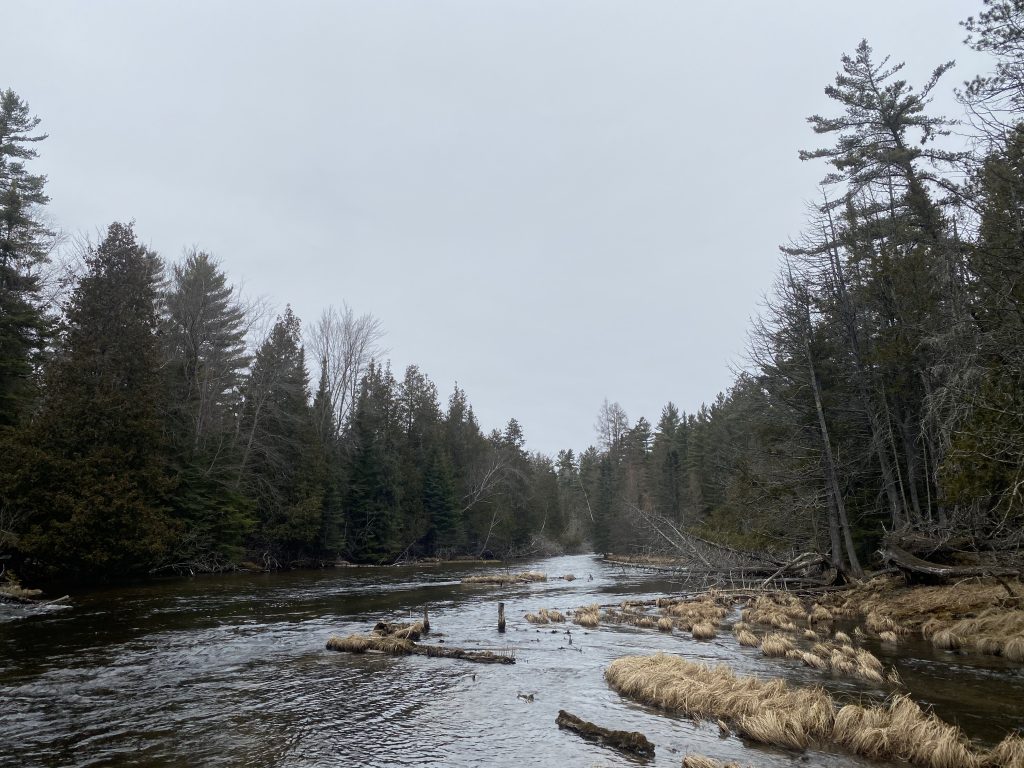 I've always gone to the river for any problem, global or personal.  Many years ago, Katy and I had to get away: we went for a float down the South Branch.  It was a rainy old day in early June, and that rainy old day in June the brown drakes began hatching at 9 am and they didn't stop until about midnight, and if you think I'm lying, well, I wouldn't blame you.  By noon the river was coated in big mottled mayfly wings.  The big trout were feeding everywhere.  They were doing things big trout usually only do at night.  I remember one trout, one of the biggest trout I've ever seen rising, that was rooting away in the cattails for drakes.  He was rolling and slobbering around in there, showing back, tail, head, everything.  I hooked him.  The hook came back straight.  That happened ten years ago, and it still pisses me off.  But I caught some trout.  I caught some big trout.   Fishing doesn't change reality, just your perception of it.  It adds a much-needed silver lining.  Even if it's a tad gray, it's something.
Somewhere near the end of this incredible float we came upon John Sheets.  He was on the inside of a bend, and he looked like he'd just completed an all-inclusive tour of nirvana – not a touch of gray anywhere.
Today – Katy and I hit the river, the first tour of a three-day stay (and fish) vacation.  We were meant to be in North Carolina, in a tent with the kids, on the side of a mountain, overlooking a trout stream, which all of a sudden didn't sound very fun or responsible.  Katy has really taken to fly-fishing.  It took twenty years.  She got into it through fly-tying with some friends, and after all this time, all my best efforts, well, I got me a new fishing partner because of fly tying with friends.  Lately she's been trying to figure out this streamer thing and after two failed attempts and several heartbreaking interactions with nice trout, today a sweet chrome Au Sable rainbow with hazel spots and a green sheen, streaked from a log jam (where I'm certain it was staging before heading to the gravel upstream) and smashed her streamer.
There is a strange thing that happens to a person that is hooked to a big and unexpected trout.  They quit listening.  It's like a driving student ignoring a driving instructor in rush hour traffic because, well, they're trying to drive.
"Put your rod to the left," I said calmly, as the fish rushed back to the logjam.
"Rod to the left!" I yelled, as the fish leapt onto the logjam.
"LEEEEFFFFFFTTTTT!" I screamed, as the fish thrashed across the logjam.
Finally I just dropped the anchor and vaulted out of the raft and netted the trout.  It was a stunner of a rainbow.  I don't know if I've seen one I think is prettier.  It was a chrome treasure, with a line of aurora green across the back and even on the belly (per usual, lost to the camera).  Katy, who is mostly unflappable, was pretty excited.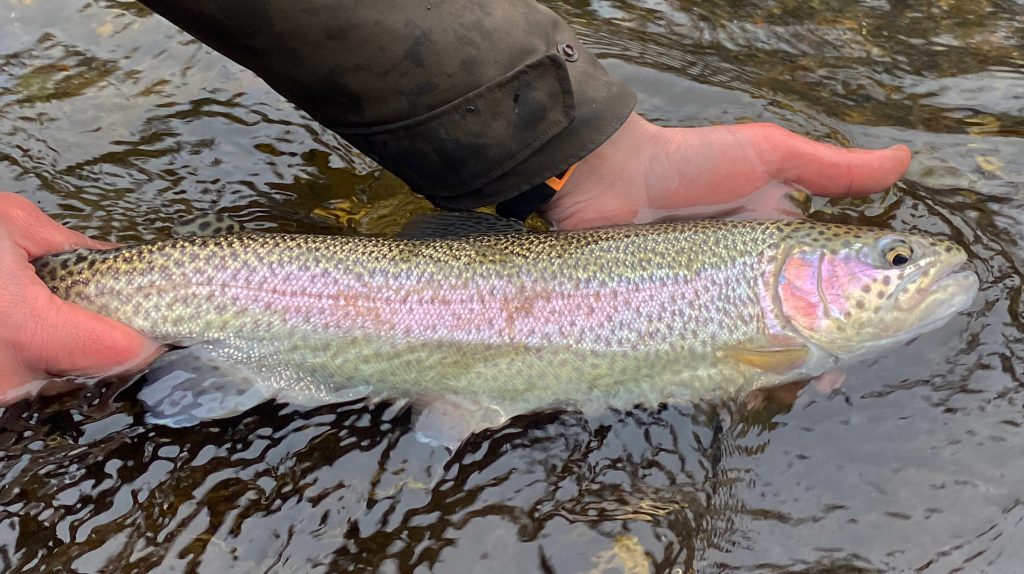 It was a perfectly splendid day on nymph and streamer, and was bookended by a great float with Matt the day before, and another with Katy tomorrow.  The rivers are in such fine shape for March.  The forecast is wonderful.  It's shaping up to be the type of spring that we've been waiting for, virus or no.  We are losing snow at the right pace to keep the rivers clear.  Today we had midges and even a few small stoneflies on the water.  There are more small to medium trout feeding on nymphs in the middle of the river – yet another sign of spring.  We are doing best nymphing through the middle of the day and streamer fishing the later afternoon.  White and olive coneheads, sparkle minnows, mini-dungeons.  For nymphs: a variety of mayfly imitations fished into the drop-offs – even the shallow drop-offs – has fooled some trout.  We caught trout consistently most of the day.  How would I rate the fishing?  March can be fickle.  So I would say, the fishing has been better than fickle.
Keep on keeping on.  Stay tuned for more fly-tying videos.  If you need fly-tying materials, our online store doesn't have a smidgen of everything that we stock.  Give us a call, and we'll do our best to meet your needs, be they material or advice.   Some folks have asked about roadside drop-off to avoid personal contact.  Yep, we'll do that.  Just let us know what and when, and it'll be there.   We support whatever makes you feel safe, and no one should feel ashamed to feel safe right now.  Be well, everyone.
Visit our new catalog here: Gates 2020 Gear Guide Final Opt
To shop online, please visit us at www.gatesflyshop.com
See that goose on the log jam?  Lowered head…and about ready to charge!