One of the first signs of fall is the absence of an evening rise.  Yesterday evening, then, fall was in the air.  This was my annual night float with Carl.  With nothing much doing, we tied on a mouse at like 9:30 pm — a little early — and didn't take it off until 2 in the morning.  We caught some nice fish, but the big milestone was the nocturnal grand slam — brook trout, brown trout and, at 1:30 am, one lost-looking rainbow trout.  The night fishing has been excellent, as Phil demonstrates with this trout he caught with Matt: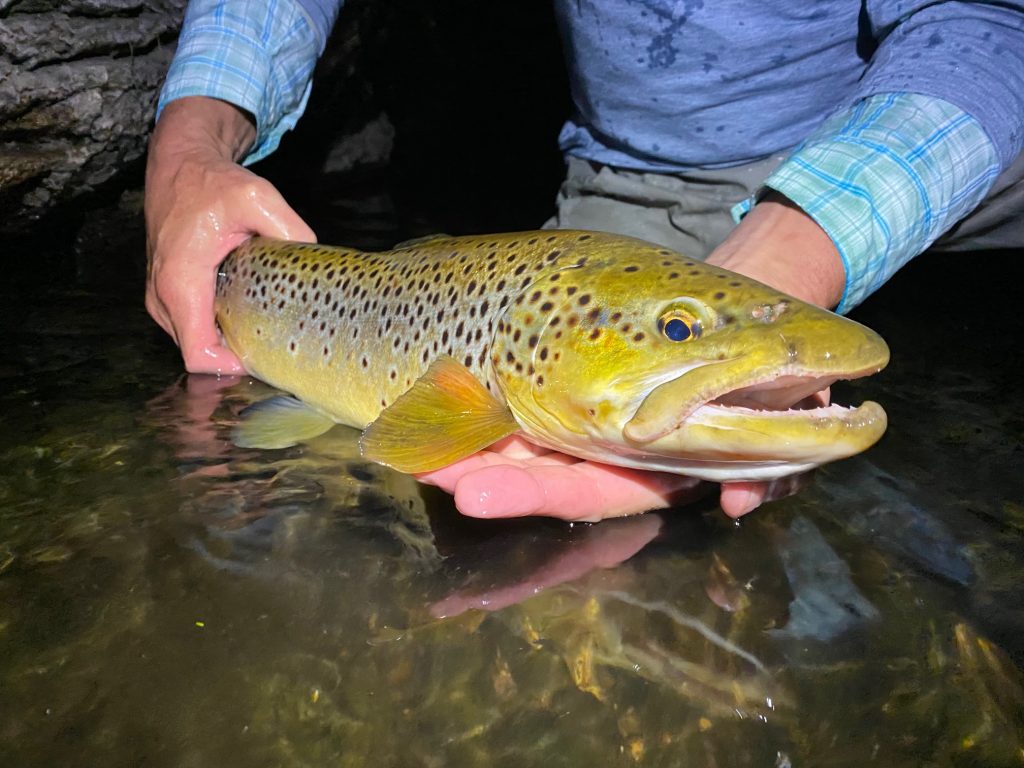 But change is in the air.  Trout fishers notice it first.  It could be that great late afternoon trout on a flying ant:
Or the brown that clobbered a small streamer in the middle of the day.
Or the way the morning trout rise with a practiced cadence to the trico spinners, podded up around every drop-off in the river.  The tricos will carry into September, less and less every morning.  As this happens, I begin to approach the river differently.  I'm thinking more like an advertiser: what message can I send to a trout that is open to ideas?  I think a trout in late summer is willing to consider a small streamer, a small nymph, or a big dry fly more or less simultaneously.  There are multiple solutions to trout problems in late August.
A dandy summer smallie — Steve is running these trips if you're interested
The best, last mayfly hatch is the white fly hatch below Mio.  This is an excellent event worth your time and effort and draws the attention of some pretty big trout.  The Epheron is a mayfly that hatches and spins in one night.  This can be a blizzard, or it can be sparse. The white fly brings back memories of when I used to clock out of work at 7 pm and drive way too fast down to Mio to hit it.  One time we got pulled over for speeding on M-72 and, after explaining our predicament — big hatch, big trout, so little time — we were more or less let go.  As I recall, it was a great night.  But then, white flies can fog the memory.
I meant to go white fly fishing this past week but we went camping out at Wakeley Lake instead.  It was a sweet little getaway before that lake — an artificial-only, catch-and-release, walk-in only lake — closed for the season.  We caught bass and pike and more or less hit a little sliver of bliss.  I always sleep poorly my first night in a tent.  The night — I popped for bass under a meteor shower, alone in a rowboat, while the kids danced around the fire on the shore.  The next morning, at dawn, I landed a beauty — a real northwoods trophy — to the calls of loons.  I don't know if there has been a year in which the outdoors were more necessary to more people.  And it's because of this sentiment that I sit here enjoying the subtle indications that fall is on the way.
---
Sign up for River Cleanup, September 12
Yep, we're going to give it a shot in 2020.  Dumpster in the yard, Rusty's poker sticks.  We need to get this job done.
Sign up here:  https://docs.google.com/spreadsheets/d/16flYuJuli-Kdpv1B5NMVWW277NRTqikJzkDtZKIFUJs/edit?usp=sharing.
This will give real-time data so you know what beats need "help". The goal is to get as much of the river cleaned as possible, of course, but with a definite focus on the stretch between Wakeley and Mio Pond (this means you, folks with boats!).
Please check the list and email me — [email protected] — with questions.
---
Fall dates
Fall season is a'coming.  We have open dates for bird hunters and fall fishers, trout guide trips and connections for steelhead guides.  Put together a fall tour.  Shoot me an email at [email protected] to ask about options…