The bugs of spring are the hendricksons.  And the hendricksons are hatching.  They are hatching on the Manistee, North Branch, South Branch, Mainstream, Above Mio, Below Mio.  The rivers are low and clear.  We can wade in 2021.  It's a damn fine year to be a dry fly angler.   It's a damn fine year to be a wading angler.  It's a great year to try a dry and dropper.  It's a great year to sit on the bank and wait for risers.  This past week — until this last little cool down — we've had working fish nearly every afternoon.  I can't tell you how good it feels after a spate of absolutely crappy, high-water, cold, clammy, springs…to finally enjoy some proper small water hendrickson fishing.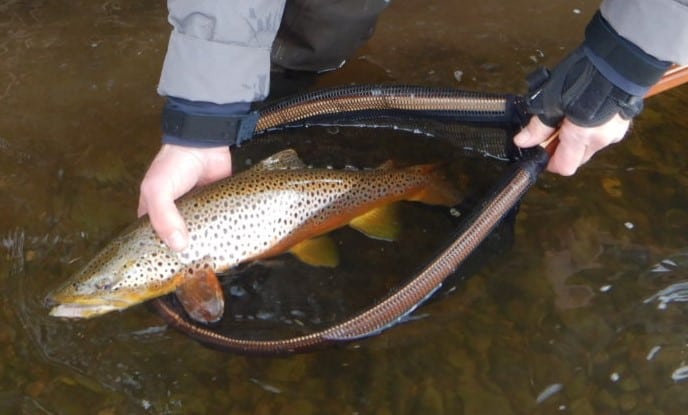 So this weekend, which to us trout anglers is a holy weekend, go fishing.  You can wade the South, the North, the Manistee.  You can hunt the edges of the big water.  Or walk right up a creek that's been closed since last October.  Bring a box of dry flies, a few nymphs, a few streamers.  You'll want hendrickson duns, and maybe a few spinners (especially on Friday).  Have your BWOs, and beware the black caddis and the little #16 mahoganies.  A few black stones, and a few thrasher stones as well.  Streamers in olive or flash.
I have to stand up from the computer just to calm down.
Like most of the Midwest, a cold snap blew in and slowed the bugs in all but a few spots.  Tomorrow we should have some mayflies hatching in front of the lodge, but I think Friday will really be a great bug day, and the heat of Friday should make for strong hendrickson hatches throughout the weekend.  Next week promises a few spinner flights.  Before we know it, what my friend John calls the May Chowder will begin:  hendrickson spinners, mahoganies, yellow stones, light hendricksons, black caddis, popcorn caddis, olive stones, Borchers drakes.   That's coming soon.  But this next week is different.  It's a singularity of expectation: the big bug of spring, the hendrickson, is here.  That's a steel-tan body with a hint of pink and rusty red look on the water.  The spinner is the color of a coffee bean, and it carries a little sun-yellow egg-sack.  At it's best, the hendrickson is tied for the Isonychia on my personal list of best mayflies to hit during an emergence.  Unlike the Isonychia, the hendrickson requires a confluence of conditions for it to go as you've dreamed it would all winter.  It never quite does.  It's just that the next seven days might be about as good as it can get.
We're excited to kick off the season.  Maybe not as much as this hognose (aka cobra/rattlesnake impersonator)…but pretty close.
It just feels great to be standing here at the start of something rather than the end of something, if you know what I mean.   We look forward to seeing everybody in just a few days and then, like you, finding a little nook in which to do a little fishing.  After all, Opening Day is about fishing.  Some years we are forced to talk about it more than do it.  Other years, like this year, well I think we'll be doing a bit too much fishing to be worrying about who in trout camp is responsible for dinner!
---
We have the dining room currently full of 50% off clothing, as well as specials on bags, tippet, and more…along with our usual massive amount of used rods and a handful of used reels as well.  Order your food, and peruse the sale racks.  The fly shop is STUFFED.  New waders, boots, lines, fresh tippet, rods, more…you can check out some of our favorite products in our spring catalog below…
Spring Catalog is here!
Click here to read it:  Gates Spring Gear Guide