I spent a lot of time on old angler trails this week.  I'm not sure I ever quite found the fishing I was looking for, but I did find the river, and I did find the truck, and I guess that's about all you can ask from an old trail.  I checked out some new water this week, which made the trails that much more important.  One stretch had no trails at all, and that one was the best…but we did lose the truck for a moment. One familiar trail led me to a little pocket and a hellacious evening rise (more of an evening boil) to the tiny little olive, once known as the psuedocleon, and still known as the green curse.  It was madness.  A whole pod of rainbows that just tore open the pool after a VERY heavy spinner fall of VERY tiny bugs.  I'd catch one on the green-bodied.  Then the brown.  One on the poly wing.  Two on the hackle wing.  Switch.  Patience.  Breathe.  They were plucky little fish, nothing much bigger than 10 inches, but fun on light tackle.  The last 2-3 years of heavy rainbow spawning on the main have left just a ton of them in the river.  They rise in the mornings and evenings, and really like to eat nymphs during the day.
Folks around the lodge have been doing a bit of everything.  Hopper fishing…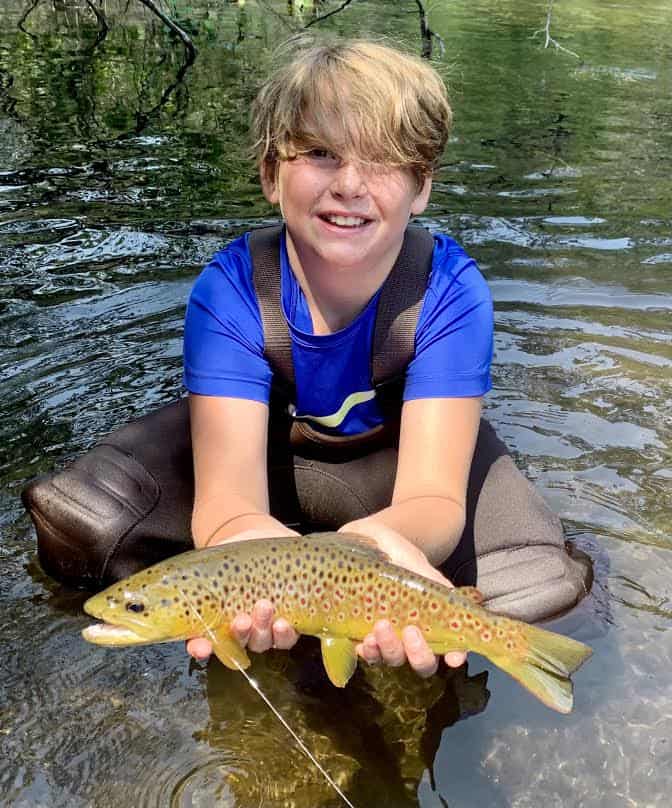 Smallmouth fishing…
Night fishing…
Just getting started…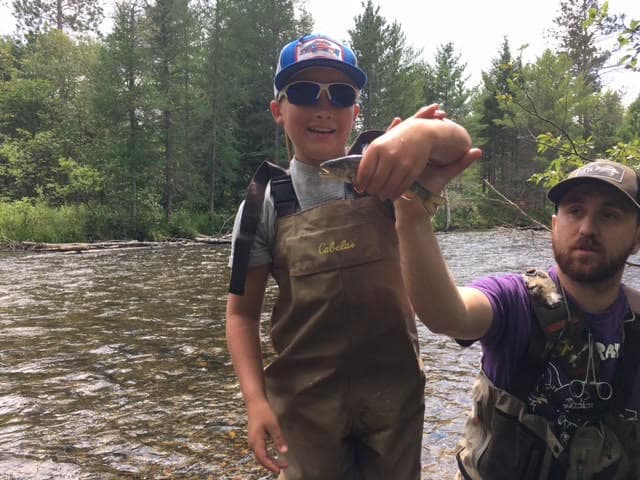 And just getting married…
Dennis and Kim Nelson!
We've had plenty of rain, more or less solid water temperatures, and some cloudy days just to keep it interesting.  The morning tricos have been exceptionally heavy in front of the lodge, and the trout are getting picky.  Still, this is a premier event.  So good, in fact, that Ronny B has trico camp set up at an undisclosed location, and he and his cohorts were winding down with a few after-dinner drinks last night while Tanker and I geared up to go night fishing.  I like a trico camp.  It's subversive and full of nuance.  Better, I think, than a hex camp…if only because there aren't all that many trico camps here in Michigan.  They were discussing game plans and strategy and working out leader formulas.  It's hard fishing, and every little thing impacts your success rate.  One way to make it easier is to make use of tippet rings and the new fluorocarbon tippets.  These two items make for stronger knots, more consistent leader lengths, and allow the angler to fish 8x with confidence.  The only silver bullet to blanket spinner falls of tricos or evening olives is the anglers ability to consistently put a small fly in the same one inch seam.  I've also done well sinking a second trico behind the first.  Patience.  Coffee.  It's great fun.
---
Well, we're marching forward with some new events.  Check them out at our events page.
We have two Free Family Fishing Days (this is going to replace the Kid's One Fly Box for logistical reasons), August 7th and 14th, the Midnight Derby is back for one last breath on August 14th, and the Au Sable River Cleanup is scheduled for September 11th.  Sign up for any/all of these by emailing me at [email protected]
Below is a list of cleanup beats we use.  Pick one, and let me know.  Let's make it happen…
UPPER RIVER:  Wading beats that require one or more "teams"
 Mainstream
M-1: Burton's – Louie's
M-2: Louie's – Keystone
M-3: Keystone – Whirlpool
M-4: Whirlpool – Thendara
M-5: Thendara – Guides Rest
M-6: Guides Rest – Stephan Bridge
M-7: Stephan Bridge – Spite Road
M-8: Spite Road – Shaw Park
M-9: Shaw Park – Lower TU
M-10: Lower TU – Wakeley Bridge Access
M-15: BURTONS TO WAKELY BOAT
SOUTH BRANCH
S-O: Deerheart Valley Rd – Chase Bridge
S-1: Chase – Forest Rest
S-2: Forest Rest – Daisy Bend
S-3: Daisy Bend – Castle
S-4: Castle – Highbanks
S-5: Highbanks – Lower Highbanks
S-6: Lower Highbanks – Icebox
S-7: Icebox – Baldwins
S-8: Baldwins – Downeys
S-9: Downeys – Dogtown
S-10: Dogtown – Canoe Harbor
S-11: Canoe Harbor – Smith Bridge
S-15: CHASE TO SMITH BOAT
S-16: SMITH TO CONNERS BOAT
NORTH BRANCH
N-1: LOVELLS TO KELLOGG BOAT
N-2: KELLOGG TO PARMALEE (OR EARLIER ACCESS) BOAT
MIDDLE RIVER
BOAT#1: WAKELEY TO MCMASTERS
BOAT#2: WAKELEY TO MCMASTERS
BOAT#1: MCMASTERS TO PARMALEE
BOAT #2: MCMASTERS TO PARMALEE
BOAT#1: PARMALEE TO WHIRLPOOL
BOAT#2: PARMALEE TO WHIRLPOOL