Not gonna say no to another guest report, this dandy from my friend John.   Not much has changed since last week except the tricos have exploded on the mainstream and they, coupled with the morning BWOs, are providing hours of technical morning fishing.  Put on your cheaters and enjoy the most rising trout you'll see on the Au Sable all year.  
This Saturday is the annual Au Sable Canoe Marathon.  It begins in Grayling at 9 pm, and the paddlers will kick it until the next morning.  The river will be dirty, and the driving about town on Saturday night will be a mess.  Anglers would be wise to heed the advice below and find some out of the way water.  
---
Midnight Mowing and Other Creek Tales
By John Bebow
You reach a waypoint in life where, if it's not highlighted in bright ink in the calendar, it doesn't happen. I marked the past few days in neon and won all gatekeepers' clearance before spring's final frost…
"LOW MOON CREEKIN' WEEK!"
First and usually only stop is a way-out-the-way sure-bet money hole. Getting there requires three-plus hours behind the wheel, most of it rehearsing the silent creep below the sand shelf where the King of the Pool waits in ambush. I finally open the truck door to a magnificent night sky. Deliverance! It's so dark I don't notice the pickup truck across the way, so the brief bushwhack ending with two fellers' cigarettes aglow, precisely on the sand shelf of my road dreams, requires all my limited emotional intelligence.
Back to the truck. Next money hole. I sneak in by fog lights, grab the mousin' rod and duck into the river behind a big cedar. The territorial property owner adjacent to the access still senses me. It's a few minutes past midnight. His cabin door slams. An engine coughs to life. He rides his tractor in wide sweeps, high beams fire-balling into every feed lane up and down the river. Frogs, mice, trout, and all other creatures, me included, hightail it out of there. Night mowing. The new deterrent to night mousing.
In a moment of whiskey weakness a decade ago, an absentee riverside property owner from Colorado granted me lifetime access to Money Hole Number Three. It's a short drive from Failed Location Number Two. Alas, along the property line, a congregation is deep into a case of beer, a roaring bonfire, and baying hymnals from what must be the Book of Job. They're never going to buy my lifetime access claim. And I'm not about to point their way to the kype jaws just beyond the fire glow.
Hmmm.
Back to Failed Location Number One. The Marlboro suckers are finally gone. Since they stood in ignorance exactly where the King of the Pool feeds, and it's now past 1 a.m., and I'm kinda running out of options here, well, hope is not a strategy, but let's hope they left just a little good water unmolested? I wade downstream and quickly net a mid-teener. Thanks for playing, but that's not what I'm here for. No chance on the sand shelf of course, unless the King of the Pool likes second-hand smoke. Two casts confirm he does not. We're down to the last shot here. It's a bit of a wade upstream to another reliable lair. As moon sliver finally rises through the pines, there he is. The twenty-inch brown – great-grandson of the dandy I netted there years ago? – explodes on the gurgler. Mission finally accomplished. The truck clock reads 3 a.m.
Not enough hours later, Yanni, my Jackpine Brother, fills the doorway at Pirate Camp. He chuckles at the late-night misadventures. We've both felt plenty crowded this season. Not too many secret bends remain, but they were never secrets anyway. The new generation is good for the game. Keeps us on our toes. Keeps us young, searching for new water or, just as likely, old water we'd forgotten. Thin blue lines in topographical maps still lead to solitude.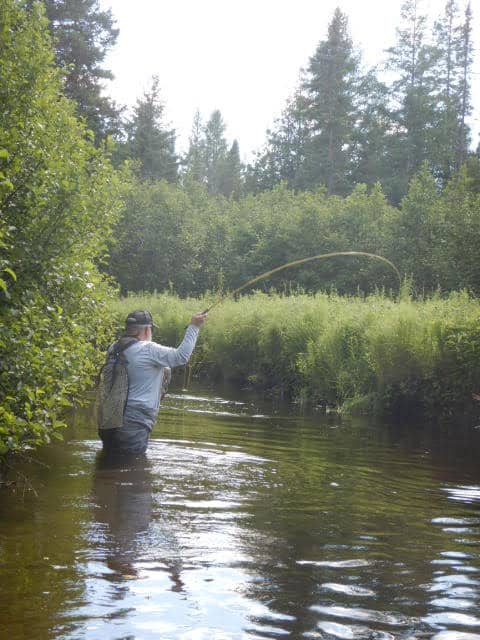 We depart for unfamiliar stretches of a quite familiar but distant watershed. A dozen hours marching upstream over two days. A few dozen brookies. Every alder-walled bend a blank canvas for experimental casts with skunks and bushy attractors. We play nods, second guy granting a good ten yards – for back cast and commentary.
Woah! That's some Brad Pitt shadow casting right there.
A tailing loop with filigree is still a tailing loop.
Hey, aren't we near that guy's campsite?
Yep. Must be. But why do we think that way? Why do we assume every pickup truck out here contains a fishing Ninja? 
Well, he is earning it to be way the frack out here.
Yeah. He is. He's probably a fishing Ninja.
You ate every egg in that town this morning.
That's why I bought a roll of toilet paper at the gas station.
Now that's knowing your market – single-roll toilet paper sales.
My hip hurts.
My ankle hurts.
Is it beer-thirty yet?
I'm in the lead and spy the best water of the excursion. Around another micro-bend, beyond a tunnel of alders, flows a postcard riffle at the outfall of a former beaver dam. I remember my unpaid debt for the nice brown I stole from him – abject larceny – in the perfect drizzle of a bonanza iso day in June.
Yanni?
Yeah.
Come up here. I can't in good conscience fish this water up here.
Yanni guffaws, sensing Practical Joke 17 of the afternoon.
What is it, a toxic dump?
No. Just come up here. You can thank me later.
And he does… For this…
---
Two New Events:  Okay, it took us awhile to figure out our summer calendar, but now we got something!  It's not the Midnight Derby, it's…
24 Hours, Aug 13-14: This scavenger hunt of sorts involves teams of two fishing for twenty-four hours (or much less;-) for a multitude of species across as much, or as little, of Michigan as they'd like.  Click here to learn more.     Please RSVP to [email protected].  Miss the Midnight Derby?  We have a prize for biggest fish caught with a camera flash, and that's pretty much the same thing.
Kids Free Fly Fishing Day, Aug 13:  This annual event occurs right before 24 hours and will involve free casting lessons for kids, prizes, games, and some fishing right in front of the lodge.
---
News and Notes:
---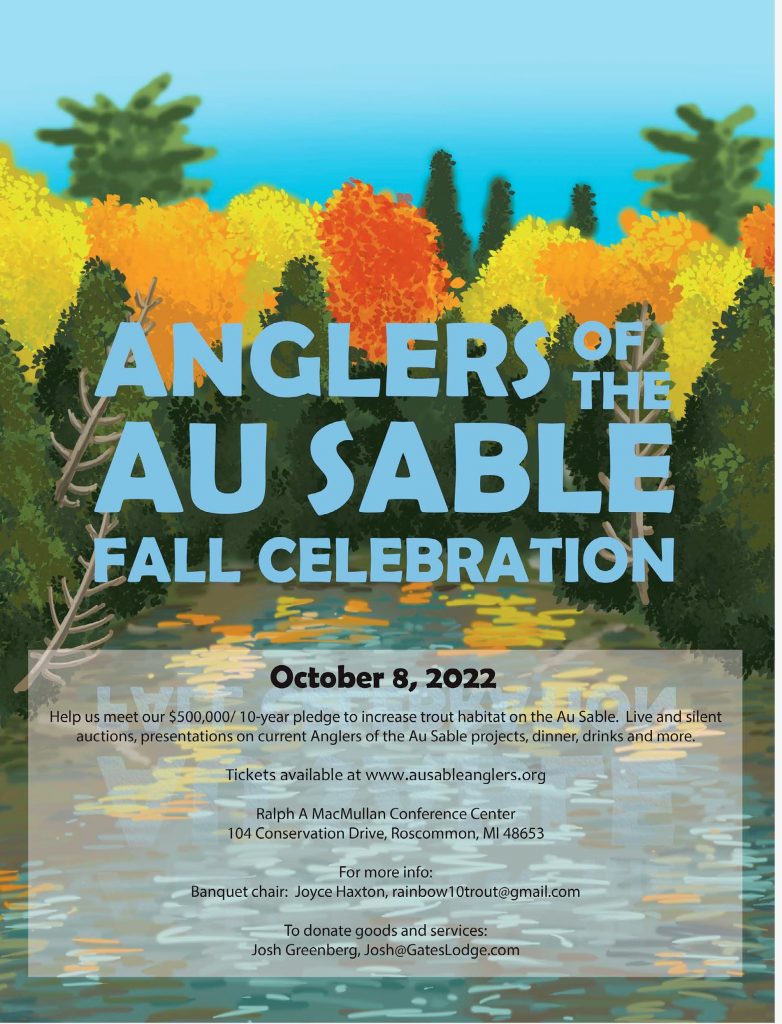 And here's a link to join us on October 8:  https://www.ausableanglers.org/events-projects/#!event-register/2022/10/8/anglers-of-the-au-sable-fall-celebration.  This is a celebration and education event.  We will be talking habitat.  We will likely be talking about the National Guard.  We want to celebrate where we've been, but also set our goals on where we need to arrive.  More and better habitat is the one thing we can do — regardless of all other potential actions — that will make an enormous difference in the Au Sable.  Your attendance helps us help the river.
---
Help clean the Manistee:  https://tapc.clubexpress.com/content.aspx?page_id=4002&club_id=813410&item_id=1720204&event_date_id=255
---
Calling all Bourbon/TU Fans: There's a fundraiser for MGFTU that sounds pretty tasty:  https://www.facebook.com/oledamrdpartystore/photos/a.125858829093484/597065875306108
---
Attention Mio Floaters!  We Need Your Help!
Anglers of the Au Sable is discontinuing the annual cleanup below Mio to focus on cedar restorations on the Big Water. We ask each of you who float the Mio water to carry a trash bag and pick up any trash that you see during your float. We do not want to impede on your trip or curtail your enjoyment and we hope that you catch fish. But if you pick up even a few items of trash during each float it will likely equal or exceed our recent loads during the annual cleanup.
In turn, we are going to make a significant effort to replant cedars along the banks of the Big Water to nurture the health of that river for centuries to come.
Let's work together. Thank You.
---
Didymo:  This nuisance weed exists in the middle of the upper Manistee, downstream from CCC, and anglers who are visiting the Manistee (anywhere on the Manistee) should take  extra precautions when hopping between the Manistee River and other Michigan Rivers.  Ropes, Waders, Boots and Anchors.  Dish soap and water, 409, or even diluted bleach.  We have a wader/boat wash station at the lodge.  A little extra care can go a long way.
---
Instructions for River Cleanup Volunteer Signup
Click on this link to access the online signup for the annual river cleanup – volunteersignup.org/E8DRW
 Find the Beat that you want to signup for and click on the green ˃ to the right of that Beat to see the Signup form.
Fill in the Signup form and click on Agree and sign up.  If you want to return to the screen above click on Back to signup sheet.  If you want to clear the form and start over click on Clear Form.
When you click on Agree and sign up you will see a screen confirming the activity, date and time you have signed up for.  Please make a note of this in your calendar.
Click on Back to Signup Sheet after recording your activity, date and time and you will see a short version of your name along with the short version of the other volunteers that have signed up.  You will also notice that the Open count decreased by one.
Thanks for signing up, see you at Gates Au Sable Lodge on September 10 at 9:45  am.