We've got two upcoming events.  24 Hours, which is the replacement event to the Midnight Derby, and the Kids Free Fly Fishing Day, both on August 13.  Information below the fishing report.
This week, my friend James Spica was kind enough to provide a sweet report from a week spent creekin'.  As I was out of the loop, his timing was superb.  Our rivers are currently low and very clear but fishing alright considering.  We need rain and some cooler overnights.  Tricos are hatching on the North Branch and starting to trickle on the Main.  The #18 BWOs are keeping the fish looking up, but the blind fishing with rubber leg flies has been our go-to during this most recent heat wave.
---
Summer Creekin', by James Spica
I've been creekin' all over Michigan. If hex is a night at the philharmonic, creek fishing is a little jazz combo in the park. Hex is timed, intense, a major event. Creekin' is improvised, fluid, impromptu, quiet and wild.
I try to make a micro-adventure out of any creekin' trip, however short. I wake up early, I seek out new water, I find a new access, I hike a new trail. This is the time of year that the 2, 3 and 4 weights that I love so dearly (and feel neglected for much of the year) get to come out, be lovingly put together and strung up purposefully.
My choice yesterday was a 7 foot 4-weight, though I stood staring at a 6'6" 2wt and a tenkara rod for quite some time before I settled on the 4. I packed a little picnic, my camp chair, a lot of insect-repellant clothing and spray, and jugs of ice water.  The road I chose was one I've not explored yet, even during grouse season, and I just kept exclaiming, out loud to myself, "this is a great road. What a great road. Really beautiful spot" repeatedly as the Tacoma fired along. The first spot I chose was slow and meandering – perhaps a bit too slow, I mulled; my hunch proved correct when my first cast netted me a large creek chub. Not great for wading either – too much swamp. Hike back out, stow the rod and lanyard, drive on. Such is creekin'. Further down in the system, I found the bottom substrate, ice-cold spring water and flow I'd hoped for.
The Brook trout were spirited and hard-charging. The first fish came out of water I thought was 2 feet deep and turned out to be only about 4 inches—an excellent feeding spot, I suppose. The next fish was nowhere near where I'd cast my fly, but I watched it push a wake from the bank and track 5 feet to nosh. The third fish shook his head as I reared back and my fly shot ruinously into a tangle of branches. Such is creekin'.
I pitched small rubber-leg and foam patterns for the most part; insert favorite pattern here. It's the time and place where I can fish flies I love, not flies I need. If it's got splat & wiggle, it's perfect, don't second-guess it. A skunk is a classic choice. While I do love slinging a dropper nymph underneath a terrestrial fly this time of year, I forwent it today on this creek rather than having another item to untangle from tag alders. Some creeks are just too narrow – thankfully, in this spot, the fish were shaded and opportunistic enough to take their meals from above.
I ate my picnic at a lone table deep in an empty rustic campground. Venison summer sausage, Tennessee hot crackers, Pinconning cheese, pasta salad, olives.  Simple and sublime. Such is creekin'.
Creeks in northern Michigan are of many different characters. The one I fished yesterday is a mixture of sand and gravel, with that soul-salving gurgle of fast water, lined by tag alders. There's another I love that seems like not much more than a deeper channel in a flooded swamp—slow, silty, surrounded by yellow flowers. Another favorite runs through small meadows and is alive with flitting field sparrows. You can select depending on your mood, on a whim. If you've got your dollar store scrub brush and a bottle of 409—these items are priceless peace of mind and good stewardship when adventuring around northern Michigan—you can explore 2 or 3 creeks in a single trip, scrubbing waders diligently in between. I'll be in the UP next week for another type of creek, the deep and sandy tea-stained creeks inhabited solely by brook trout.
The simplicity, calm and inherent downsizing of creek fishing needn't be applied only to alder-choked trickles, in my mind. An iced coffee, a 3 weight and a box of tricos brought along wandering the North or the Main looking for quiet flats dimpled by pods of trout is just as meditative—just as much of a departure from that feverish, sweat-soaked charge towards rises sounding like dropped bowling balls. Creekin' is an approach, more than anything; a blissful immersion in simplicity and all things light and ultra-light. If you still feel like you're getting just way more sleep than you need, you can always toss a mouse around.
The days have been hot, the nights cold— a blessing we ought to take full advantage of, knowing the fragility of temperature when it comes to trout streams in this day and age. We have, in no uncertain terms, been lucky this summer. It looks like more of the same will continue, with light rain forecasted here and there in the next two weeks—likely not enough to change water conditions much, but welcome nonetheless.
If you think your waders are leaking, it's just condensation when the heat of your body (which rose precipitously while you bushwhacked in) meets the ice-cold spring water of a little feeder creek. Better yet, forget the waders; in favor of quick-dry pants and wading boots. Our flows are on the low side and the water's pretty clear, necessitating some light tippet, or fluoro, or both. You bought that 7x for something right? Haven't yet touched it, pull it out, tie it on. A variety of trico patterns, late summer olives, especially spinners and emergers, and terrestrials of all shapes and sizes should festoon your hat, your dashboard, your fly patch and even the trees you've past. Find new water. Fall in love with a new spot, a new road. It's creekin' time.
---
Two New Events:  Okay, it took us awhile to figure out our summer calendar, but now we got something!  It's not the Midnight Derby, it's…
24 Hours, Aug 13-14: This scavenger hunt of sorts involves teams of two fishing for twenty-four hours (or much less;-) for a multitude of species across as much, or as little, of Michigan as they'd like.  Click here to learn more.     Please RSVP to [email protected]  Miss the Midnight Derby?  We have a prize for biggest fish caught with a camera flash, and that's pretty much the same thing.
Kids Free Fly Fishing Day, Aug 13:  This annual event occurs right before 24 hours and will involve free casting lessons for kids, prizes, games, and some fishing right in front of the lodge.
---
News and Notes:
---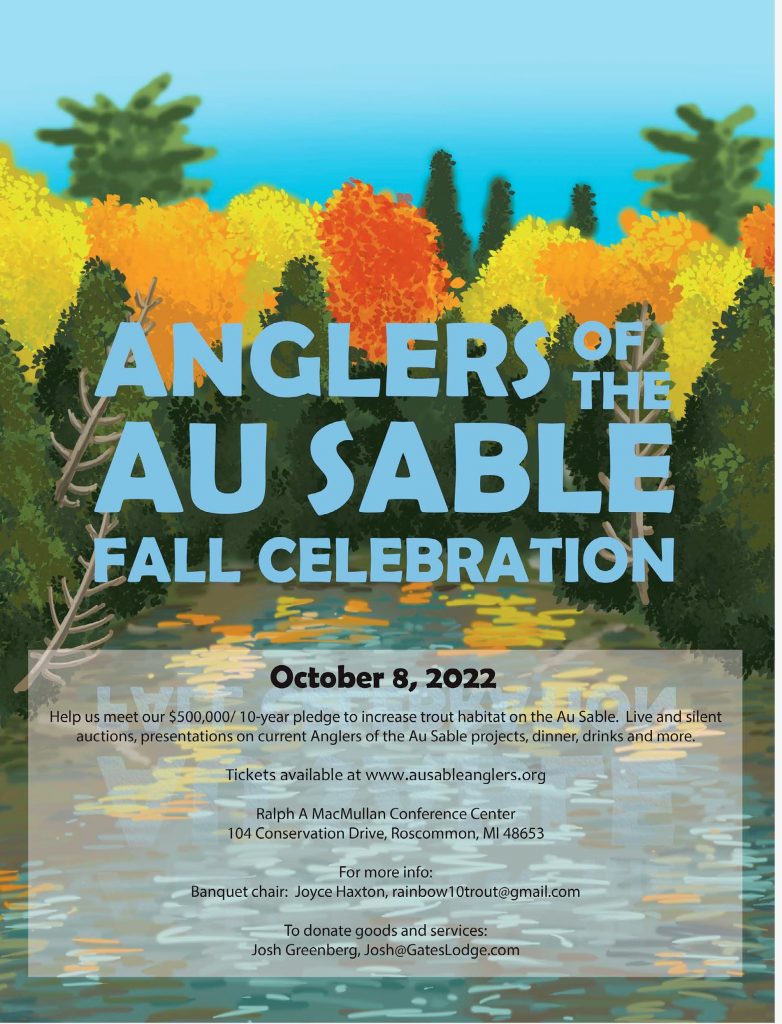 And here's a link to join us on October 8:  https://www.ausableanglers.org/events-projects/#!event-register/2022/10/8/anglers-of-the-au-sable-fall-celebration.  This is a celebration and education event.  We will be talking habitat.  We will likely be talking about the National Guard.  We want to celebrate where we've been, but also set our goals on where we need to arrive.  More and better habitat is the one thing we can do — regardless of all other potential actions — that will make an enormous difference in the Au Sable.  Your attendance helps us help the river.
---
Help clean the Manistee:  https://tapc.clubexpress.com/content.aspx?page_id=4002&club_id=813410&item_id=1720204&event_date_id=255
---
Calling all Bourbon/TU Fans: There's a fundraiser for MGFTU that sounds pretty tasty:  https://www.facebook.com/oledamrdpartystore/photos/a.125858829093484/597065875306108
---
Attention Mio Floaters!  We Need Your Help!
Anglers of the Au Sable is discontinuing the annual cleanup below Mio to focus on cedar restorations on the Big Water. We ask each of you who float the Mio water to carry a trash bag and pick up any trash that you see during your float. We do not want to impede on your trip or curtail your enjoyment and we hope that you catch fish. But if you pick up even a few items of trash during each float it will likely equal or exceed our recent loads during the annual cleanup.
In turn, we are going to make a significant effort to replant cedars along the banks of the Big Water to nurture the health of that river for centuries to come.
Let's work together. Thank You.
---
Didymo:  This nuisance weed exists in the middle of the upper Manistee, downstream from CCC, and anglers who are visiting the Manistee (anywhere on the Manistee) should take  extra precautions when hopping between the Manistee River and other Michigan Rivers.  Ropes, Waders, Boots and Anchors.  Dish soap and water, 409, or even diluted bleach.  We have a wader/boat wash station at the lodge.  A little extra care can go a long way.
---
Instructions for River Cleanup Volunteer Signup
Click on this link to access the online signup for the annual river cleanup – volunteersignup.org/E8DRW
 Find the Beat that you want to signup for and click on the green ˃ to the right of that Beat to see the Signup form.
Fill in the Signup form and click on Agree and sign up.  If you want to return to the screen above click on Back to signup sheet.  If you want to clear the form and start over click on Clear Form.
When you click on Agree and sign up you will see a screen confirming the activity, date and time you have signed up for.  Please make a note of this in your calendar.
Click on Back to Signup Sheet after recording your activity, date and time and you will see a short version of your name along with the short version of the other volunteers that have signed up.  You will also notice that the Open count decreased by one.
Thanks for signing up, see you at Gates Au Sable Lodge on September 10 at 9:45  am.