Two New Events:  Okay, it took us awhile to figure out our summer calendar, but now we got something!  It's not the Midnight Derby, it's…
24 Hours, Aug 13-14: This scavenger hunt of sorts involves teams of two fishing for twenty-four hours (or much less) for a multitude of species across as much, or as little, of Michigan as they'd like.  Click here to learn more.     Please RSVP to [email protected]  Miss the Midnight Derby?  We have the same Toilet Flusher Award hidden in this event.  Just want to go pop for bass, well, here's your chance.  
Kids Free Fly Fishing Day, Aug 13:  This annual event occurs right before 24 hours and will involve free casting lessons for kids, prizes, games, and some fishing right in front of the lodge.
---
The fishing on the Au Sable has been pretty pleasant these last few days, minus a few weather delays.  The system-wide tricos have drawn the trout out in the mornings and, on the weekdays at least, the trout will stay out and drift feed into the early afternoon.  This allows for good fishing for small to medium trout with a variety of little dries and nymphs for much of the day.  We're starting to get some rain and warm, humid afternoons, and we've seen some flying ants around the lodge and some sporadic feeding to them throughout the day.  The recipe for flying ants is simple (again: rain, then sun) but perfect conditions can come and go without the ants showing up.  Size #16s and seem to be predominant.  That can seem like a small fly to prospect with, but a trout looking for an ant is usually only looking for an ant.  You'll need both cinnamon and black, and 7x fluoro as your tippet is recommended.
All our rivers are low and clear and quiet post-canoe marathon.  It's very pleasant to go do your thing — whatever your thing may be.  My thing this week was to chase the tail-end of the dark of the moon with friends and family.  Last night Matt, Holden and I got out for our annual night float.  After losing two trout, we realized Holden's fish-fighting strategy had been perverted by a recent carp trip.  "I'm waiting for them to run," he said.  Here is Matt acting like a big trout and saying "don't let them run!":
The result of this instruction were some impressive tug of wars.  My job on these floats is to sit in the middle, sip Guinness, and talk about the stars.  Being a rider on a float is a rare opportunity to fish while not fishing, to dim the lights on the immediate pursuit, and just enjoy the exterior of the focus point.  Let everyone else worry about the fish and the fly.  I'm here to misidentify the constellations, something I managed to remarkably well.  Meanwhile, the Matt and Holden found a big trout together and that, too, was nice.
With the moon on the rise, I'm looking forward to some evening fishing.  Cahill spinners (parachute Adams work well, I don't know why), #18 olive spinners, tiny olives (#24), micro-caddis, the orange sedge all combine for some excellent early evening fishing on the cooler nights that rule next week's forecast.  We are anxious for that cool down.
Another helpful technique right now, which connects the late afternoon and early evening, is to strip a small streamer through the pockets and out from the weed-edges and log covers.  The tiny Thin Mint streamer — or any number of classic feather streamers — are great ways to cover the water.  Fish them on a floating line.  You'll see a lot more fish swirl and chase than actually eat it, but action is action.
---
Used Rods, We Have a Bunch:  See one you want, give us a call 989 348 8462 or email [email protected]
Winston IM6 9′ 4 wt: This classic 3-piece 4-weight has a gentle, throwback action that is highly desirable.  Original bag and tube.  $500
Scott Radian 9'6″ 5 wt:  A versatile dry/dropper/indy-rig 5 weight that is at home pretty much everywhere!  Bag but no tube.  $400
Sage GFL DS 9′ 6-7 weight:  A slightly slower than average Sage that is very good for floating line, big-fly fishing.   Sock and tube. $300
Sage LL 8′ 5 wt, 2 pc:  This cult classic is the perfect Au Sable dry fly rod.  These very rarely come for sale and when they do they fetch top dollar.  This isn't the new one…this is the original.  Sock and tube.  $600
Sage Trout LL 9′ 5wt 4 pc:  The re-released LL is a sweet, soft-casting fly rod with a big more guts than the original.  $500
Sage X 9′ 4 wt 4 pc:  A top end fly rod in very good shape.  Fast and accurate.  Sock and Tube.  $600
Orvis Ultraifine 7'9″ 2 wt:  This trico/BWO olive fly rod is a light line delight.  Also, an incredibly stylish and fun panfish rod.  2-piece, all original, and collectible.   $300
---
News and Notes: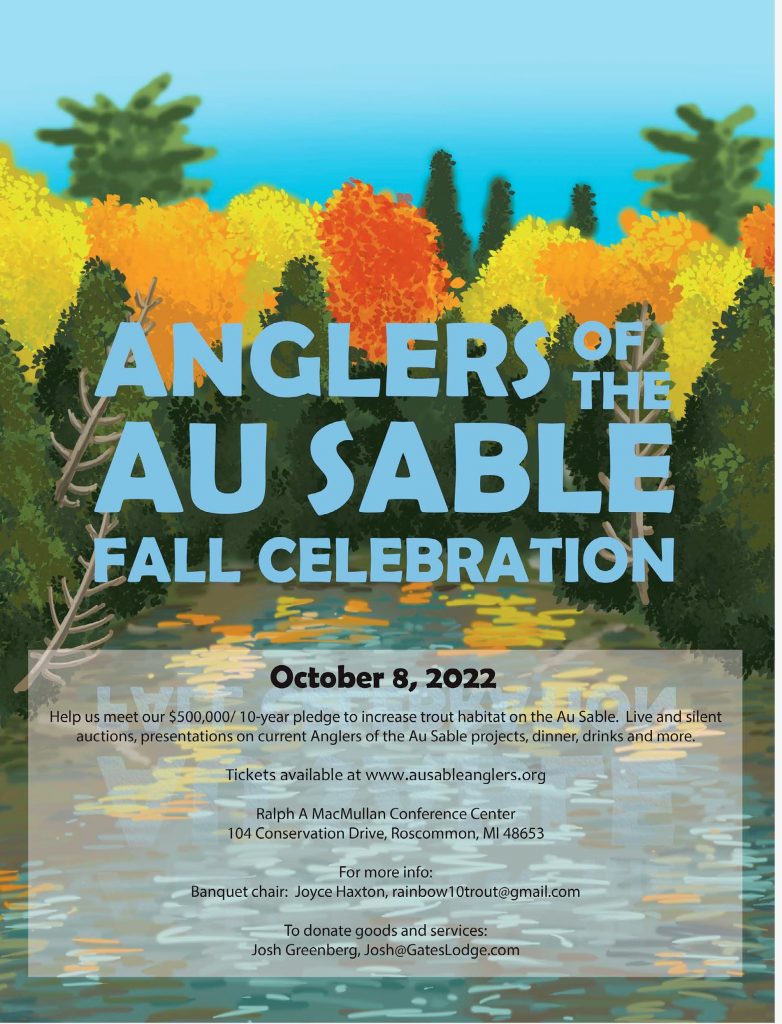 And here's a link to join us on October 8:  https://www.ausableanglers.org/events-projects/#!event-register/2022/10/8/anglers-of-the-au-sable-fall-celebration.  This is a celebration and education event.  We will be talking habitat.  We will likely be talking about the National Guard.  We want to celebrate where we've been, but also set our goals on where we need to arrive.  More and better habitat is the one thing we can do — regardless of all other potential actions — that will make an enormous difference in the Au Sable.  Your attendance helps us help the river.
---
Calling all Bourbon/TU Fans: There's a fundraiser for MGFTU that sounds pretty tasty:  https://www.facebook.com/oledamrdpartystore/photos/a.125858829093484/597065875306108
---
Attention Mio Floaters!  We Need Your Help!
Anglers of the Au Sable is discontinuing the annual cleanup below Mio to focus on cedar restorations on the Big Water. We ask each of you who float the Mio water to carry a trash bag and pick up any trash that you see during your float. We do not want to impede on your trip or curtail your enjoyment and we hope that you catch fish. But if you pick up even a few items of trash during each float it will likely equal or exceed our recent loads during the annual cleanup.
In turn, we are going to make a significant effort to replant cedars along the banks of the Big Water to nurture the health of that river for centuries to come.
Let's work together. Thank You.
---
Didymo:  This nuisance weed exists in the middle of the upper Manistee, downstream from CCC, and anglers who are visiting the Manistee (anywhere on the Manistee) should take  extra precautions when hopping between the Manistee River and other Michigan Rivers.  Ropes, Waders, Boots and Anchors.  Dish soap and water, 409, or even diluted bleach.  We have a wader/boat wash station at the lodge.  A little extra care can go a long way.
---
Instructions for River Cleanup Volunteer Signup
Click on this link to access the online signup for the annual river cleanup – volunteersignup.org/E8DRW
 Find the Beat that you want to signup for and click on the green ˃ to the right of that Beat to see the Signup form.
Fill in the Signup form and click on Agree and sign up.  If you want to return to the screen above click on Back to signup sheet.  If you want to clear the form and start over click on Clear Form.
When you click on Agree and sign up you will see a screen confirming the activity, date and time you have signed up for.  Please make a note of this in your calendar.
Click on Back to Signup Sheet after recording your activity, date and time and you will see a short version of your name along with the short version of the other volunteers that have signed up.  You will also notice that the Open count decreased by one.
Thanks for signing up, see you at Gates Au Sable Lodge on September 10 at 9:45  am.