Tomorrow, Thursday morning, I'm going to wake up and it'll be fall.  High of 54.  Northwest winds.  Fish hopefully chasing streamers and a trickle of olives in the afternoons.  Sweet.
Fall was in the air this afternoon when my friend Kyle and I hit the river for a little afternoon walk and talk and fish.  The trout were being snobby but we found pockets of brook trout behind the gravel ridges in the middle of the river.  I went with a little beadhead caddis pupa behind a bushy attractor, and Kyle fished a rubber leg ant thing that he tied.  We had BWOs hatching sporadically the whole time we were out but the fish didn't really get on them in the bright sun.  Instead, it was just a few good pockets of small, eager trout…which was fine, because we had our light fly rods and a carefree attitude.  I feel like picking your experience is part of being a fly-fisher.  Today we just wanted some easy fishing for brook trout.  When you order a burger at a bar, don't be disappointed when the server brings you a burger, right?
On the wade back down I tied on a prototype crawdad streamer.  Lance and I have been riffing on this for the whole week, sharing pictures of various flies fresh from the vise, and otherwise getting ourselves worked up about it.  I only managed one brook trout — but, it was still positive feedback.  The other day, Lance found some good browns fishing his crawdad through some choice water…so I'll probably copy his fly.
With the rivers all low, the rain promised this weekend would be great…and the more the merrier.  But the timing is right for some real streamer fishing whether we get the rain or not.  My tenets of pre-spawn fall streamer fishing are pretty simple: fish smaller streamers tight to the shallow wood cover.  By small, I mean 2-3″ long, usually but not always with a cone, on a floating or very light sink-tip line.  Be prepared to cover water if you want to have some good fall streamer fishing.  Unless the water is high, not every fish will be on the hunt.  But some will.  Make longer casts, and think about stealth.  If you feel like you're wading too close to where you're fishing, you probably are.  Downsizing the fly will give the brook trout a chance to play, increasing your overall numbers.  But a good pre-spawn brown trout will want a slightly bigger, and often darker, fly than will the brook trout.  The exception to all of this is a nice size 6 or so sparkle minnow or other flashy small conehead, which bridges the gap nicely between numbers and size.
The BWOs hatching right now are a mix of size 20s and size 24s.  If we get some clouds, and it looks like we will, this can be some seriously good afternoon fishing.  It seems like around 3 pm on a cloudy day is just about right.  But if the fish are chasing streamers, well, life is full of decisions.  If you want to stick with dry flies, and the fish aren't rising to the BWOs, you can definitely drum up some trout blind fishing size 12-14 attractors, particularly those that resemble a small Isonychia.  An Adams parachute or Purple Patriot is a good place to start.
Enjoy the cold, it's been a hot summer.
---
Book Signing with Chris Dombrowski, 9:30 am – 11:30 am, September 25
My friend Chris Dombrowski — CD around the shop — is the original Gates Lodge shop rat and an incredible writer (and guide) with accolades extending in every direction.  Here is what Peter Heller had to say about CD's new book, The River You Touch:
"In the way a fable points us toward rightness, so The River You Touch leads us to a necessary truth: that deep knowledge and love of a place shapes us in all the ways we will need to survive. With poetry, vulnerability, and crisp storytelling, Dombrowski takes us into a wild, river-thrummed Montana, and into the stormswept territory of marriage and family. It's a journey with a guide who knows the country at a cellular level, and whose bafflement and wonder renews our own. The magic of the book is that I came away convinced that learning to love a trout, or an autumn snowfall, or a wolf crossing a river, would teach me to love a friend or a partner in pain—and so to love and be connected to all beings. Damn."—Peter Heller, bestselling author of The Dog Stars, The River, and The Guide 
Chris will be at Gates Lodge on Sunday, September 25, for a morning book signing.  We just got our copies in the shop and hope you'll come by, buy a book, get it signed, drink some gratis coffee, and visit for a while.
---
Anglers of the Au Sable Fall Celebration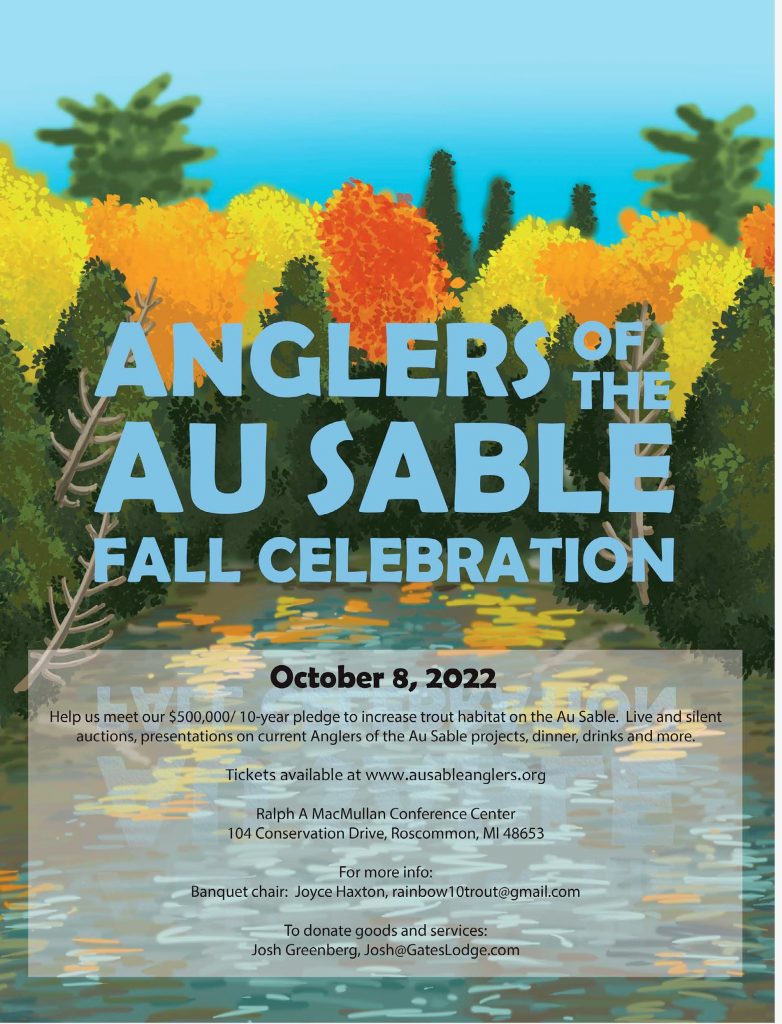 And here's a link to join us on October 8:  https://www.ausableanglers.org/events-projects/#!event-register/2022/10/8/anglers-of-the-au-sable-fall-celebration.  This is a celebration and education event.  We will be talking habitat.  We will likely be talking about the National Guard.  We want to celebrate where we've been, but also set our goals on where we need to arrive.  More and better habitat is the one thing we can do — regardless of all other potential actions — that will make an enormous difference in the Au Sable.  Your attendance helps us help the river.
---
Didymo:  This nuisance weed exists in the middle of the upper Manistee, and anglers who are visiting the Manistee (anywhere on the Manistee) should take  extra precautions when hopping between the Manistee River and other Michigan Rivers.  Ropes, Waders, Boots and Anchors.  Dish soap and water, 409, or even diluted bleach.  We have a wader/boat wash station at the lodge.  A little extra care can go a long way.
Update:  In practice, anglers (well all river users, really) should consider every Michigan River as potential harborers of Didymo as it has been identified on much more of the Manistee River, as well as the Boardman.  The problem is far outpacing the solution, with few warning signs or cleaning stations in place at put ins and take outs.  This one is getting out of hand fast.  
---