Every year, anglers from all over come to clean the Au Sable.  This decades-long tradition is a reminder that the Au Sable has been a heavily used river for more than a century, and has always required a bunch of conservation efforts to either rebuild it or protect it.  To see it on a morning like this morning, liquid-glass and fish rising between the swaying weeds, is to understand immediately that these efforts have been worth it.  Every year there is less garbage in the river.  What used to be full trash bags are now just a few cans and bottles.  So why do it every year?  Well, to keep the river most clean.  It's worth it.
It's been a beautiful week on the Au Sable.  High skies and cold nights, some morning tricos and some afternoon ants.  There were some really good days in there, days that the trout bit despite the water clarity and sun, and some nice daytime fishing for colored-up fish.
As has been the case for much of the year, all three branches of the river are VERY low and VERY clear.  Still, the water temperatures are perfect for the trout to be active in the afternoons.   This means that anglers must fish very carefully and well, but even fishing a lone dry fly blindly can produce a good fish.  The afternoon flying ants have been most important, and on a good day, this fishing can extend, somewhat randomly, right until dark.  Small streamers, dry and droppers,  and swung caddis wets have all been worthwhile.  The key to all of these is to fish with care and quiet.  The rewards for all that careful angling and optimism can be an unexpectedly good midday trout.
On the other hand, we've had some very slow days as well.  My family and I struggled through one such slow day recently.  We worked for the few trout we caught.  I mean, we WORKED for them.  Of the few rises we saw, we treated each of them like a 20-inch brown instead of a 6-inch brook trout.  When we didn't find a fish, we tried small streamers, dry and dropper, swung wets, fished the odd-side of the river, and, well, we tried everything.  But it was a splendid day to get our butt kicked.
---
News and Notes: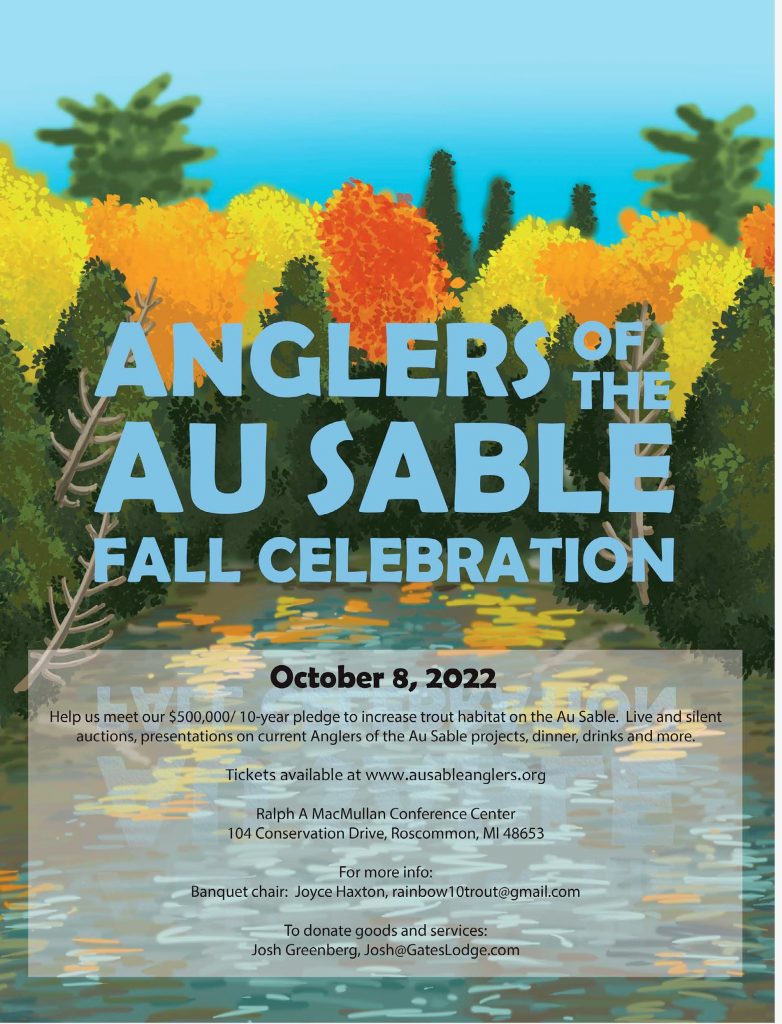 And here's a link to join us on October 8:  https://www.ausableanglers.org/events-projects/#!event-register/2022/10/8/anglers-of-the-au-sable-fall-celebration.  This is a celebration and education event.  We will be talking habitat.  We will likely be talking about the National Guard.  We want to celebrate where we've been, but also set our goals on where we need to arrive.  More and better habitat is the one thing we can do — regardless of all other potential actions — that will make an enormous difference in the Au Sable.  Your attendance helps us help the river.
---
Calling all Bourbon/TU Fans: There's a fundraiser for MGFTU that sounds pretty tasty:  https://www.facebook.com/oledamrdpartystore/photos/a.125858829093484/597065875306108
---
Attention Mio Floaters!  We Need Your Help!
Anglers of the Au Sable is discontinuing the annual cleanup below Mio to focus on cedar restorations on the Big Water. We ask each of you who float the Mio water to carry a trash bag and pick up any trash that you see during your float. We do not want to impede on your trip or curtail your enjoyment and we hope that you catch fish. But if you pick up even a few items of trash during each float it will likely equal or exceed our recent loads during the annual cleanup.
In turn, we are going to make a significant effort to replant cedars along the banks of the Big Water to nurture the health of that river for centuries to come.
Let's work together. Thank You.
---
Didymo:  This nuisance weed exists in the middle of the upper Manistee, and anglers who are visiting the Manistee (anywhere on the Manistee) should take  extra precautions when hopping between the Manistee River and other Michigan Rivers.  Ropes, Waders, Boots and Anchors.  Dish soap and water, 409, or even diluted bleach.  We have a wader/boat wash station at the lodge.  A little extra care can go a long way.
Update:  In practice, anglers (well all river users, really) should consider every Michigan River as potential harborers of Didymo as it has been identified on much more of the Manistee River, as well as the Boardman.  The problem is far outpacing the solution, with few warning signs or cleaning stations in place at put ins and take outs.  This one is getting out of hand fast.  
---
Instructions for River Cleanup Volunteer Signup
Click on this link to access the online signup for the annual river cleanup – volunteersignup.org/E8DRW
 Find the Beat that you want to signup for and click on the green ˃ to the right of that Beat to see the Signup form.
Fill in the Signup form and click on Agree and sign up.  If you want to return to the screen above click on Back to signup sheet.  If you want to clear the form and start over click on Clear Form.
When you click on Agree and sign up you will see a screen confirming the activity, date and time you have signed up for.  Please make a note of this in your calendar.
Click on Back to Signup Sheet after recording your activity, date and time and you will see a short version of your name along with the short version of the other volunteers that have signed up.  You will also notice that the Open count decreased by one.
Thanks for signing up, see you at Gates Au Sable Lodge on September 10 at 9:45  am.