This late morning, while walking from one point to another (it is, after all, the opening day of grouse season) I heard a snap in the woods. For some reason, most likely the scattered bear turds I'd been seeing, I had bears on the mind.  I heeled Fin back to me, raised my shotgun slightly, and declared that the bear retreat.  Instead, one of the two giant cottonwood trees that towered over me began to fall.  It hit the outside branches of the other big cottonwood tree, and sent it falling roughly in my direction.  It wasn't a close-call, but it was exciting.  Further investigation revealed each tree was doomed already.   
It's been a wonderful week on the Au Sable.  There have been only a few of what I'd consider to be stinker September days and a lot more of what I'd consider to be stellar September days.  These are not big fish days.  These are sunny fall days when the trout are willing to rise to blind-fished dry flies.  That is no sure thing some years.  2022 August/September has been a good one.
What are we fishing?  The fall Isonychia will continue into early October.  Fish a size 12 Adams or 12-14 Purple Patriot for that one.   A parachute flying ant, trailing a little bead if you're out in the morning has been a go-to, as has a size 14 caddis for the fall sedge.  We've had decent emergences of the fall BWO (size 20, likes to hatch between 2 pm and 5 pm.)  Small streamers have fished okay, but the best of the fall streamer fishing is a few weeks (and a few clouds, and maybe a few rains) away.
The recent rains raised the water ever-so-slightly, but that oxygenated nudge really did help the river and the trout fishing.   All three branches of the Au Sable are fishing well, as is the middle river.  The water below Mio will improve greatly throughout the month of September.
I have creeks on the mind, however.  There are two weeks of the general trout season left.  The off-season doesn't impact us much: the North, South, Main Branches of the Au Sable remain open, as does the river down to Mio pond and below Mio dam…not to mention the Manistee.  But the little creeks close for the season, and I've not done enough creekin' to consider this a summer well-spent.  One more good day will do.  I've got my usual suspects in mind, but I'm pondering a revisit to a little beaver-dammed creek Matt and I fished a long time ago.  It was a stair-stepping creek, one beaver pond to the next.  The first few ponds had chubs (but what chubs they were!); then, as every fishing story goes, we began to find some brook trout.  I remember that some of the brook trout were fairly nice.  And I think that might be a good way to end September.
We had a great river cleanup.  Thank you everyone.  We found four tires, a reclining/rocker lawn chair, some antlers, lots of vape products, and left the river cleaner than we found it (and with a few new cedar trees as well).
---
Book Signing with Chris Dombrowski, 9:30 am – 11:30 am, September 25
My friend Chris Dombrowski — CD around the shop — is the original Gates Lodge shop rat and an incredible writer (and guide) with accolades extending in every direction.  Here is what Peter Heller had to say about CD's new book, The River You Touch:
"In the way a fable points us toward rightness, so The River You Touch leads us to a necessary truth: that deep knowledge and love of a place shapes us in all the ways we will need to survive. With poetry, vulnerability, and crisp storytelling, Dombrowski takes us into a wild, river-thrummed Montana, and into the stormswept territory of marriage and family. It's a journey with a guide who knows the country at a cellular level, and whose bafflement and wonder renews our own. The magic of the book is that I came away convinced that learning to love a trout, or an autumn snowfall, or a wolf crossing a river, would teach me to love a friend or a partner in pain—and so to love and be connected to all beings. Damn."—Peter Heller, bestselling author of The Dog Stars, The River, and The Guide 
Chris will be at Gates Lodge on Sunday, September 25, for a morning book signing.  We just got our copies in the shop and hope you'll come by, buy a book, get it signed, drink some gratis coffee, and visit for a while.
---
Anglers of the Au Sable Fall Celebration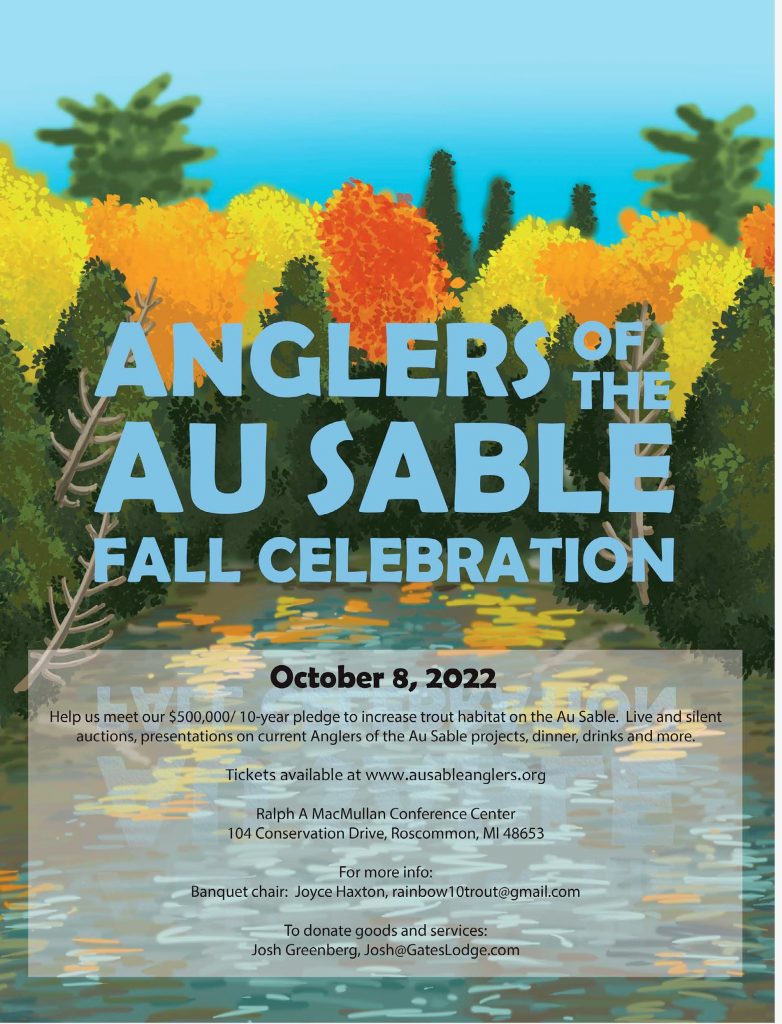 And here's a link to join us on October 8:  https://www.ausableanglers.org/events-projects/#!event-register/2022/10/8/anglers-of-the-au-sable-fall-celebration.  This is a celebration and education event.  We will be talking habitat.  We will likely be talking about the National Guard.  We want to celebrate where we've been, but also set our goals on where we need to arrive.  More and better habitat is the one thing we can do — regardless of all other potential actions — that will make an enormous difference in the Au Sable.  Your attendance helps us help the river.
---
Didymo:  This nuisance weed exists in the middle of the upper Manistee, and anglers who are visiting the Manistee (anywhere on the Manistee) should take  extra precautions when hopping between the Manistee River and other Michigan Rivers.  Ropes, Waders, Boots and Anchors.  Dish soap and water, 409, or even diluted bleach.  We have a wader/boat wash station at the lodge.  A little extra care can go a long way.
Update:  In practice, anglers (well all river users, really) should consider every Michigan River as potential harborers of Didymo as it has been identified on much more of the Manistee River, as well as the Boardman.  The problem is far outpacing the solution, with few warning signs or cleaning stations in place at put ins and take outs.  This one is getting out of hand fast.  
---