It has been dreary.  What snow we have left is raising as fog, which after weeks of it, can quickly turn into a fugue.  This means that there has and will continue to be above-average fishing opportunities for this January.  There is very little winter, or sun, in sight.  The trout are stuck between winter mode and feeding mode.  We had midges hatching sporadically today.  The river is back to low and clear and will likely stay that way.  Black has been the color for the streamer.  For nymphs, I start to transition to sparse mayfly nymphs and very fine tippet this time of year and I expect to do a fair amount of fishing next week during the next warm-up.  I do miss the snow, and "a real winter."  But this type of winter is, short-term, pretty good for the trout.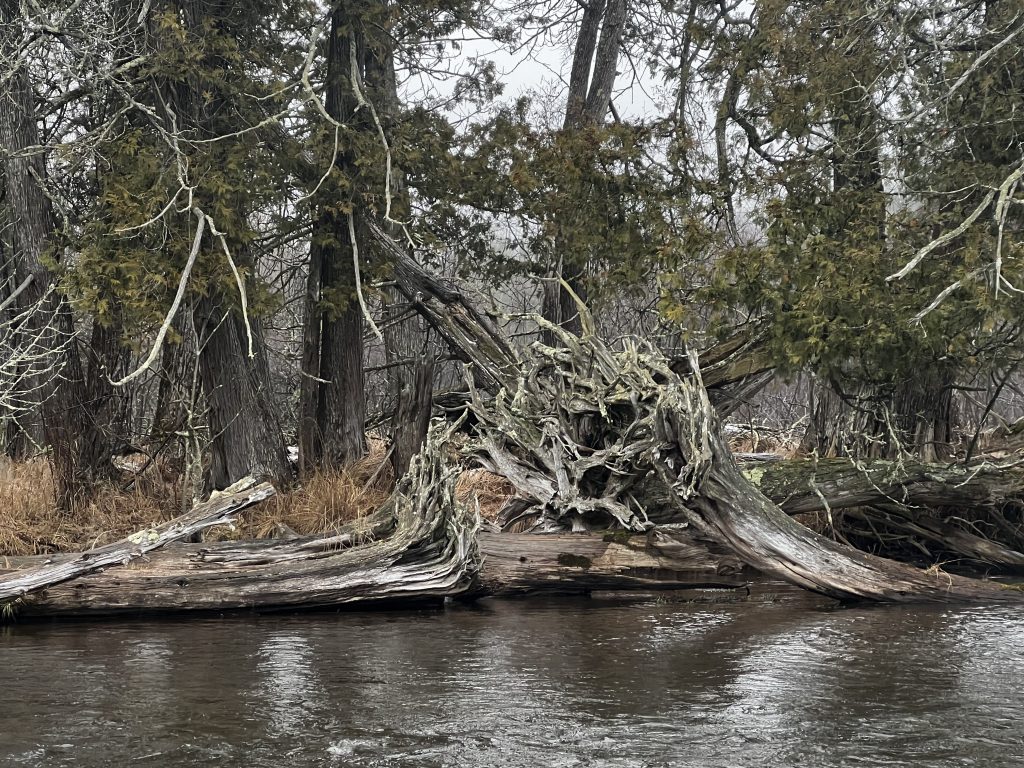 I've been cranking some flies now.  I had a few small orders to finish up and some ideas to try.  I'm working on a new nymph which I hope to get sorted in time to take it fishing before the next warm-up.  What I'm trying to do, at least for the sight-fishing, is to find a nymph that lands soft, sinks well, but is still buggy.  The issue?  The buggier the fly, the slower the sink-rate.  Add weight, and the fly lands more loudly.  I have a very specific idea, and an axe to grind on a very specific trout which will require this perfect nymph.  My experience with a big shallow-water trout is you only get a few shots at them in a season.  I think most trout have a few good places they hold.  If you're lucky, one of them will be where you can see them.  Unfortunately for me, the place I can see him is on a deep sand swale, with about four feet of crystal clear and calm water over his head.  Like I said, I've got an axe to grind…and some flies to tie.
It's also time to start tying flies for the season.  Whenever we have a low snow year, and especially a warm low snow year, thoughts begin turning to early springs, less run-off, and more rising trout.  Insect experts talk about degree days…in short, the warmer the fall and winter, the more likely the hatches will be early.  Winters like this can lead to early April hendricksons, and spinnerfalls and black caddis by Opening Day.  Winters like this can also be erased by February and March and April being cold.   I know that.  We all know that.  Still, I'm motivated right now by the possibility of an early and great spring.
The best days of fishing I saw in 2022 were in early June.  Four days of below-average temperatures led to daytime drakes and Isonychias.  It was awesome fishing — maybe the best I've ever had on the river.  The Iso eaters were crushing in the riffles and the drake eaters were sipping on the edges.   Each trout required just enough thought to feel like they were earned when and if they were hooked.  Some of the drake trout were very difficult and I remember two of them in particular, one of which came after a half-hour game of nods between me and my fishing buddy.
So I'm tying flies for that event with a smile on my face, knowing I meant never see the river fish quite that well again but here's to hoping:
We had a great fly tying Saturday this past week and are looking forward to doing it again this week.  You can even make a weekend out of it — we have rooms available and we're serving dinners on Friday and Saturday evenings.
---
Winter at Gates Lodge
This January and February, come spend a weekend on the winter river.
–Free Fly Tying Saturdays:  Morning sessions to make you a better fly-tyer.
-Dinners on Friday and Saturday evenings.
-Light continental breakfasts on Saturday and Sunday mornings.
-Special fly-tying sessions on select Sunday mornings, each week featuring a different style of fly
-Winter guides available, or DIY fly fishing right out the back door.
-Excellent cross-country skiing and snowshoeing in every direction like here and here. 
To book a stay, contact me at [email protected]