On February 23, 2021, I caught a giant trout from the Fence Run in front of the lodge.  This, I figured, was Henry.  Now there have been a lot of Henry's out in front of the lodge.  Rusty would name every big fish under the bridge Henry.  This new Henry I've held three times .  Once in the winter of 202o, once in the winter of 2021, and once again in the summer of 2021 when it was caught by a friend and I was ready with the net.  We weren't fishing for Henry all these times, of course.  But you knew it was Henry because he was so awfully big, had a weird tail, and was round — wide — as opposed to tall.  I'd also seen him shocked by the DNR.  Henry was a big, old brown.
This past year the shocking crew didn't find him.  And we didn't see him either.  I thought he was gone until today.  I decided to fish in front of the lodge.  It was snowing steadily and the nymph fishing is usually great in the middle of a good snowstorm.  Before I even made a cast, or was ready to make a cast, I spooked a carp-sized trout out of the log jam across from the fence run.  He was huge — wide — and he moved slowly enough for me to get a good long look at his tail which was missing its top portion.  There was no doubt about it: Henry lives!
It was a good afternoon of nymph fishing.  I managed only one trout from the middle of a run.  The rest were in the pocket water you'd expect to find them in the summer.  This made for some interesting winter fishing.  I used the tight-line rod and fished it upstream behind the current breaks and the trout, small ones all of them, were plentiful and eager.  A chartreuse little caddis as the dropper and a Perdigon as the anchor.  I never saw a big fish, except of course for Henry.  But a bunch of 8-12 inch trout makes for a fine winter day.
Love those springs flowing in
Near dusk I switched to a streamer and managed a few on that as well.  Again, nothing big.  But good action.
I hope I don't catch Henry again, but I love knowing he's there.  He's an immaculately spotted brown trout, the sort of old Holy Waters fish that would be difficult to scrape a scale off of.  The Holy Waters can grow some BIG trout.  They seem to favor the deep pools, and I guess every pool has its Henry lurking in it, and I guess that every person fishing one of those big pools wonders if this day will be the day that old Henry comes out.  I know I do.  Which reminds me of my friend Rob, who carried with him the bright light of optimism.  One day in the middle of August, when it was damn near 90 degrees, he was fishing that bottomless pool at Truettners with very light tippet and a dry fly.  The depths of that pool beckoned, and he tied on a little beadhead streamer, cast it into that pool, let it sink, and on the first strip hooked a brown trout that was well over 20″.  He fought it on his trico rod, which made this a real David and Goliath battle, a battle that Rob managed to win.  When he came into the fly shop he seemed more enlightened than he did shocked.  He showed us the pics on the screen of his digital camera (remember those days?).  When he left the shop, some of us fly shop workers had a real terrible urge to lock the door and go fishing, sunny August day or not!
Our run of warm winter weather appears to be coming to an end.  The trout won't stop feeding, but it won't be very pleasant to be out there next week.  No worries, we have fly-tying and skiing to keep us warm.  It's been nice not worrying about frozen pipes, but I've been craving a snowy, cold snap.  I had a nice morning ski today.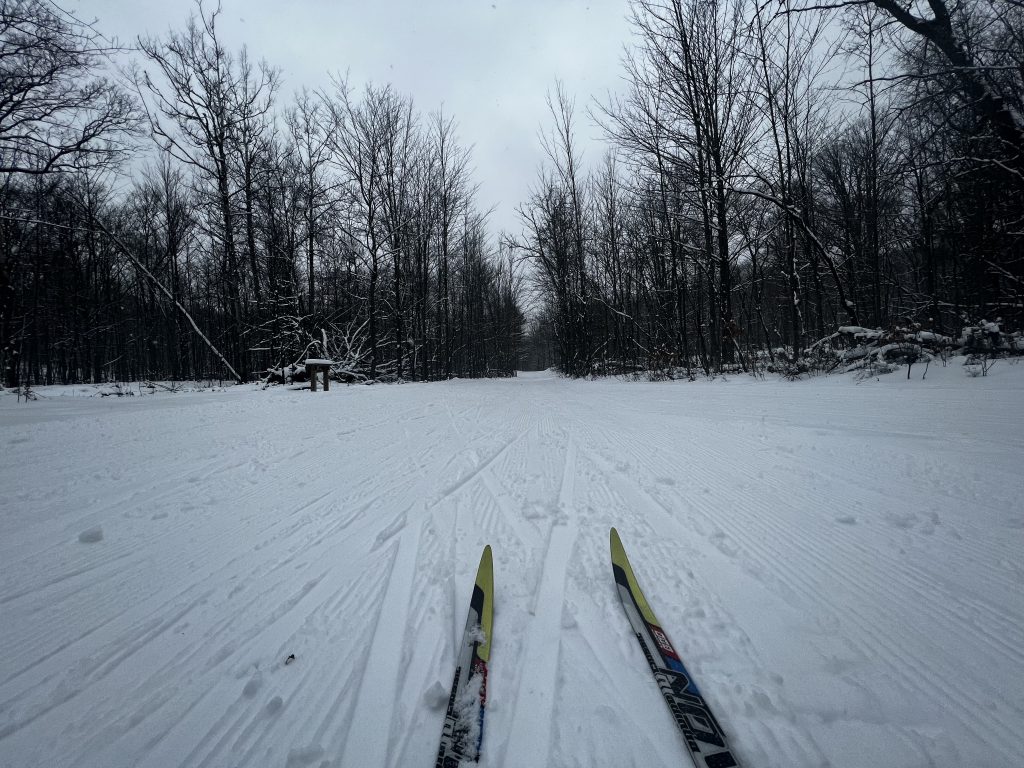 ---
Want to tie flies with us?  If you've never tied a fly, or tied a 100,000, stop in.  Bring what you have and we'll provide the rest.  More info is available at Free Fly Tying Saturdays.
You can even make a weekend out of it — we have rooms available and we're serving dinners on Friday and Saturday evenings.  Come enjoy the snowy river, now that we got a little snow!
---
Winter at Gates Lodge
This January and February, come spend a weekend on the winter river.
–Free Fly Tying Saturdays:  Morning sessions to make you a better fly-tyer.
-Dinners on Friday and Saturday evenings.
-Light continental breakfasts on Saturday and Sunday mornings.
-Special fly-tying sessions on select Sunday mornings, each week featuring a different style of fly
-Winter guides available, or DIY fly fishing right out the back door.
-Excellent cross-country skiing and snowshoeing in every direction like here and here. 
To book a stay, contact me at [email protected]