River Cleanup and Cedar Planting, Sept. 9th, 2023, 10 am – 3 pm.  
We need your help!  In particular, the South Branch and Cedar crews need your help:  both tasks require additional volunteers for this to work.  Please consult your schedule and considering joining us.  More info at the bottom of this page.  
---
Artist in Residence:  Jeff Kennedy, Sept 4-10
Jeff

 

Kennedy

 will be returning for his second year as the Artist in Residence at Gates Lodge from September 3rd thru the 9th. As the Artist in Residence, 

Jeff

 can escape the responsibilities of his day-to-day activities and focus on his art along with some fishing. During the week you can find 

Jeff

 sketching and painting in the boardroom or outside along the river. Some days he will grab his fishing gear and sketch supplies and head out to different river destinations to paint or sketch.  

Jeff

's work has been featured on Patagonia and Simms products along with his original art residing in the hands of collectors.
Jeff

 is an early riser, so stop by the boardroom in the morning, bring your cup of coffee, and say hello. 

Jeff

 will also have a tent set up at the river cleanup on Saturday to display his work from the week.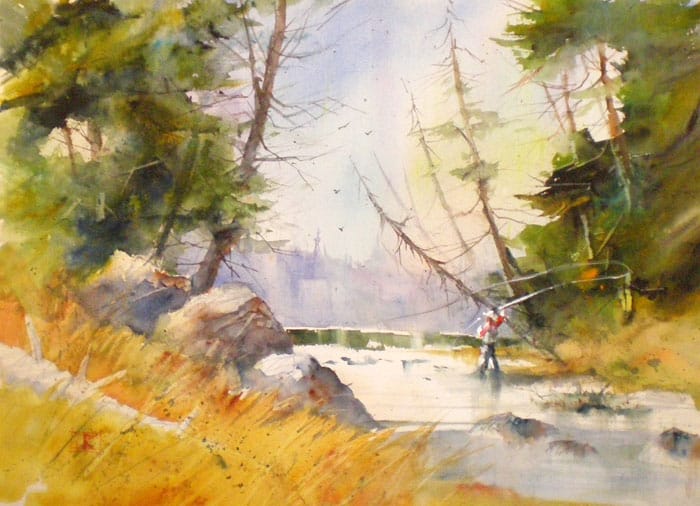 ---
Now onto the fishing…
Rewind a few days, and…we had some amazing fishing.  A humid, cloudy funk settled over the river valley and the flying ants exploded up and down the river.  Katy and I finally got a chance to fish together and we launched right into one of the finest afternoons of dry fly fishing I've ever had on the Au Sable.  I envisioned a pleasant three hours of watching my wife catch a few little trout.  Nope!  This was three hours of good fish rising in crystal clear water for small ants.  In other words, this was not peaceful.  This was high-intensity.  Now of course I forgot my big ant box so I just had some foam ants that I had to cut into shape with nippers.  And it was 7x fluorocarbon and it was one and done risers and refusals and fish spooking from the boat and all of those amazing puzzles that I tend to associated with June.  The first hour was pretty tough but after that we figured it out.  Size 18 black flying ants.  And I gotta see this A LOT that afternoon.
And there were a bunch of these rising as well:
What does this mean now?  It means, for starters, that it's fall.  The noon hour will be a mix of dry/droppers, leftover tricos and little olives.  The late afternoons will be attractors and, for the next month, a good shot at ants.  The cooler water has made for some pretty good streamer fishing as well.  Blind fishing a size 12 or 14 Adams (or even your leftover hendricksons) is a good plan for imitating the fall Isos. That's a nice bag of tricks to have, and (finally) something different from the traditional summer routine.  Even the upcoming weekend heatwave won't do much to change that.  The days are too short and the nights too cold to worry about water temps.  I actually think the warm weather will improve the blind fishing of dry flies.  Sadly, it will also put a few extra recreational watercraft on the water.  But there are always some creeks to sneak away to:
This is a great time of year to float the river with a guide, and we do have guides available throughout the fall.  Leaves changing, less people, and trout doing cool fall things like chasing streamers or eating ants or feeding in rhythm on afternoon olives.  We love this time of year with the same intensity we love the rest of the season.  There's always something to do on the trout stream, and we'd love to share with you how we fish the fall on the Au Sable.
---
Another List of Used Rods
Scott Sector 8'4″ 8 wt. 4-piece:  A shorty streamer/bass stick.  In great condition.  $500
Sage X 9′ 5 wt 4-piece:  An all-around rod with a lot of snap.  In great condition.  $500
RL Winston Pure 9′ 5wt 4-piece:  Rod has been demoed but never owned.  A steal.  Dirty cork.  $500
Winston B3LS 8'6″ 4 wt 4-piece:  A trico/BWO/Sulphur rod tailor-made for the Au Sable.  $450
---
It's Time to Clean the River:  Au Sable River Cleanup, September 9th, 10 am – 3 pm
Every year on the first Saturday after labor Day, hundred of Au Sable devotees pick a beat, slip into waders and clean the river.  We need you to make this work.  Visitors often remark that Au Sable is "so clean" and it is, it's true, but only because of the decades long efforts of fly-fishers and river lovers alike to keep it that way.   We get better every year, adding recycling, and minimizing the amount of trash we produce to get the river clean.
Along with the Cleanup, we will be planting and maintaining cedar trees along the river.  This important project needs volunteers!
Questions, or to sign up, email me at [email protected] or sign up on this link:
https://volunteersignup.org/FKH3R
What you need to know:
Meet at 9:45 AM
Get your cleaning assignment (if you're new to the cleanup…welcome, and don't worry, you'll be paired with folks who know their way around)
Pose for a group picture
Clean the River.
Lunch starts at noon and festivities last until 3 pm.
This year's cleanup has been sponsored by Two Arrows Wealth Management, owned and operated by Nick Venlet.  Nick has been attending the Au Sable River Cleanup since he was nine years old.  The name of the family trout camp:  Two Arrows.  Time passed, and now, in 2023, Nick is making it happen for the 2023 cleanup.  Thanks Nick!