I was chatting with a couple hunting buddies the other day and we all noted that on precisely 9/15 — the opening day of grouse season — our various pooches were clairvoyantly excited.  It could be that dogs are smart, but not mine ("she's pretty dumb," Jake noted of his).  But dogs are natural empaths, and I'm sure I had a spring in my step that didn't go unnoticed.  I'm happy to split my time between the woods and the water in the fall.  The only thing wrong with the fall is the days get shorter as the list of potential fun activities grows longer.   Fin and I squeezed in a few hours at dusk, and found some feathers for the vise and a nice little meal.
But grouse opener or not, the real star of the show has been the trout fishing on the Au Sable.  A warm spell has swept in and given us very good — some would say excellent — afternoons of flying ants.   It's not every day that this happens, of course.  But the fish are looking for ants.  When they're not looking for ants they are looking for fall Isos, attractors, leftover tricos, afternoon BWOs (size 20s), little streamers, and nymphs.  This incredible mixed bag doesn't happen every September, but it is happening this September, and we're all grateful to have three branches, the middle, and the lower river all fishing excellently with perfect water temperatures and enough food to keep the trout on the feed.  If you are thinking of day-tripping to the Au Sable for one last swing, well, the next two weeks are looking pretty good (we will need a little more rain to keep the ants flying.)
We've had some first trout ever caught: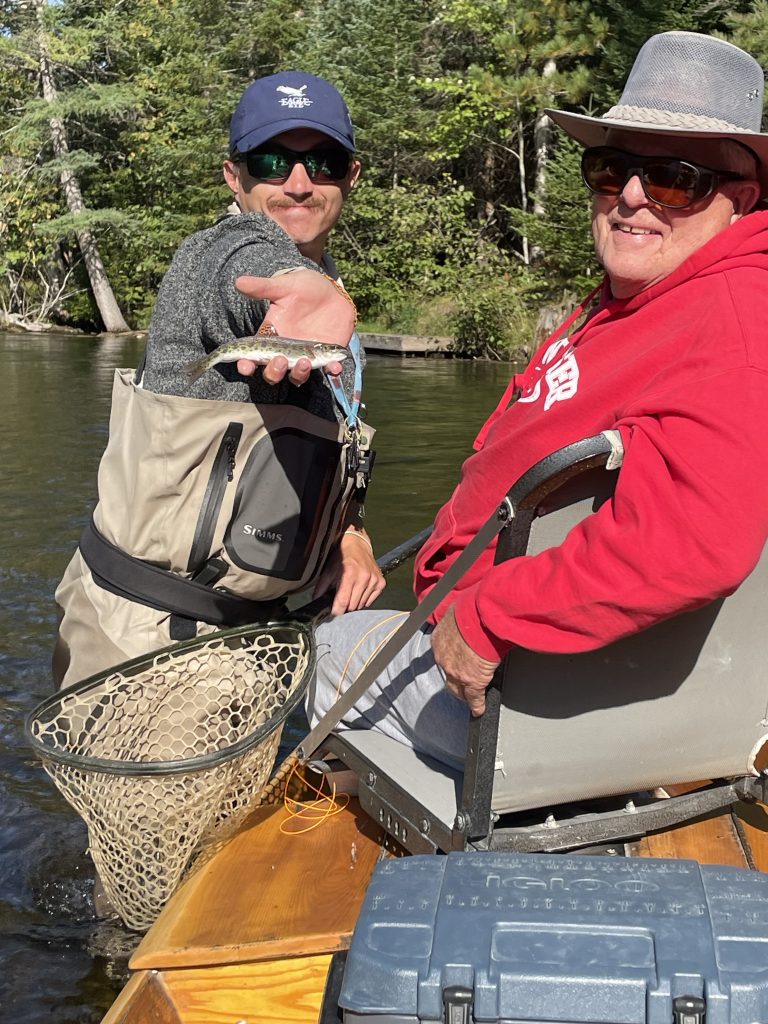 And a surprising number of trout just like this on the dry:
It makes for an easy fishing report to write, and for the moment I'm not entirely jealous of my friends who are out west right now fishing the Henry's Fork, the Park, the Teton, etc.  Yeah, yeah, yeah, mountains and cutthroat.  I get it.  But these ants, man, have been awesome.
I'm only a little jealous.
The long range forecast should be good enough to maintain this September fishing.  We'll need some rain, and some late afternoon clouds, but a couple tenets tend to hold true.  Streamers at dawn.  Dry and droppers through lunch.  Ants, Patriots, Parachute Adams, Purple Dazes through the late afternoon and into the evening.  Conversely, you can fish a streamer right through the entire day and, eventually, something will probably happen.  This is the sweet season.