Fortnightly Fly
The Sub Zero
There are seemingly hundreds of awesome streamers out there.  Most of them have their time and place…few are universal.  A lot of them take WAY too long to tie…at least for this fly tyer.  I like my streamers to be simple and easy.  This is a fall/winter streamer that slinks through the water, has great hover, and is best fished on a floating line on smaller rivers with a lot of pause.  Also swings nice for the really cold days.
Hook: Daiichi 2461`or 2220, size 1 or 2
Thread: Strong black thread
Cone: Large silver cone
Weight: Lead-Free
Tail: Black Strung Rooster or Black Schlappen
Body: Black Ice Dub or Ice Wing
"Legs": Clear/Blue Silli Legs or Black/Chrome Flutter Legs
"Wing": Brown or black marabou
Collar: Black Rooster or Schlappen
Lead the hook: I like to wrap some lead behind the cone to lock it into place.  Then I quickly work my way back to the bend and then up to the halfway point of the hook.  I'm going to tie the rooster on here to sneak that hook back further into the fly.  You could easily tie this fly in a double but it seems to work just fine with a single long shank hook.  Not the rage right now in hook choice, but works just fine.  In the winter, there is no need to EVER strike too early.  If you get a fish to start chasing, just stop the fly.  More often than not, they'll come and eat it and won't let go.  
I tie on two rooster feathers on the tyer's side of the hook, and then two on the opposite side of the hook, both curving in, like this () and not this )(.  So four feathers total.
This is where the smart streamer tyer thinks about what the fly looks like wet, instead of dry.  No streamer brushes for me!  Just a few clumps of Ice Wing Fiber tied a little behind the back of the cone.  Lash the mess in, and fold it backward.  Looks crappy here…
But trimmed up it's fine…and it weighs far less than a streamer brush and will sink just as fast without the bulk.  I try to trim it so it's not uniform.  Keep it suggestive rather than imitative.
Add full length legs.  These are not meant to imitate legs, or even add much movement.  What they do add is a suggestion of a lateral line, or stripe, or scales.  Whatever it is, I'm guessing a fly with legs tied in this will catch a few more fish than one that doesn't.  
Push a clump of marabou over the fly, so it goes around the hook shank, and tie it in.  I do this rather than hackle with marabou.  Hackling with marabou looks better, but takes longer and requires careful sorting of marabou.  
Now wrap another black strung rooster just behind the cone and whip finish.  This fly has a nice taper and will pulse and breathe between strips.  Not necessarily the best big river/high water fly.  But seems to work better than some when the water is low and clear and cold.
Fly tying has been somewhat of a passion at Gates Lodge since our beginnings.  We are continually developing new patterns and trying new techniques and materials.  The Fortnightly Fly page is where we share this knowledge with all of you!  Check back often as we show you how to tie some of our most trusted local patterns.
The Quigley style emerger has gone thru many a metamorphosis.  We are guilty as the next mad tyer.  But this iteration is one of our favorites: the rabbit foot fore and aft is tough, and it floats like a cork.  The rest is gravy.  Takes hardly anytime to tie, can be adapated to imitate any number of bugs, and is a great fly to fish on one of those magic May afternoons when it seems that everything is hatching.  Below are the materials in this sample, but experiment to match your hatch of choice.
Hook: Daiichi 1180, 14
Thread: Veevus 12/0 gray
Tail: Rabbit Foot
Wing: Rabbit Foot
Body: Tan beaver
Hackle: Grizzly dun
Cover hook with thread.  The reason I included this basic step is because rabbit foot is by its nature a difficult material to work with.  It tends to twist on the hook shank.   The better your base, the stronger the fly.
The tail of this fly is simply the same material as the wing.  I get the tail of the material from the coarser toe part of the rabbit foot, and the wing from the "forearm" part (the soft stuff).  Be very fastidious with your connections of the tail and wing. Soft wrap, and then three or four strong wraps.
The reason I like to attach the tail and the wing before the dubbing and hackle is so I can put glue across the abdomen of the fly.  This holds the rest of the fly steady.
Dubbing is easiest hard step of the process.  The in teaching this step to other tyers, I recommend holding the dubbing in your bobbin hand, between the thumb and index finger, and tearing it out with your other hand.  The tearing process creates a veil of dubbing that will go on the thread much easier.  The thinner the dubbing is on your thread, the more control you have over your proportions.  You want your decisions, and not your mistakes, to control your proportions.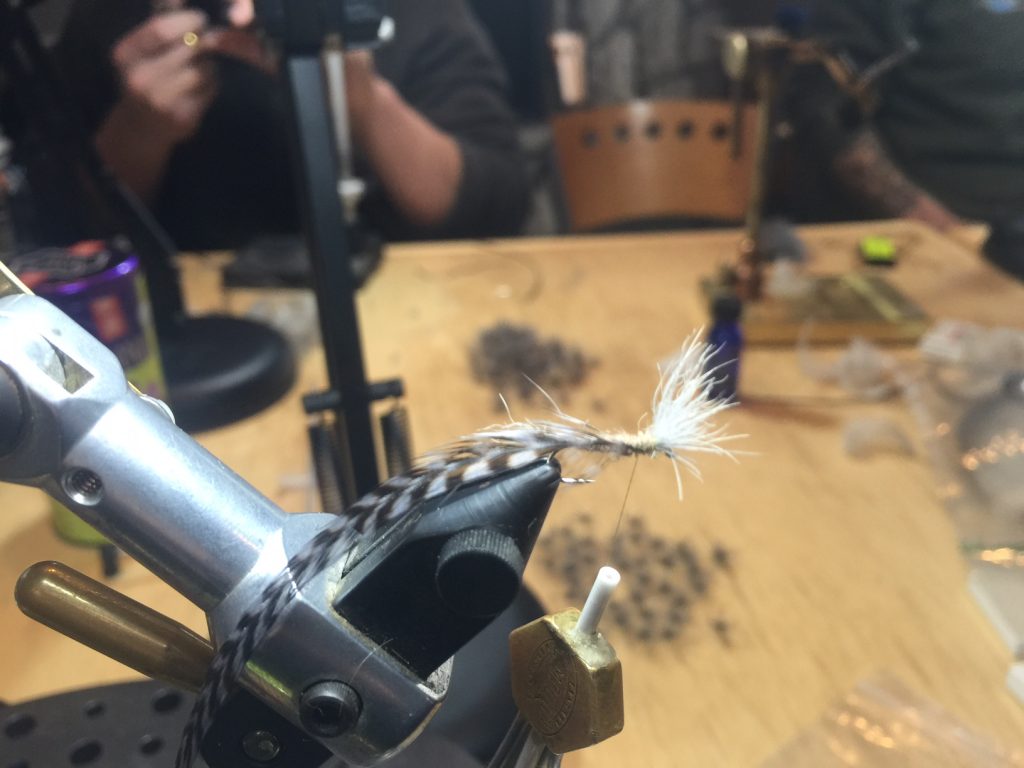 Tie on the hackle stem forward so that you're wrapping over and hiding the stem.  I like nice even wraps, but you don't need to squeeze in 8 wraps of hackle.  Three or four full wraps makes for good proportions.
Here's the finished fly.  I typically trim the bottom of the fly so it sits flush.